The Calendar Availability feature allows you to set hours that you're available for all appointments that clients can self-book. It's important to note, the availability that you set applies only to clients booking on their end. If you were to go into your own calendar and book an appointment, all the self-booking parameters that you have set do not apply. Trainers manually scheduling appointments on their end, on behalf their client have full capability to schedule at any given time.
This article will outline in detail what each availability type entails and some use cases. To learn WHERE and HOW to schedule the appointment types shown in the image below, refer to this article.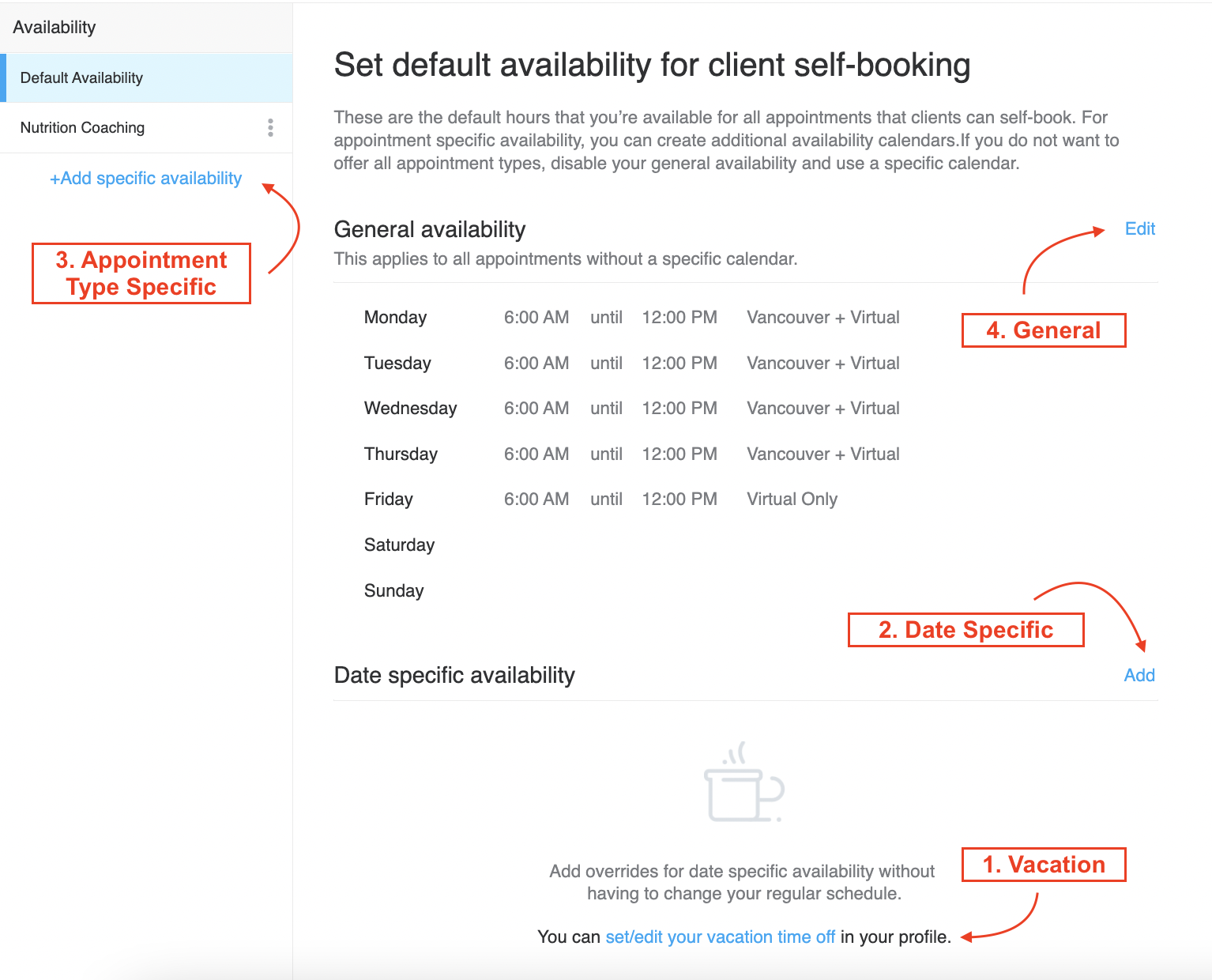 1. Vacation
Vacation availability will block off the ENTIRE day. Unlike other availabilities, you don't get to select HOURS, just DAYS. Plus, the vacation auto-responder perk.

Can have multiple vacations, they just can't overlap

Select the start and end date and this means you are unavailable ALL DAY on those day.
2. Date Specific
This will cover a period of time that has NOTHING to do with the Appointment Type.

Simply select a start and end date

where you are accepting appointments as well as a

start and end TIME

(Note: Vacation does not allow you to select TIME)

LASTLY: select "Virtual" or "Virtual + Location" which means you can have date specific availability that is also filtered by virtual only or virtual plus any in-person appointments at a specific location.
TZ Tip: Other than one-off dates and miscellaneous time-off, Date Specific can also technically be used for Vacation. Why?
You may go out of town so you can't be in the gym or studio, but you are willing to train virtually (select Virtual).
Half day offs (you can set a time-frame). Perhaps you want to work Friday morning but leave by 1 pm so no availability after 1 pm. In this case, use this option, not Vacation.
3. Appointment Type Specific
Specific to an

Appointment Type
Select the Appointment Type(s) and then you will be prompted to create a schedule for that Appointment(s).
TZ TIP: Perfect for filtering your appointments/services!
For example, you train Mon-Fri but Saturday mornings for a few hours, you offer goal setting check-in calls. In this case, set your general availability to cover your Mon-Fri but the Saturday schedule would be set separately through this availability type because it's only tied to this particular appointment type (Goal Setting Call).
4. General
Applies to all Appointments UNLESS they have an Appointment Type availability set up.
TZ Tip: Don't be fooled, General Availability is very important!
Even though this is last on the list (more on the order of the list below) you will most likely set your General Availability FIRST, and then use the other types as needed to make special changes.
Order of Availability Precedence:
The software will look at the availability types and apply them in this order:

Vacation always comes FIRST.

Date specific availability is next and will always override Appointment Type and General availability.

Third is Appointment Type.

Lastly, General.
Once you've set your availability and created appointments, it's time for your clients to start booking! You can share your appointment calendars through a message, or clients can book using the menu on their mobile app.
---
Related Articles
This article was last updated on