Part of healthy eating and nutrition is setting goals for your clients to achieve. Now, with meal tracking through Fitbit or MyFitnessPal you can do that directly through Trainerize Follow the steps below to create a nutrition goal for your clients and invite them to download the Fitbit or MyFitnessPal app.
Step 1.
In the Client's profile, select the Goals and Habits tab.
Step 2.
Select +NEW, then select Daily Nutrition Goal from the drop-down menu.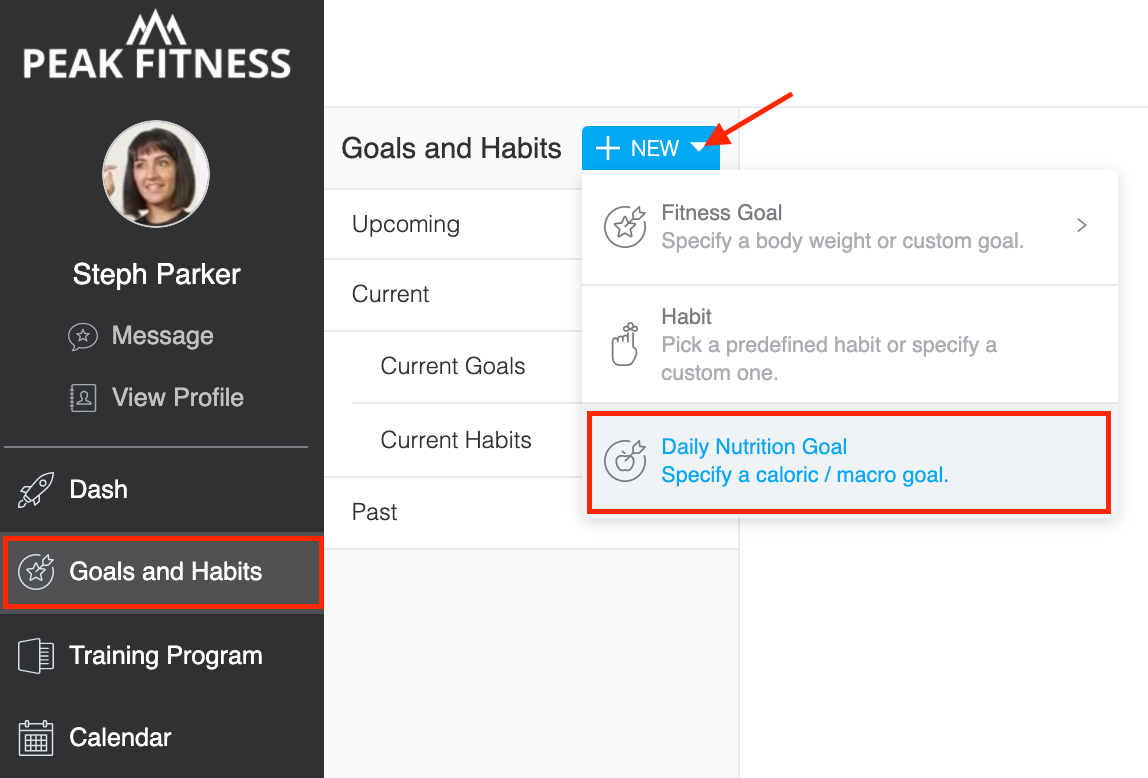 Step 3.
Select one of the three types of Nutrition Goals (Calories only, Calories and protein, Calories and Full Macros)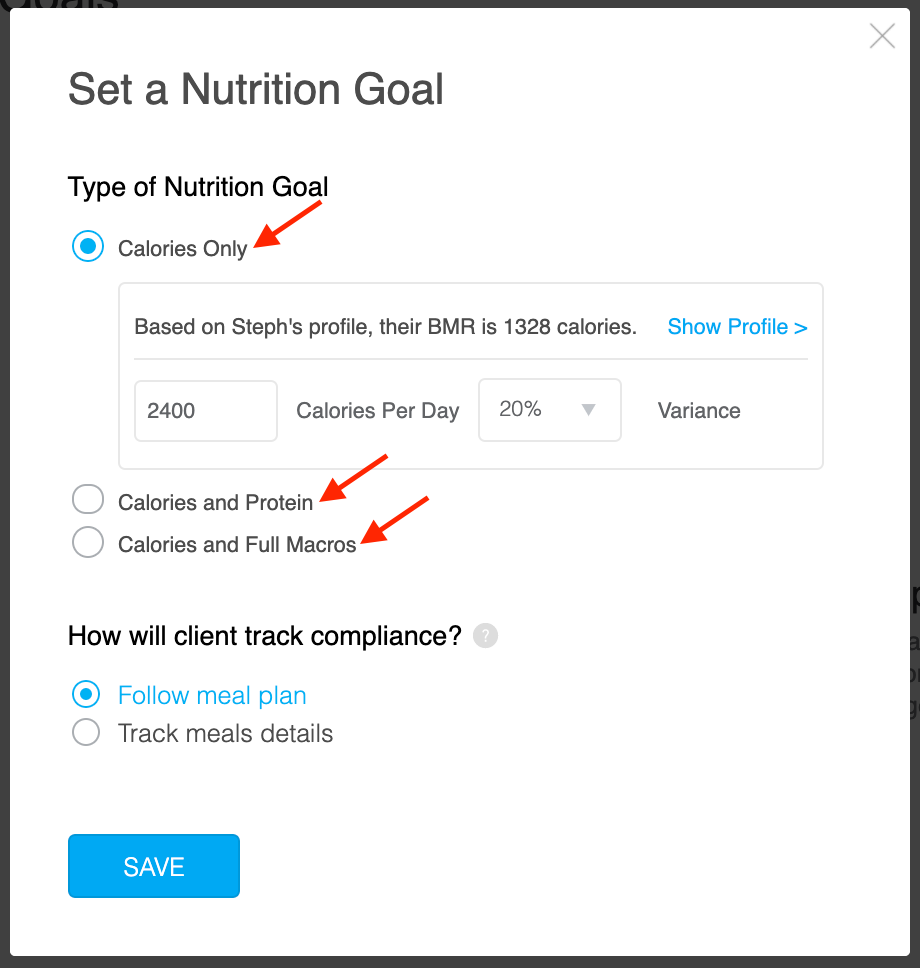 Step 4.
Select from the three Meal Tracking and Compliance options.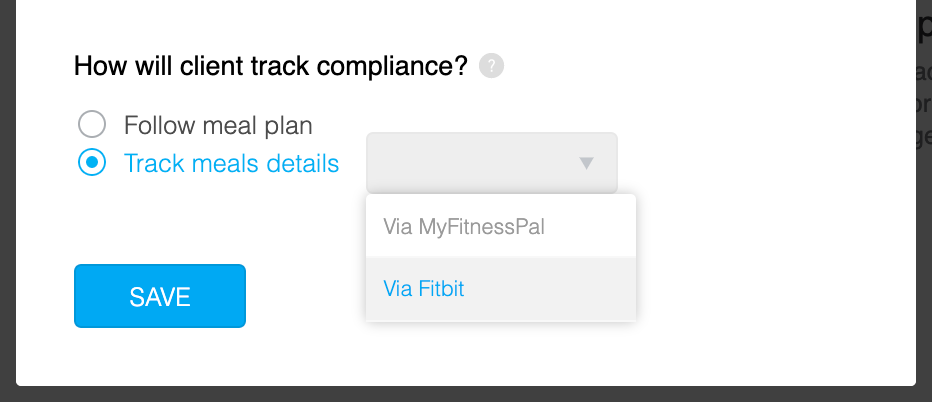 Follow meal plan but do not track meals

Nutrition compliance will not be calculated.
Track meals with Fitbit

Monitor client calories, macros, and full meal details. Nutrition compliance will be calculated. Nutrition goals will be automatically synced to the client's Fitbit account.
Track meals with MyFitnessPal

Monitor client calories, and macros. Nutrition compliance will be calculated.
Step 5.
Select Save. If you've chosen the option to track meals through MyFitnessPal or Fitbit and your client has not yet connected their account, you will be prompted to send them instructions on how to download and connect the Fitbit or MyFitnessPal app.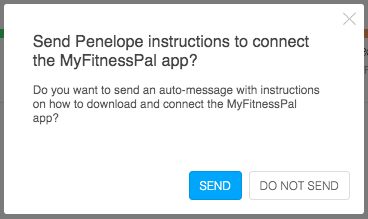 Once created, nutrition goals can be edited or deleted at any time by the trainer by selecting the drop-down menu at the top right of the goal.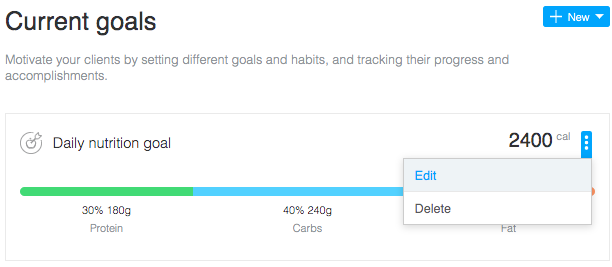 Using Basal Metabolic Rate and Total Daily Energy Expenditure in Trainerize
Whenever you're creating a nutrition goal for a client, you have the option of using our automatic built-in calculations to determine a client's Basal Metabolic Rate (BMR) and Total Daily Energy Expenditure (TDEE). This provides you with important baseline numbers to work with and makes it easier to select effective calorie and macro-based goals.
Learn more about BMR and TDEE: How to use the Daily Caloric Goal Calculator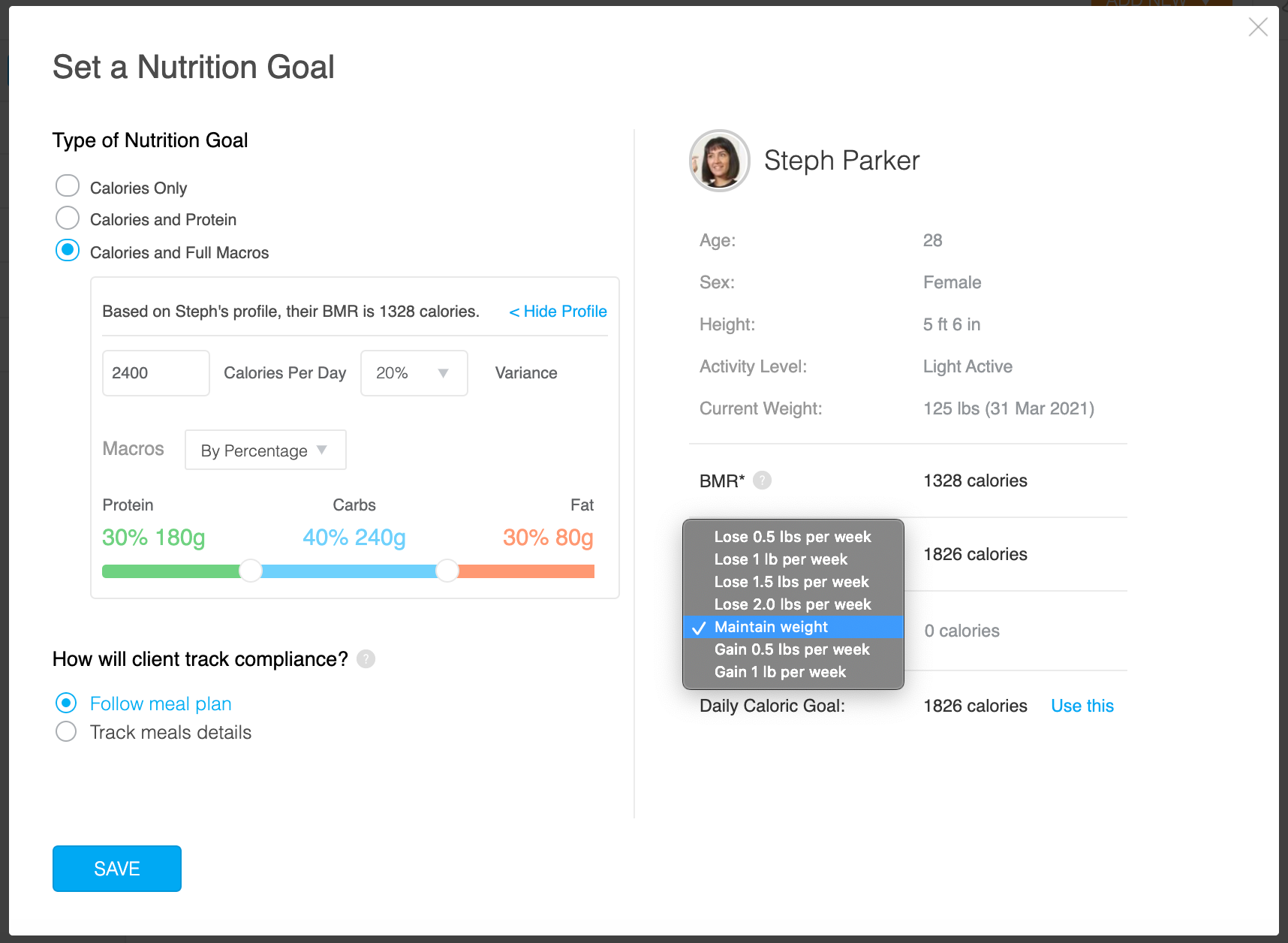 🍓 We're excited to share that a brand new way to deliver nutrition coaching is on the way! From allowing clients to track their meals right within the app to delivering sample, custom meal plans in seconds and so much more, you'll empower your clients to make healthier choices and level up on their health.
Start your journey with nutrition coaching and be the first to know when it's here! Get on the list today!

---
Related Articles
This article was last updated on