Trainers can track their clients Caloric and Macro intake to understand how their diet is affecting their progress. Additionally, trainers can send motivational messages and tailored workout programs that complement their clients eating habits based on the feedback from both Trainerize and MyFitnessPal platforms.
Set Nutrition Goals (via PDF uploaded meal plan)
Login to your Trainerize web account
Open a specific client Profile (click the Open button next to the client's name)
Click on "Meal Plan" at the top of the client's profile
Trainers can set Calories and Macro goals for clients in the "Meal Plan" tab. (screenshot A) Clicking anywhere in the indicated area shown (where it shows Calories, Protein, Carbs and Fat) this will bring up the next available screen to make adjustments. (screenshot B)
Screenshot A: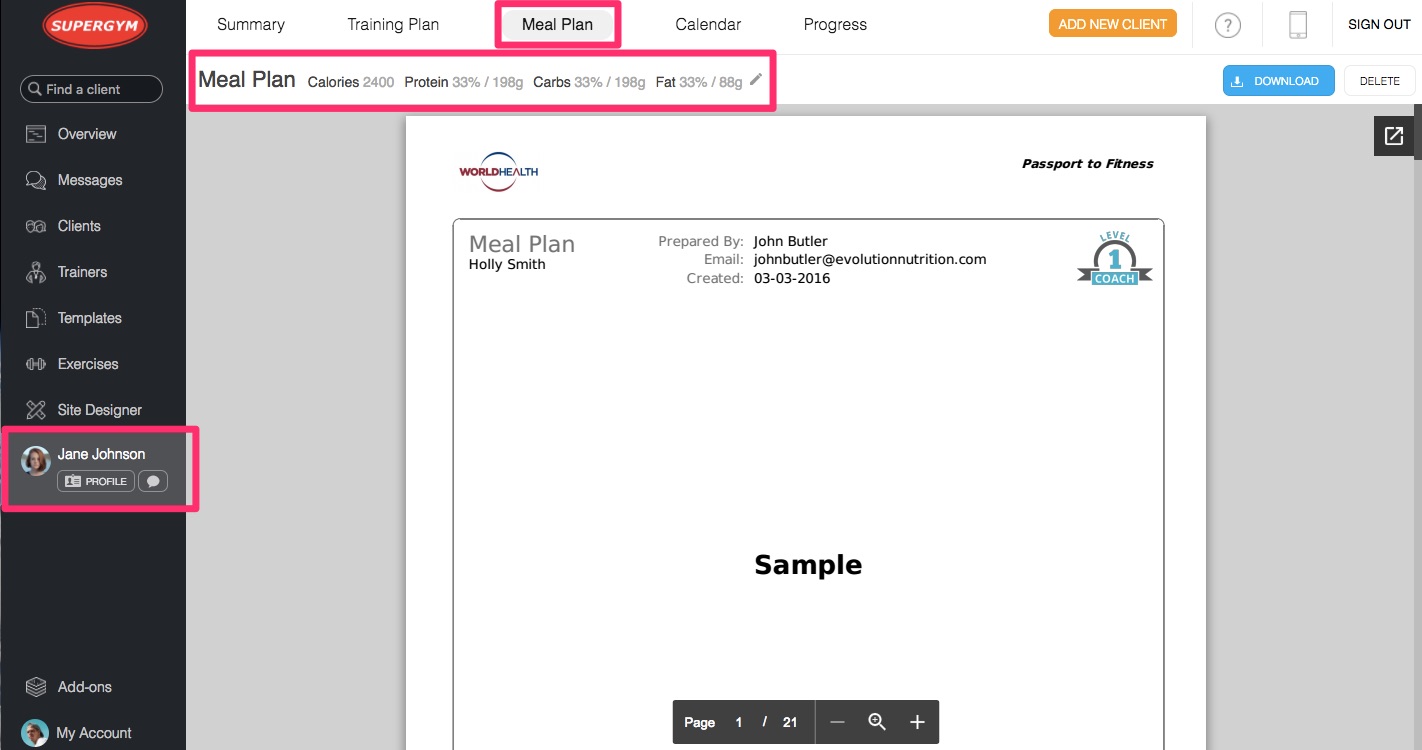 Screenshot B:
From the Nutrition Goals dropdown menu you have the option to use the following to set goals:
Use calories only
Use calories and protien
Use calories and full macros
Do not use
Click "Save" when you have set goals.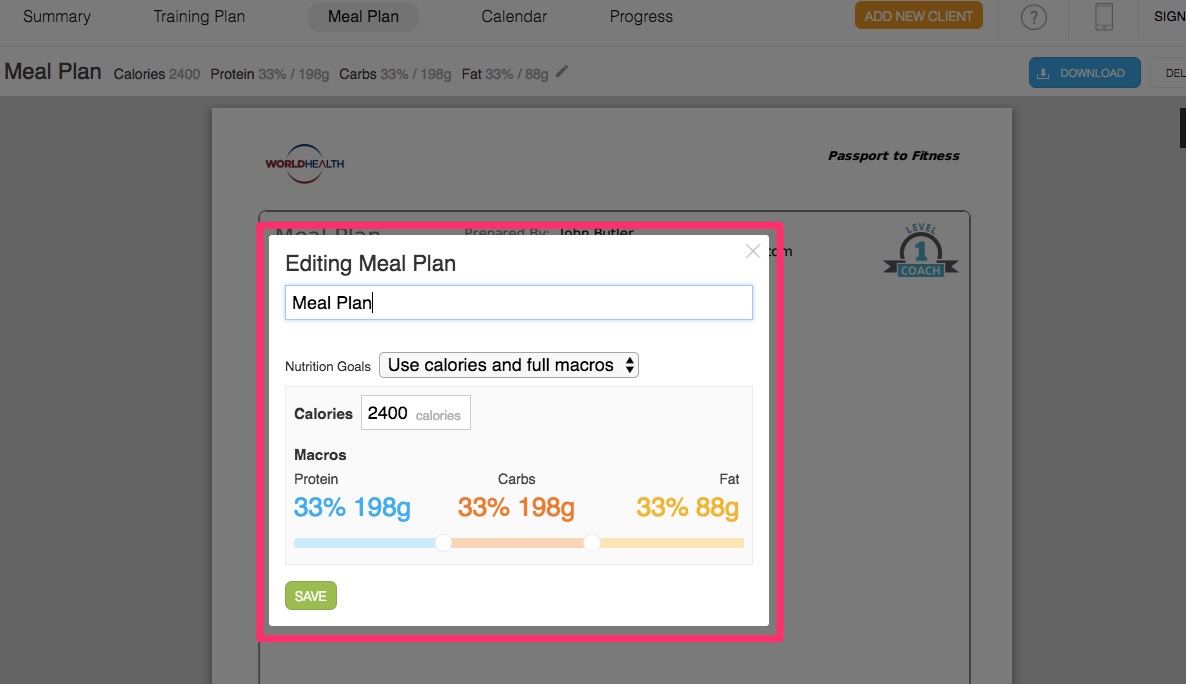 Viewing how they fulfill their goals will get you a better understanding of what changes they need to make to their eating habits and where you'll have the most impact.
Client Dashboard With Nutrition Stats
Client profiles can include nutrition stats once your client connects MyFitnessPal to Trainerize and begin tracking their nutrition. Check up on your clients' tracked macros and calories at a glance by viewing daily and 4-week stats.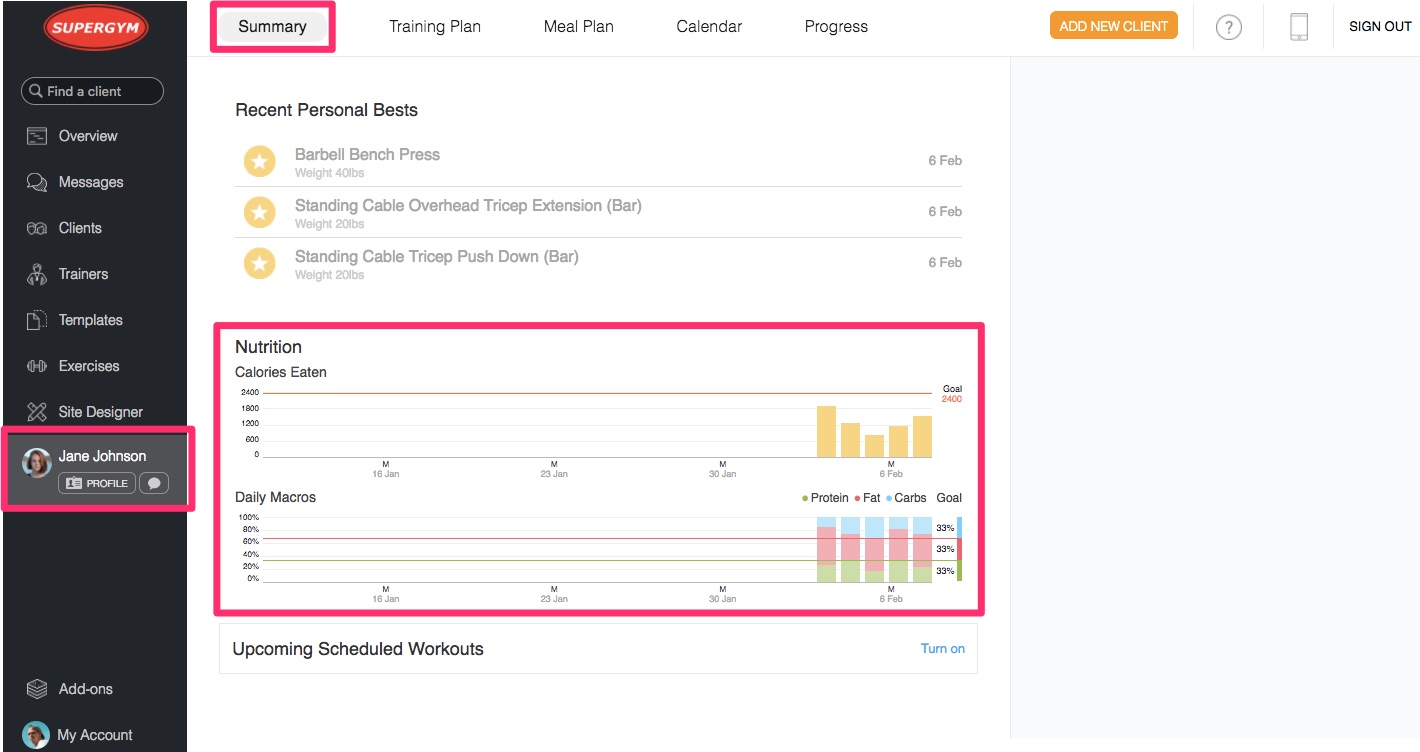 Daily Goals Now in Clients' Calendars:
Every meal tracked by your clients syncs in their daily calendar. (screenshot A) Clicking on the individual tracked meals allows you to view daily calorie and macro stats and keep track of how they are making progress towards their goals. (screenshot B)
Screenshot A: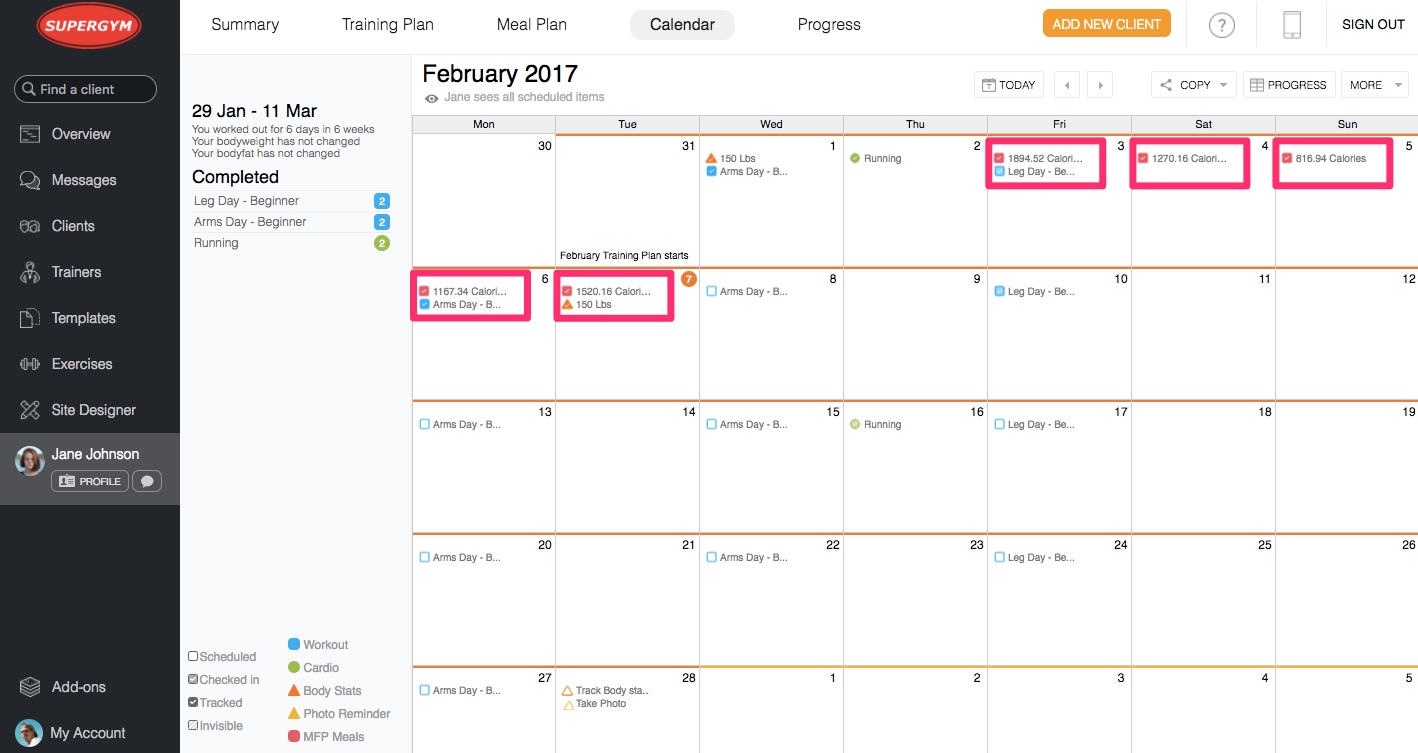 Screenshot B: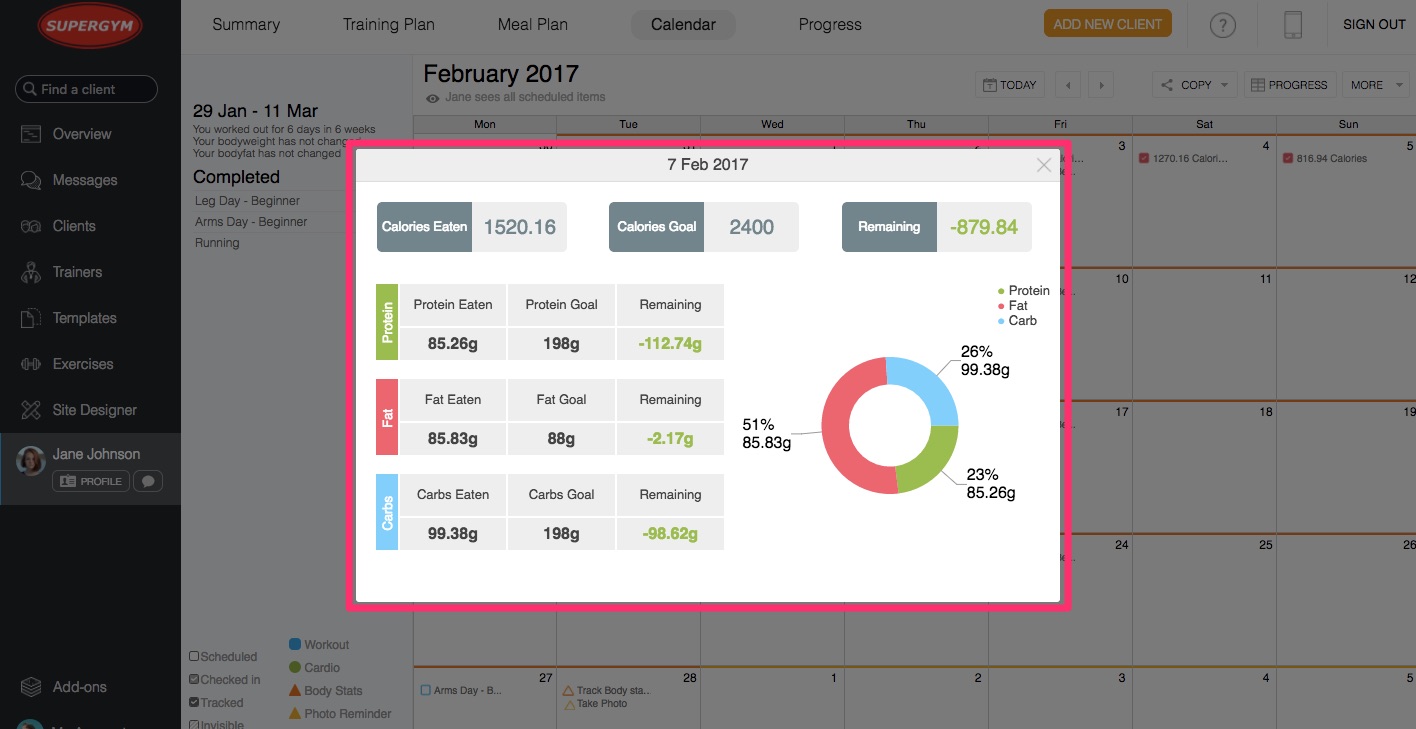 Add a Meal
We've added a way for clients to quickly log a meal from the "Add to today" bubble. Tapping on Meals will open the MyFitnessPal app for clients to record food they've eaten.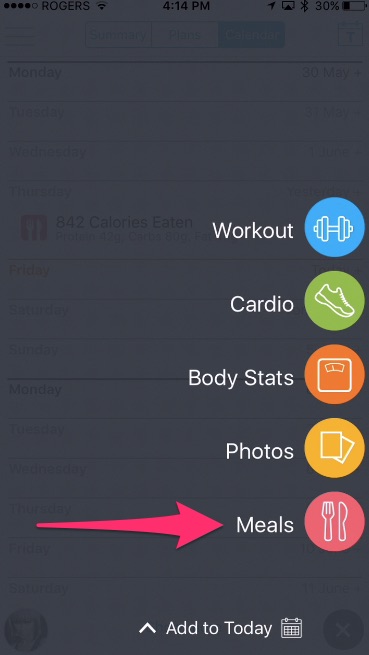 Check Clients' Nutrition at a Glance.
There is a new tab called "Nutrition" in your Trainerize web app under "Clients" which allows you to easily track and analyze how your clients are progressing towards their goals. You'll be able to see both current and past week stats and get in touch easily if you see them missing their goals. Now you can get your clients more engaged to using the Trainerize app by sending them reminders to commit to eating healthy during their week.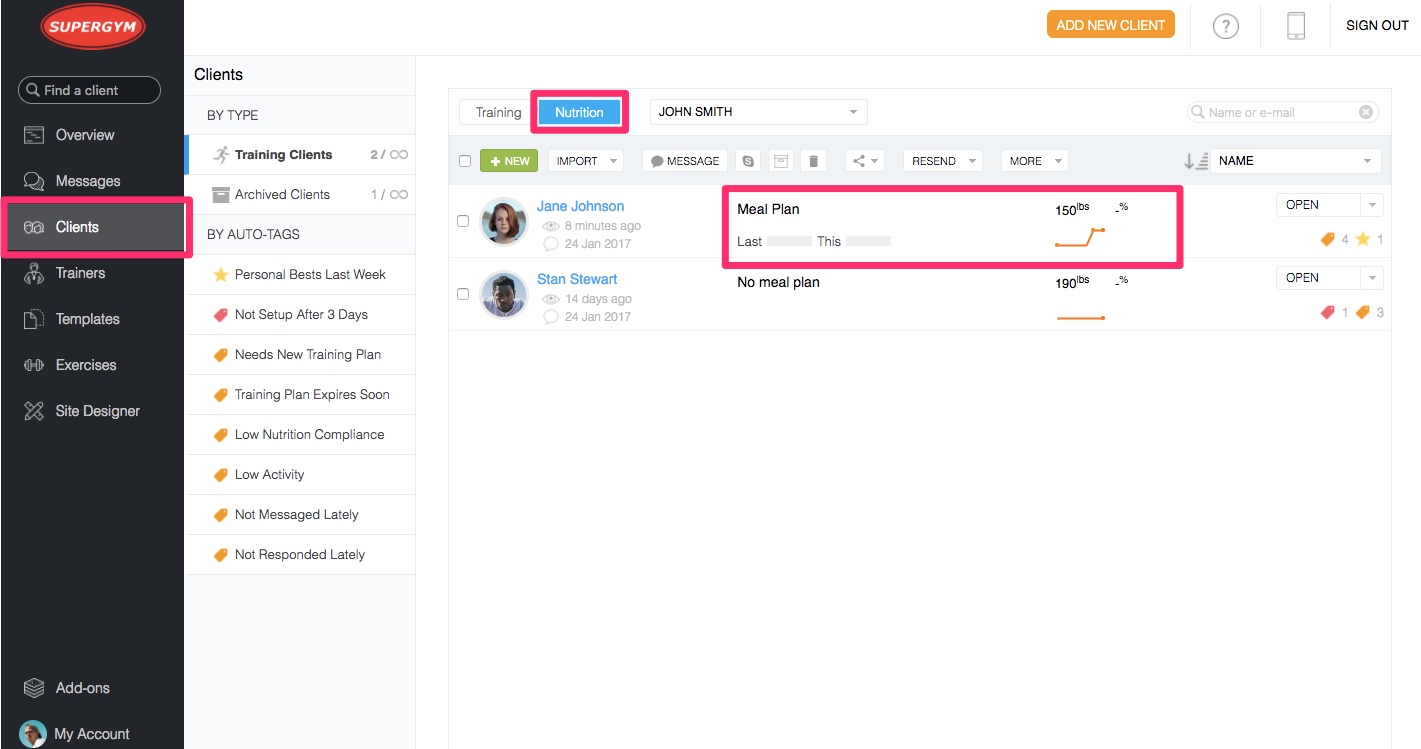 ---
Related Articles
How does a client connect MyFitnessPal to Trainerize?
I'm having trouble with MyFitnessPal. Where can I find help?
How to Create a Nutrition Goal for a Client
How to Measure Workout and Nutrition Compliance
How to Monitor Client Nutrition with Fitbit
How does meal planning work with Evolution Nutrition and Trainerize? [Video]