You can now add a Free Product to the list of products you offer clients - both new and current clients. If you would like to learn about how to create a product for sale in general, click here.
1. Under the Main Dashboard on the left-hand side, click Payments.
Note: Integrated Payments must be set up and LIVE. Even if you're planning on selling Free Products only, you cannot bypass the Live setting. Learn more in the link above.
2. Click on Products from the top of the page.
3. Click "+ Add Product."

4. Select the type of product you'd like to create - Main or Add-on.
Note: Main and Add-on products will be the only product types that a trainer can if they choose "Free" as the payment type. If trainers are wanting to give their clients free session credits (which is one of our Product Types) they can do this by creating a free main product, and/or free add-on product and attaching session credits to these products. Learn more about Session Packs here.
5. Input all of the relevant information - product name, product image, and product description etc.
6. Select "Free" from the "Payment type" dropdown menu.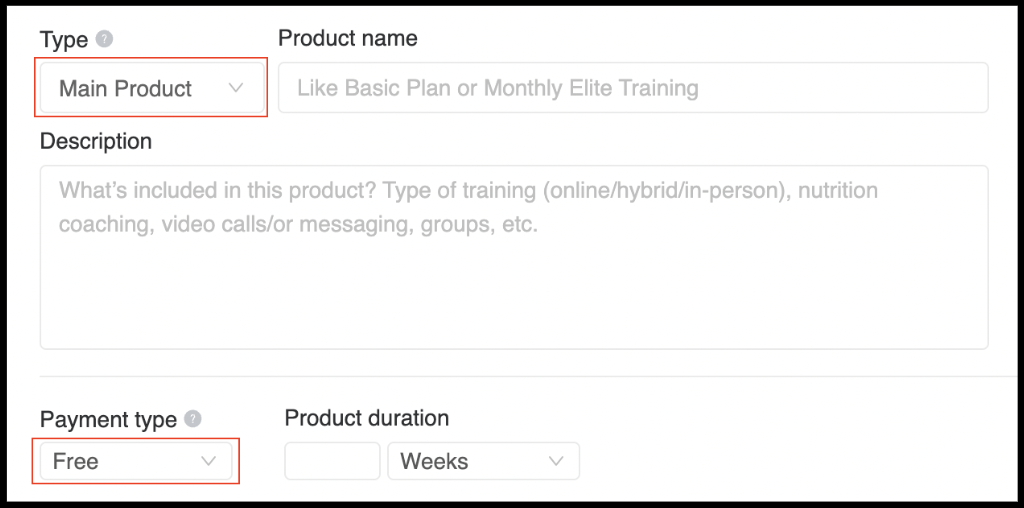 7. Enter the Product duration (days or weeks).
Note: Free products are for a one-time purchase only, they can never be set to recurring. They can be a set duration of days or weeks.
8. Choose when you'd like the product to start from the option available.
Day of purchase/After current: Use this option if you do not need your product and programs to start at the same time. This starts the product immediately. You can then build a custom program, or turn on automation to automatically deliver programs along with other options.
- Next Monday: This option would sync up the start date of your product and program so they always start at the same time together.
- Fixed start date: Use this option with Bootcamp, challenges, group training, or other services where multiple clients need to start on the same date.
9. Next, add sessions if you wish to. If you wish to learn about how to create appointment types for sessions, click here.

10. Select to either sell on Tranerize.me or not as well as limit sign-ups to new clients or to allow current clients to purchase it, too. Learn more about these options in our main article: How to Build a Product


13. Click Add. Now you're all set!
What does the client see?
When a client chooses to purchase a Free product, they will see a "Sign Up" button (as opposed to the usual "Buy Now" one) and will be asked to enter only their email address as well as first and last name.

---
Related Articles
This article was last updated on