The profile on Trainerize.me is your very own personal profile to let potential clients know about you, your training experience, your certifications, the services you offer and why they should train with you. This is your profile to showcase your talents and what makes you a successful trainer.
Set up your Trainerize.me profile
Here are the steps on how to setup your Trainerize.me profile: How do I fill out my Trainerize.me profile?
Create a "Why Train With Me?" video: How and where do I create my "Why Train With Me" video?
Add your location: In the web app, click on "My Account". Then from the My Account menu choose "Locations". Fill in your exact street address and city or just use your city. You can also add a main phone number and/or opening hours. If you have a Studio account you can add more than one location.
Connect your social media accounts: Click on "My Account" then click on "Social Media" from the My Account menu. You can connect Facebook, Twitter, Instagram, Google+ and/or a Blog.
Ensure that your profile is visible (by default this will be enabled): Go to "My Account" then click on "Trainerize.me". Here you will find the "On/Off" option in the top right. If you do not wish to be listed on Trainerize.me you can set this to "Off".
Our recommendation is to fill out your profile with as much information as possible. The more you fill out the better your ranking is on Trainerize.me.
Share the link to your Trainerize.me profile
Once your Trainerize.me profile has been filled out to the fullest capacity here are a few steps to then publicize your Trainerize.me profile.
Share it on your Social Media channels: Using your social media channels share your Trainerize.me profile link. You can find your link by going to "My Account" then click on "Profile" and it will be displayed just above the large background image. (see screenshot)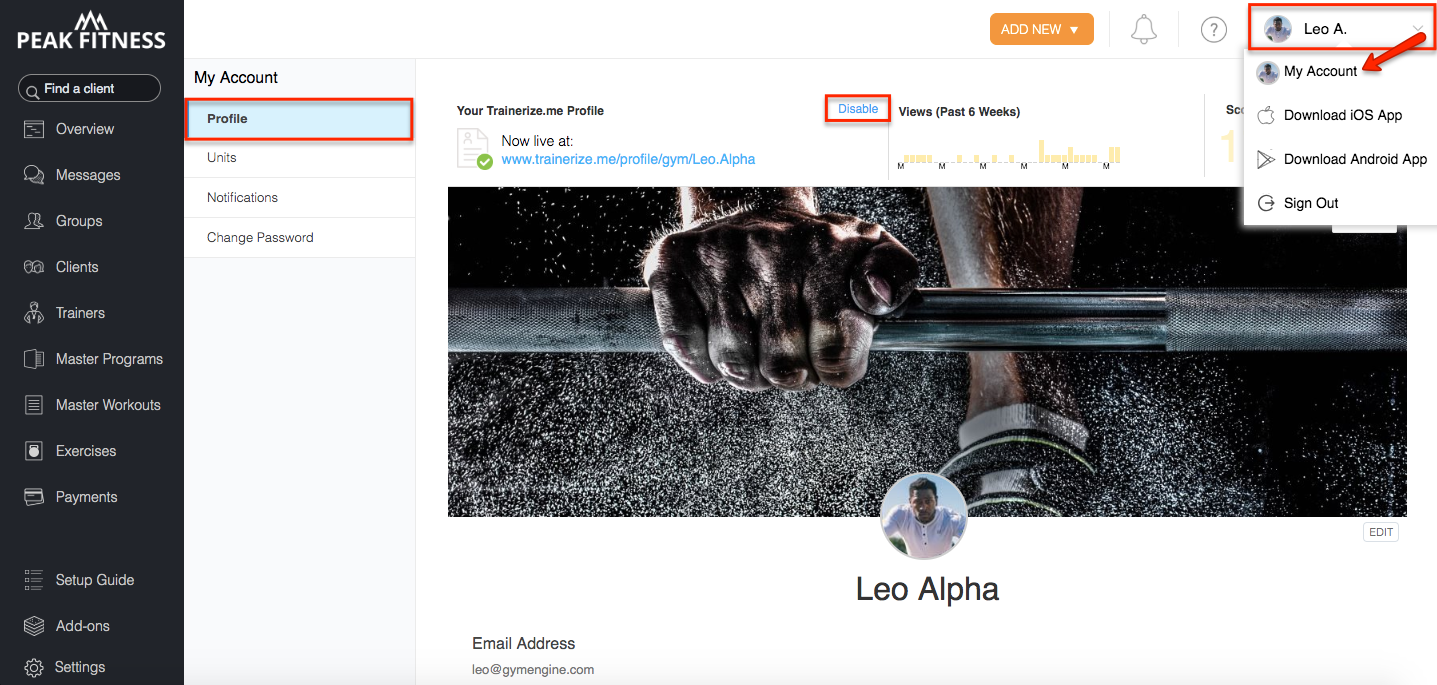 Promote your Trainerize.me profile via Facebook Ads or Google Adwords: With Facebook Ads, you can create targeted ads to reach different audiences and meet your business goals. With Google Adwords, you can be seen by customers at the very moment that they're searching on Google for the things you offer. And only pay when they click to visit your website or call.
More about Facebook Ads: https://www.facebook.com/business/
More about Google Adwords: https://www.google.ca/adwords/
Submit blog articles to Trainerize
---
Related Articles
This article was last updated on