Once you have purchased your Pro Custom Branded App, you will have to provide us with your artwork and brand assets so we can apply the branding and publish your mobile application. We require the following information from you:
Your Trainerize email address
App name and description*
App icon
Logo and splash (background) image
A hex colour for your overlay and mobile top bar colour
*Android only. Pro Custom Branded Apps only get a listing in the Google Play Store. For iOS devices, your app is under Trainerize in the Apple App Store. Once you log in, it will update your branding. More information on this can be found here.
Please be sure your images are high-quality and high-resolution.
This article will provide a breakdown of how to submit your request for the creation of your Pro branded app.
Contents
What do I need to get started?
You will need to have the following artwork/assets in order for us to create your branded app and submit the request:
App name and description

This is for Android devices only. For iOS devices, your app is under Trainerize and is called "Fitness App"
Alphanumeric only (letters and numbers, no special characters like &, ` + etc. They will be removed)
No lists or bullet points can be in your description

App icon

This should be a simplified version of your logo

Logo

This will be placed over the top of your splash image
This logo should

Splash image for your welcome screen

No logos or text can be on your splash image
No nude/semi-nude or topless trainers/models
No cleavage and models in sports bras, underwear, bikinis, etc.

A hex colour

A shade of this colour will be used for over top of your splash image
This colour will be used for your top mobile colour
If you would like to read more on the dimension and file type requirements of the assets and how to prepare them for uploading, please read our article: Pro Custom Branded App - Preparing assets for your app.
To learn what you can expect from your custom branded app, click here.
How to submit your request
Step 1 - Submit Artwork.
After purchasing your app, click "Submit Brand Artwork And Information" to get your application started. You will upload an Icon/Logo image, a Splash image which is used for a loading page, and provide your hex colour.

Step 2 - Info Received. In Processing Queue.
Your application has now been submitted into a queue to be reviewed by our Custom Branded App team. Our team will review each application in the order that it was submitted, and will work on resizing and colouring your images to fit the app branding. This is followed by creating a packaged submission which is then queued for the publication process.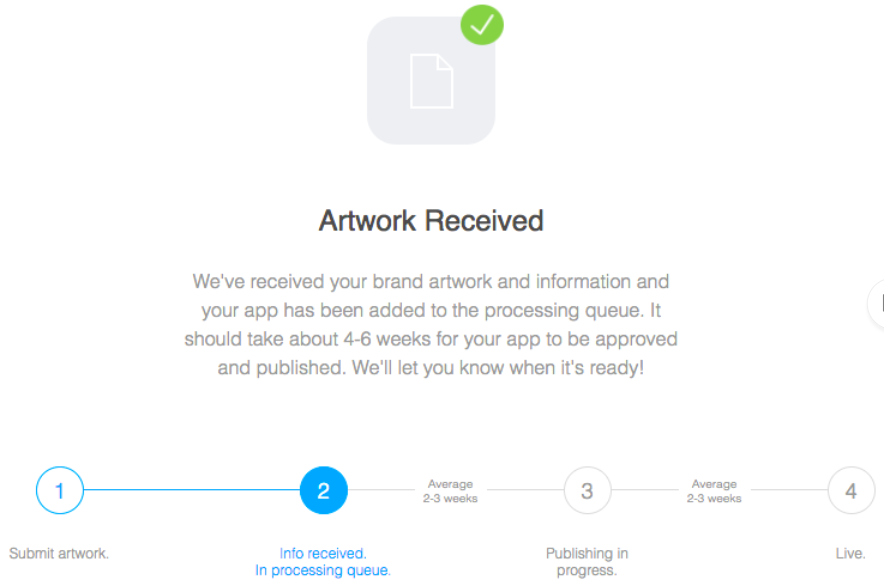 Step 3 - Publishing in progress.
Your application has been submitted to the app stores (Apple App Store and Google Play Store) to be reviewed. This process can take some time to complete. Once your application has been reviewed, it is ready to go Live.

Step 4 - Your App is Live
Your Custom Branded App is now live! You can copy the links on this page to your social media, or into your marketing campaigns. Ensure you check your email for additional information.

---
Related Articles
This article was last updated on