What is a Phased Program?
Think of phased Programs as long-term fitness journeys made up of back-to-back training phases. Phased Programs can be utilized for a client's Personal program, Main or Add-on program.
By combining multiple training phases, and scheduling regular body measurement reminders, trainers can build comprehensive fitness curricula designed to grow and progress with their clients, following them through the different stages of their lives and fitness journeys.
How do I build a Phased Program?
1. From the left-hand menu under Master Libraries, select Programs.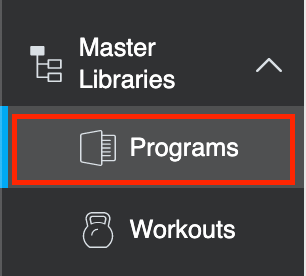 2. At the top left, select the blue +NEW button and then select Build New.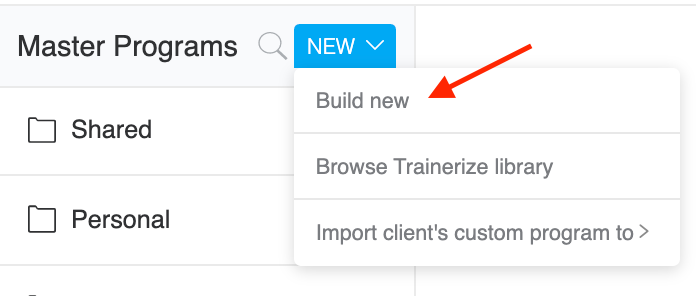 3. In the pop-up dialogue, enter a name for your phased Program.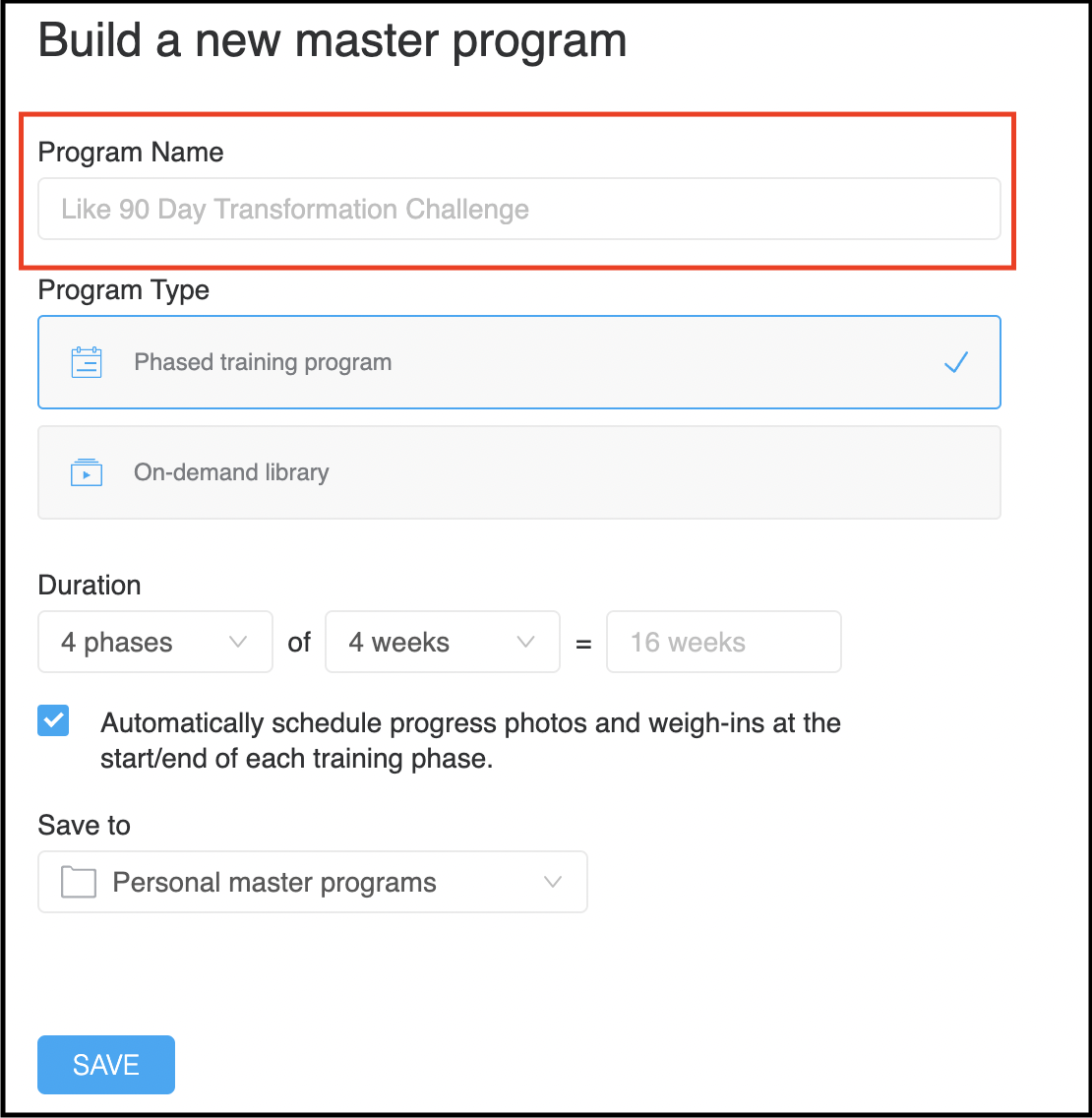 4. Next, select the number of phases you'd like to include in the phased Program and the duration for each training phase. Every new Program starts with a trainer deciding how many training phases they'd like to include and how long each one should be. This lets you periodize your training, building stages or phases that clients can gradually progress through on their way to building a healthy lifestyle.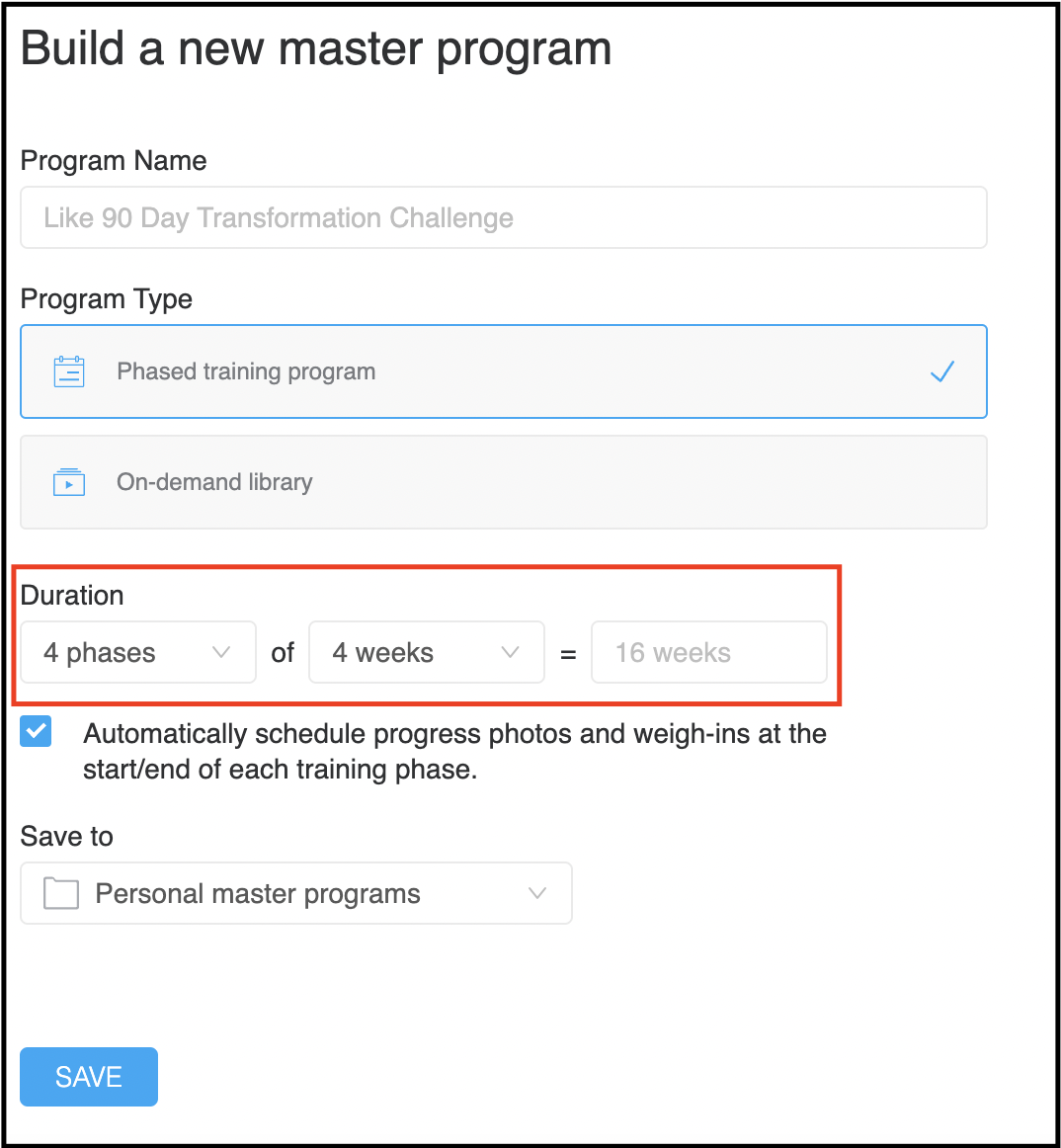 5. By default, the option to automatically schedule progress photos and weigh-ins at the start/end of each training phase will be checked. If you would prefer not to include these in your phased program or would like to schedule them manually, uncheck the box.



7. Click Save.
Before you click Save, you have the option to select from Shared or Personal Master Programs. Depending on your Role (Admin, Manager, Trainer etc) you will see three different folders in your Master Programs page: Shared, Personal and Browse by Trainer. Admins and Owners can decide which folder to add the new program to. When a regular or shared trainer builds a new program, those programs are automatically added to their "Personal" folder.

To learn more about Program folders and permissions, please see this article.
Adding workouts to Training Phases
Select the first training phase and choose how you would like to add workouts to the training phase. You can choose to either build a new workout or import workouts from other Master Programs, Master Workouts or Client Programs.

Repeat this process to add workouts to each of your Program's training phases. If you wish to add a new training phase, you can import entire training phases from other Master Programs or Client Programs or simply hit "Add Next".

Click the three vertical dots next to the training phase's current name to view the drop-down menu with more options such as Rename, Duplicate, Delete etc.




Now that you've added workouts to your training phases, you can schedule those workouts on the Program's master calendar.

To schedule a workout, cardio activity, body stat reminder, progress photo reminder or an auto message, click on a day in the schedule and follow the prompts in the pop-up dialogue.



To delete a scheduled item simply click on it and select "DELETE" from the pop-up dialogue. To move an item to another day, click and hold the item and drag it to another day within that training phase.

Now it's time to subscribe clients to your phased program or copy the phased program to their calendar. Note that any subsequent changes made to the phased Program Template will be automatically pushed out to all clients subscribed to that phased Program, but not if the phased Program is copied to the client.
REMEMBER: The training phases that are part of a phased Program have their workouts scheduled on a Program Schedule, not a client calendar.
What's the difference? Calendars, like the ones used for stand-alone training phases, are tied to actual dates and allow trainers to schedule workouts in relation to the current day, week, month, or year. In comparison, Program Schedules aren't tied to any specific dates. Instead, they show the number of days in your Program broken down into 7-day weeks.
For example, If you build a program with 4 training phases, each 4 weeks long, the schedule will show you 112 days broken into 16 weeks. The numbers you see on the schedule correspond with the day of the program, not with the day of the month.
REMEMBER: Deleting a phased program will remove all missed/scheduled items from the clients' calendars. However, all completed items, progress, accomplishments, timelines, and auto-post in groups will remain intact.
---
Related Articles
This article was last updated on