Easily deliver and generate meal plans for your clients based on their caloric goals, macro split, schedule, and dietary preferences. Plus, add your own recipes so your clients get the best meals to cook and track in-app.
The pricing for the Advanced Nutrition Coaching feature is outlined in the chart below.
| | | | |
| --- | --- | --- | --- |
| Grow - Pro 15 | Pro 30 - Pro 200 | Studio | Enterprise |
| $5/month | $45/month | Included | Custom |
You can turn on the Advanced Nutrition Coaching add-on in a variety of locations:
1. When you upgrade to a Pro Plan, you will be prompted to select the add-on.

2. Under Add-ons > Trainerize Add-ons.

3. Under Settings > Billing, scroll down to Add-on subscriptions and click Browse all add-ons.

4. When you try to create a smart meal plan if your client has no meal plan.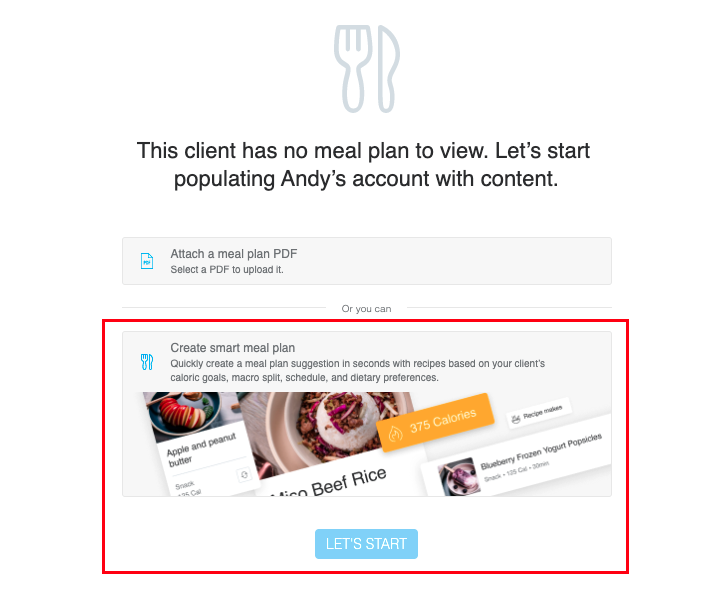 5. When you click Switch to the Smart Meal Planner if your client has a PDF or Evolution Nutrition meal plan.

What's included in the Advanced Nutrition Coaching subscription?
Basic
Advanced

Track meals in-app with meal photos or food library tracker

x
x

Set daily nutrition goals

x
x

Set individual nutrition variances

x
x
x
x
x
x

See your clients' weekly nutrition compliance

x
x

View clients' weekly caloric, macro, and weight graphs

x
x

Track meals via MyFitnessPal or Fitbit

x
x

Generate smart meal plans

x

Clients can swap meals in their smart meal plan

x

Customized onboarding paths for nutrition clients
COMING SOON!

x

Custom meal plan templates + custom coach roles
COMING SOON!

x

Clients can generate shopping lists
COMING SOON!

x
---
Related Articles
This article was last updated on