We've created the Master Workouts and Master Programs sections to be used as Libraries filled with various training templates that you can use for your clients.


You can subscribe a client to one of your Master Programs and get them ready to train very quickly, however, if you are looking for a more customized approach, you can use the Custom Program option.


Every client has a Program specific to them available to customize in their Training Program section. The Program can be built directly into the client's account. You also have the flexibility to Import or Copy that Program to your Master Program if you wish to reuse it later on.
When To Use a Client's Personal Program?
The option to create a program specifically in a client's account is useful when the client requires unique personalization that may not be available in some of your Master Program templates. By setting up a program in their profile can help keep your Master Program Library organized (you'll avoid cluttering it with individual client programs). If you choose to create a Program this way, this does not mean you've permanently built that custom Program in the client's account. You do have the option to later Import a client's custom program to your Shared or Personal Program folders.
When To Use a Master Program to Deliver Training?
You can create all your Programs in the Master Program section when they are meant to be replicated for more clients. For example, you might create a "30-day Bootcamp" Program to which you want to subscribe more than one client to. Master Programs are great for these one-to-many training styles. You can also use a Master Program as the starting point for creating client custom programs by copying the Programs to your client's Training Phases.


What's best?
Between using a Master Program and a Client's Program, you have the option and the flexibility to organize your training templates in such a way that best fits your business. This also allows you to think ahead and as your Master Program library becomes more extensive, you have the option to build client programs for those unique programs that you may never use again, or that you may be creating for short-term clients. The options are all there, but where you choose to take advantage of them is up to you!
Reusing a Client's Program
If you need to use a client's custom Program for other clients or you think that it could be tweaked and used as a template in your Master Programs section, you can import the entire Program over by following these steps:
Click on the Master Programs section
Click the blue + New drop-down menu
Select Import Client's Program As and choose from Shared or Personal

This will open a dialogue menu that will ask for the client's name from which you would like to import the Program.
Clicking Import will save that Program in your Shared or Personal folder as the client's name. For example, if the client's name is Sally Thiel, the imported Program will be named Sally Thiel.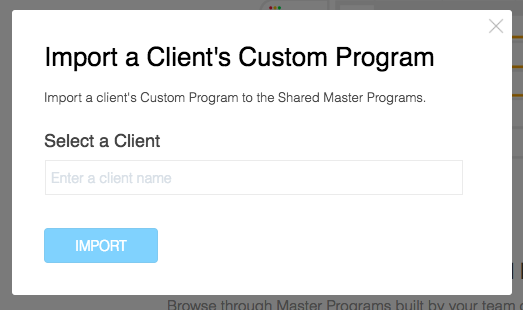 Need more help with the Copy, Move, Import options? Check out this video:
Tags
Just like with workouts, you can use custom tags to group, identify, and categorize your programs, making it easier to find exactly what you're looking for. When you move or copy a Master Program between folders (for example, Personal to Shared), all tags will be also be moved or copied into the new folder.
How does this fit into using "Multiple Programs" at the same time?
Trainers have the ability to create multiple stacking programs with Add-on Programs. Alongside a client's Main Program and Custom Program, a client can have 100 Add-on Programs.
These programs can consist of both phased and on-demand program types. While the client is training, the trainer has the ability to switch an Add-on Program into the client's Main Program.
Every Main program will be labelled with the term "Main". This is the main program for the client and will always be displayed at the top of their training program. A client's custom program can also be a main program and is set by default.
Users also have the ability to create On-demand programs. On-demand programs allow trainers to create on-the-go programs where clients can pick up workouts at any point. These programs do not have an end date and are not scheduled by trainers.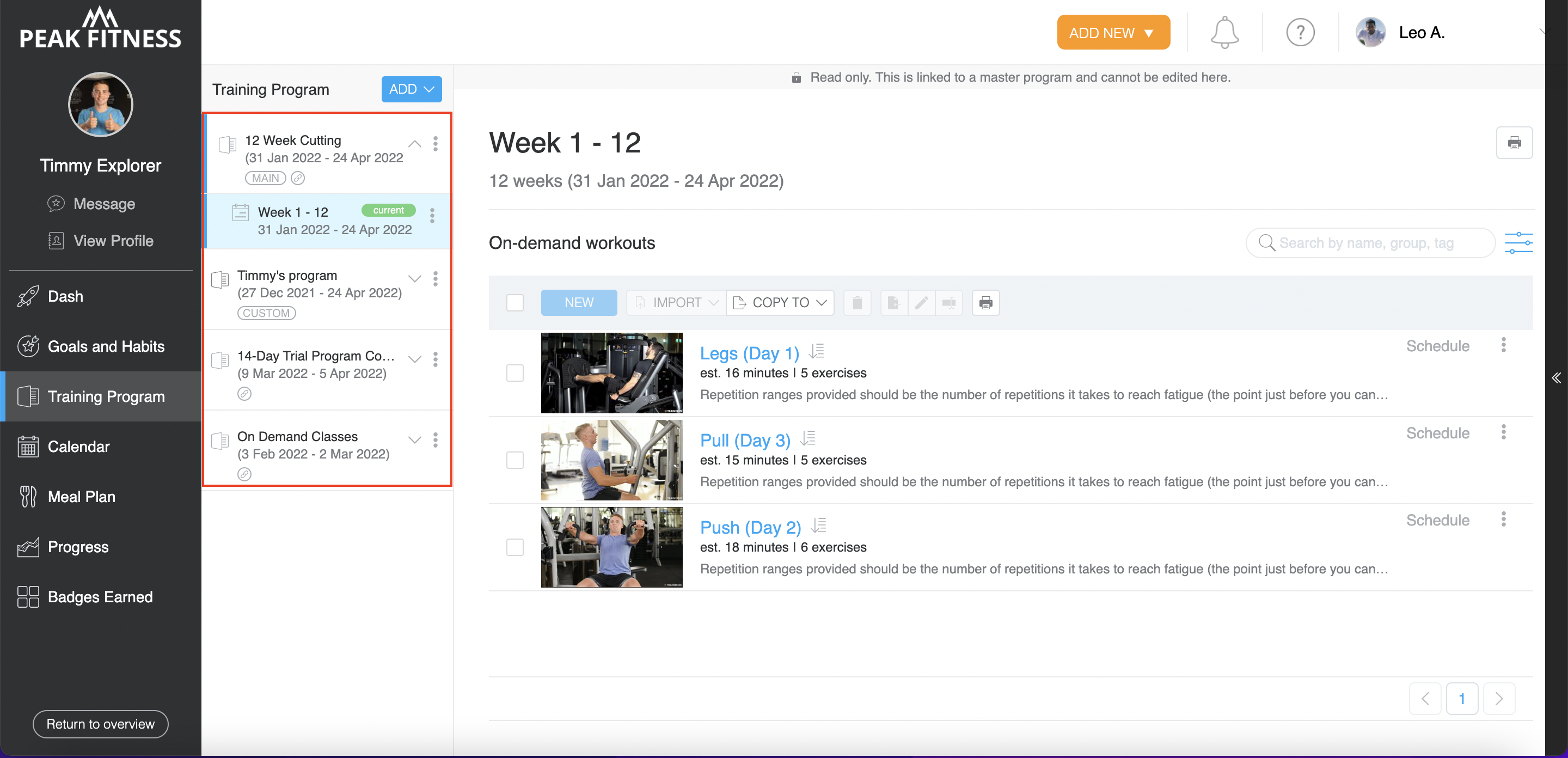 ---
Related Articles
This article was last updated on