Follow these steps to ceate a training product to market and sell. Tap " + New " to create a training product.
Recurring subscriptions or one-time purchases?
Depending on how you would like to charge for your training services, you can choose to create 2 different types of products:
1. Subscription Plans (recurring) and,
2. One-Time Packages (single payment purchase products).
Creating a Subscription Plan in Trainerize Pay.
If you want to create a recurring subscription plan, you have the option to customize it with a title, a description and an image. You can also set a certain price and renewal period for your plan.
Now is the time to also set a certain value and renewal period for your plan.
The renewal period can be set by days, weeks or months.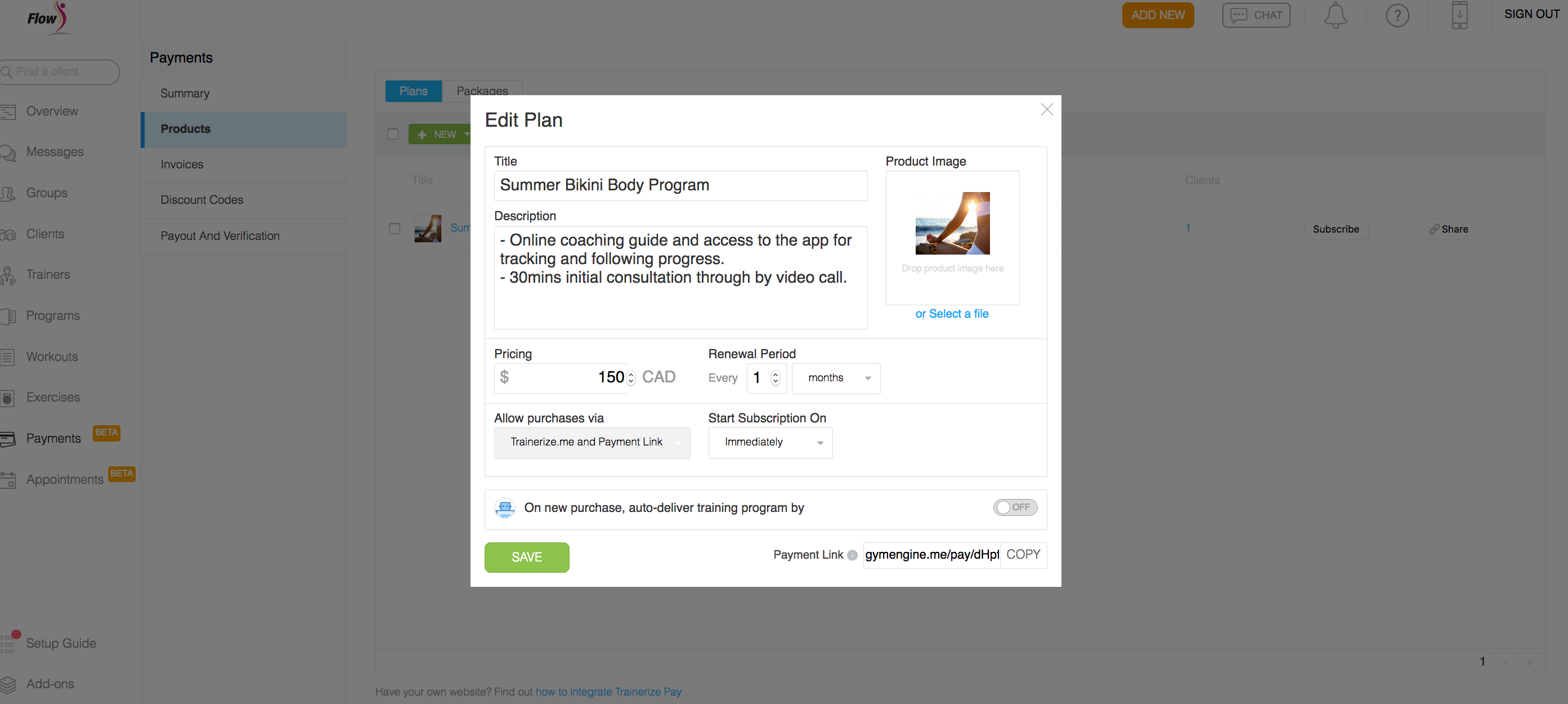 You can also enable the product to be available for purchase on your Trainerize.me profile. This way you can use your Trainerize.me profile as your storefront and sell your products directly from there.
Next, set the start date for your program. This can be either Immediately (ie. for clients who don't have a training plan yet or who have a training plan that has finished), or you can Pick a Date (for new clients or certain challenges).
What Happens After Clients Pay? It's up to you!
Automate your product delivery and create certain workflows after your clients purchase your plan. By enabling " ON " for the auto-delivery option, you can choose to deliver your program by either copying it from a program template, having clients join a training group, or subscribing your clients to a program template.
This means that whenever someone purchases this program, this automation will take place and your clients will be automatically taken care off.

Share your plan!
You can copy the payment link and share it on your website, social media or in your email marketing campaign. You can also create buttons or banners and hyperlink them to this payment URL.
Subscribing Clients to Your Subscription Plan
When you are ready, click " Save ". The next step is to subcribe clients to your plan.
On the "Products" tab, click on any of the " Subscribe " buttons to select the clients you want to subscribe to your plans.
Type the names of the clients and choose the plans you want to assign them to.
Choose a start date. This can be at the end of their current plan (existing clients), or immediately (existing or new clients), or select a date (existing or new clients).
Creating a Package in Trainerize Pay
Packages are one-time purchases of training offerings. Many trainers use this option for limited time offerings such as challenges and bootcamps.
Tap " + New " to create a training product.
Same as for the Subscription packages, you can customize your Package with a title, a description and an image. You can also set a certain price and the length of your package.
The length is what makes Packages different than Subscription Plans. You can choose your package to last for a number of days, weeks of months.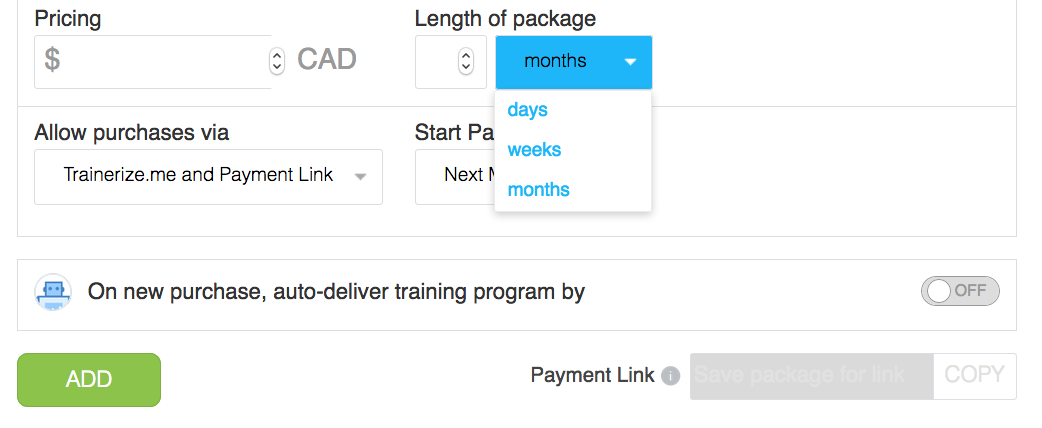 Same as for subscription plans your can allow clients to purchase your Package from your Trainerize.me profile or via a Payment Link.
Also, auto-delivery options are available for Packages too. You can find more information about this in the section above.
Need help creating a Subscription Plan or Package in Trainerize Pay? Don't hesitate to get in touch with us via chat or by raising a support ticket. Our Trainerize Coaches would love to give you a hand!
Check out the video below for step-by-step instructions: