Products are the unique fitness (and nutrition) services you want to sell. You can build as many as you like and all of them can be managed from your Trainerize Pay dashboard. There many options to customize your Products, with three sections to go through: Basic Details, Online Sales, and Automation.
Step 1: Basic Details
1. Start building a product by adding a unique name and a detailed description. This will be visible to potential clients and will help them understand what's included in the Product. You can also add a Product image to better market your services and entice potential clients.
2. Depending on how you would like to charge for your training services, you can choose from three payment methods:
One-time upfront
Recurring (e.g. $100 per month until client cancels)
Recurring with an end-date (e.g. $100/month for a total of 4 months)
Please note: once a Product has been created, the payment type cannot be changed. 
3. Before moving on to the next step, consider whether your product start date is fixed or not. If it is, please select the "This is a bootcamp/intake product (the product start date is fixed)" option under the description box. If your product start date is not fixed, move on to the next step, Online Sales, where you will have more options to choose a start date.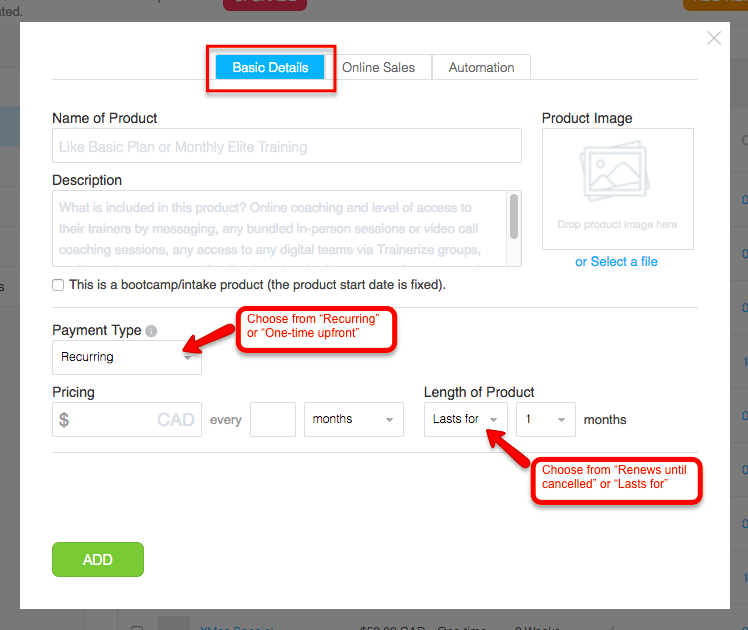 Step 2:
 Online Sales
1. To help you expand your reach and sell even more, Trainerize Pay lets you seamlessly publish and share your Products to Trainerize.me where clients can browse through all your Products and make a purchase. You have the option to publish your product on your Trainerize.me profile, just choose toggle between "On" or "Off" depending on your preference. You can also share and embed a direct payment link to specific products to market your products anywhere you'd like.
2. If your Product doesn't require a fixed start date, you can choose between two different options for start date: (1) on the date of purchase or (2) the next Monday following the date of purchase.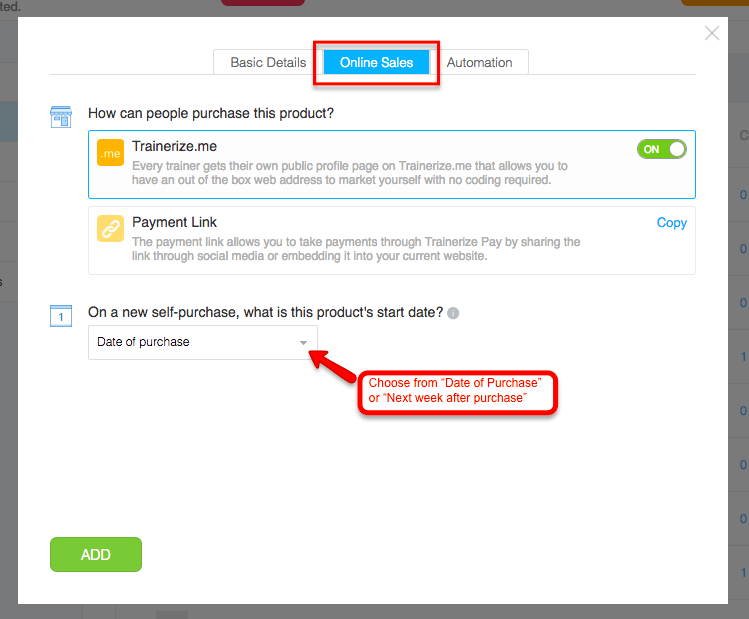 Step 3: 
Automation
Thanks to powerful built-in automation, you can also set-up a series of actions that you want to automatically happen when a client purchases a Product and when that Product starts! 
1. On purchase of first product for new clients - this is triggered when a new client purchases their first product through your profile on Trainerize.me and is useful when your purchase start date might not be the same as the product start date (e.g. pre-sales for a New Year's bootcamp) 
Choose from:

1. Assign to a trainer

2. Join prep program while waiting to start

3. Join non-training group
2. On product start date for all clients - this is triggered each time the product start date elapses and is useful for auto-delivering your program when a purchased product starts and spreading workload across multiple trainers 
Choose from: 

Assign to a trainer

Switch program by joining a training group

Switch program by subscribing to a program

Copy program into client's account
Join non-training group