Trainerize Groups are like private Facebook groups for your clients, completely built into Trainerize, and are perfect for sports teams, virtual small group training, support groups, corporate wellness or for anywhere you need to build a digital community of people. Trainerize groups can scale from small groups to large groups, up to 1000 people.
Using Trainerize Groups, you can engage and motivate more people at once through shared photos, mentions, message reactions, milestone badges, workouts of the day, and workout activity information. You can also inspire clients to share their healthy habits, motivate each other, offer support, and keep in touch—all in the same place.
Trainers can create groups and invite other trainers and clients to join them. They can also turn on group activity, so participants in the group can see workout information and personal bests from their peers.
Why should I use Trainerize Groups with my clients?
With Trainerize Groups you can create stronger relationships with your clients, increase engagement, and strengthen their accountability—simply by having better conversations, at the right time and in the right place. Trainerize Groups make everything more fun too!
With push notifications, Trainerize Groups gives clients a big reason to open the app more often and remind them that they're not alone in their fitness journey. Social motivation (and maybe some healthy competition) can go a long way toward a client achieving their goals.
6 easy ways to boost interaction
1. @ MENTION YOUR CLIENTS WHEN THEY HIT A NEW PERSONAL BEST:
A great way to keep your community engaged is by using the "@" symbol to specifically mention someone in the group for a recent achievement. When you do, the person being mentioned will receive a notification straight to their phone letting them know someone is giving them a shout out in the group.
Encouraging other members to do the same for each other is a great way to boost comradery within the group! When you use @ to mention someone, they get an in-app notification. When you post something new, @everyone is automatically added in the text to trigger a notification. If the post is purely informational and should be discovered inline within all other content, you can leave this out.
2. SHARE WODS (WORKOUT OF THE DAY)
Sharing a workout of the day in a Group is quick and easy! The workout can be a standalone workout that is not included in the Group Master Program. When a client is completing the WOD at the same time as another client, they will both be notified which is great for creating motivation and a bit of friendly competition!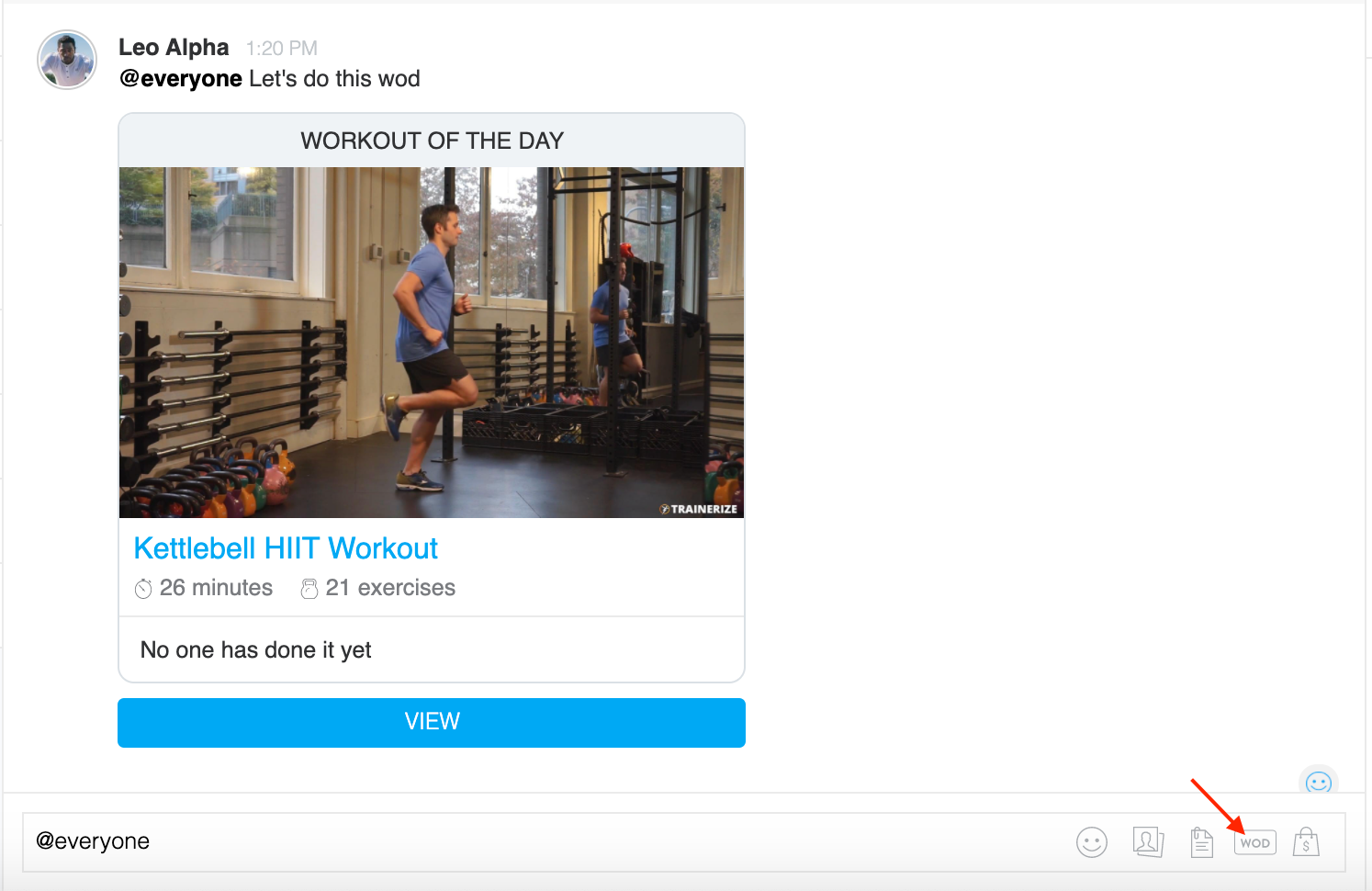 Clients and trainers can also easily view the workouts shared in the Group in the Summary tab for that Group. This makes it easy for clients to view workouts that they may have missed but want to complete later without having to scroll through the conversation to find them.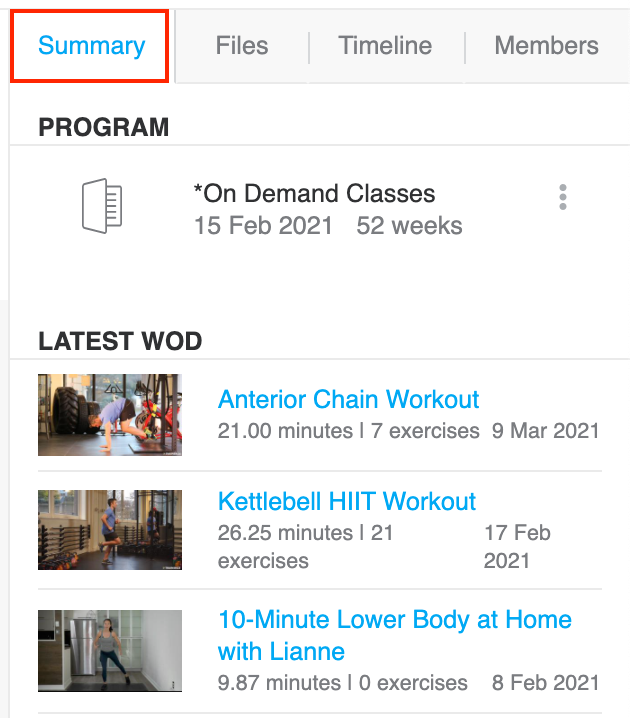 3. AUTO-POST WORKOUT ACTIVITY: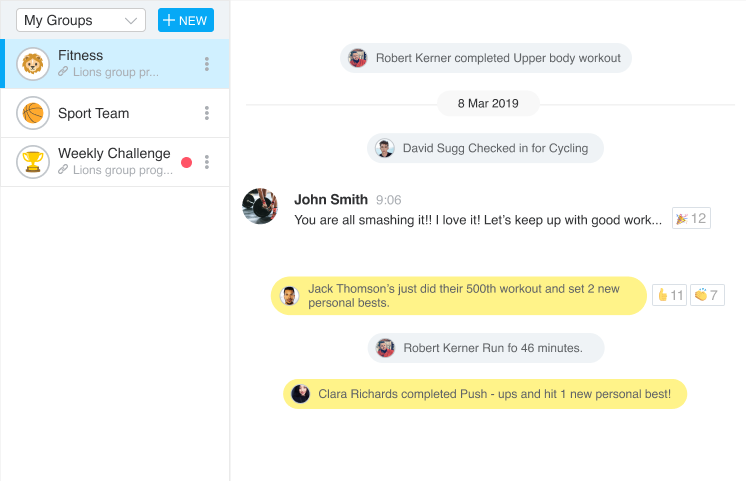 Trainers can choose to publish workout and cardio activity, milestone badges and personal bests in the group. This way clients can take part in a joint fitness experience, offer support and motivate each other.
4. HIGH FIVE OR LEAVE REACTION WHEN A CLIENTS ACHIEVES A GOAL:
Group participants can tap and hold any message to add a reaction from a set of fun animations. You can also use reactions to ask questions or conduct different polls by having people give thumbs up or down depending on the various questions.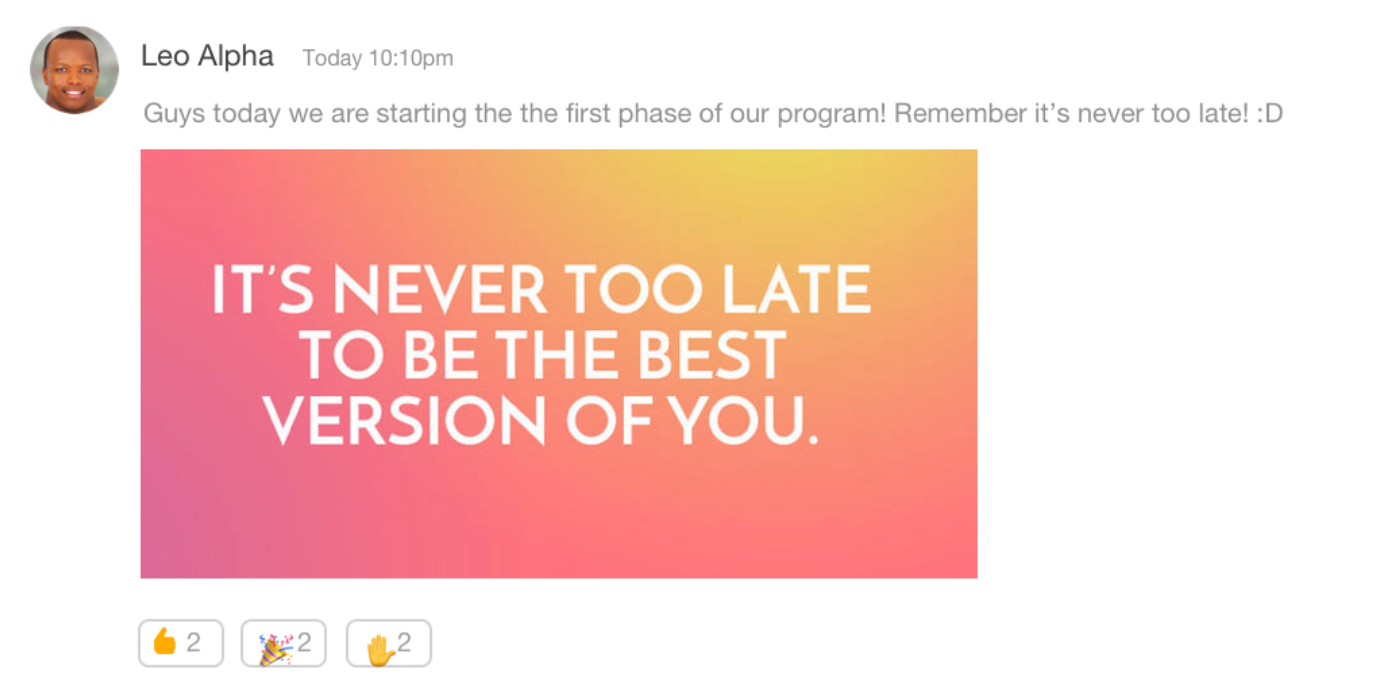 5. POST PICTURES AND CREATE DAILY TOPICS TO PROMOTE CONVERSATION:
Creating daily topics like "Motivation Monday", "Winning Wednesday", or "Flex Friday" is a great way to get members talking and engaging with one another.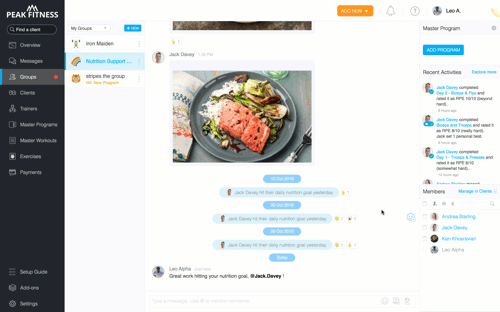 6. CREATE CHALLENGES:
You can create challenges in your groups and offer rewards like free sessions or phone calls to members who get the most personal bests in a month, earn the most milestone badges, post the most photos to the group, eat within their nutrition goals the most in a month, or comment and post within the group.
---
Related Articles
This article was last updated on