Why should I pre-compress video files before uploading?
Typically, the movie files shot directly from your phone/camera (usually .mov files) which are super high quality. To save upload tine, you can compress them to an .mp4 file which shrinks the file 8-10x without a visible change in quality. This makes it 8-10x faster to upload!
Here are some estimated upload times for a 1 gb file depending on your internet speed:
| | |
| --- | --- |
| 1Mbps | 2.5 hrs |
| 2Mbps | 1.25 hrs |
| 5Mbps | 28 min |
| 10Mbps | 14 min |
| 20Mbps | 7 min |
| 1000Mbps | 8 sec |
For this reason, we recommend pre-compressing your videos to an .mp4 format before uploading them in Trainerize. You can test your internet upload speed here.
Video compressing guidelines
For the best results, we recommend using the H.264 format, a well-known video compression standard for high-definition digital video that balances high visual quality with efficient file size. When preparing your video for upload, it's best to maintain the video's native frame rate when compressing your video:
Video Settings:

Landscape format
24/25/30 fps
Bit rate of 10 – 20mbps.
Resolution HD 1920 x 1080

Audio Settings:

Channels:Stereo
Codec: AAC-LC
Data rate: 320 kbit/s
Sample rate : 48 kHz
Exporting from iMovie (Mac)
You can import your files from your iPhone and add overlays. Once you are done editing your videos in iMovie, you can export to an .mp4 file by:
Select File > Share.
Select Resolution 1080p and Quality : Custom
Since the video will be streamed to phones, you don't need movie theatre quality. Adjust the slider down so you end up with a good file size that will upload relatively quickly but still looks clear. 10mbps is usually good.

Converting using Handbrake (Mac / Windows)
You can use a free compression software like Hand Brake. Use the Fast 1080p30 preset. Select the 1080p setting and drop the resulting .mp4 file into Trainerize.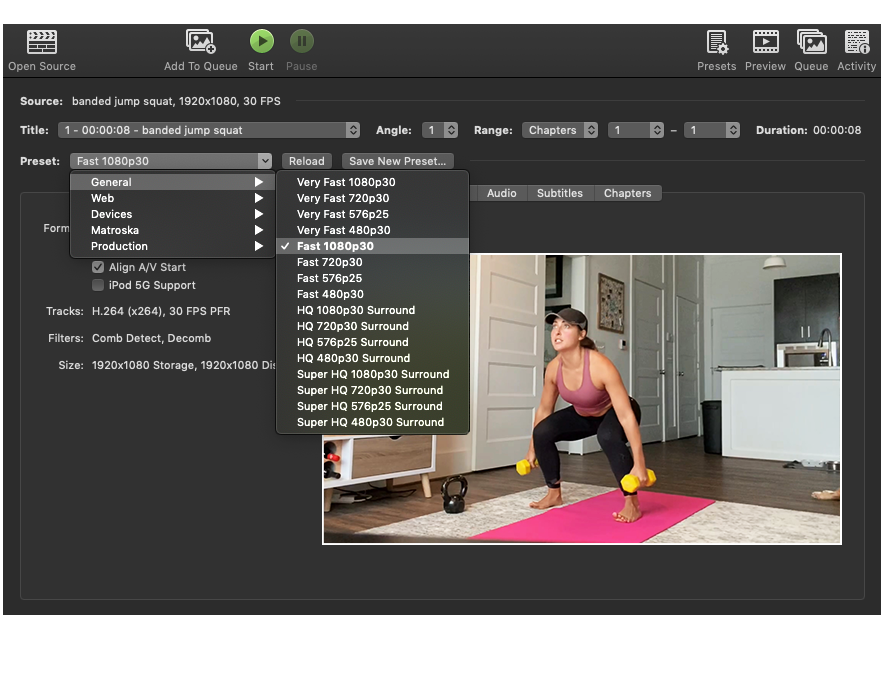 Uploading from your phone
Shared master workouts are only available on the web. The easiest way is to AirDrop/Bluetooth or use a USB transfer it onto a computer then follow the Mac/PC upload steps.
This article was last updated on