ABC Trainerize Custom Branded Apps are white-labelled mobile apps for both Apple and

Android

that are personalized for your fitness business.
Why you should consider a custom branded app?
Provide a more personalized experience for your customers.

Get ahead of fitness businesses that don't offer a branded fitness app. Get a world-class personal training fitness app for your members.

Increase brand awareness with a personalized look and feel. iOS apps allow the Trainerize Fitness App to be customized with your brand's logo and theme, whereas Android apps are stand-alone apps available for download in the Google Play Store.
What type of custom app can I get?
Depending on the plan you are on you can get access to one of the Custom Branded Apps. We offer 3 levels of custom apps designed to complement your subscription to Trainerize: Pro, Studio, and Enterprise.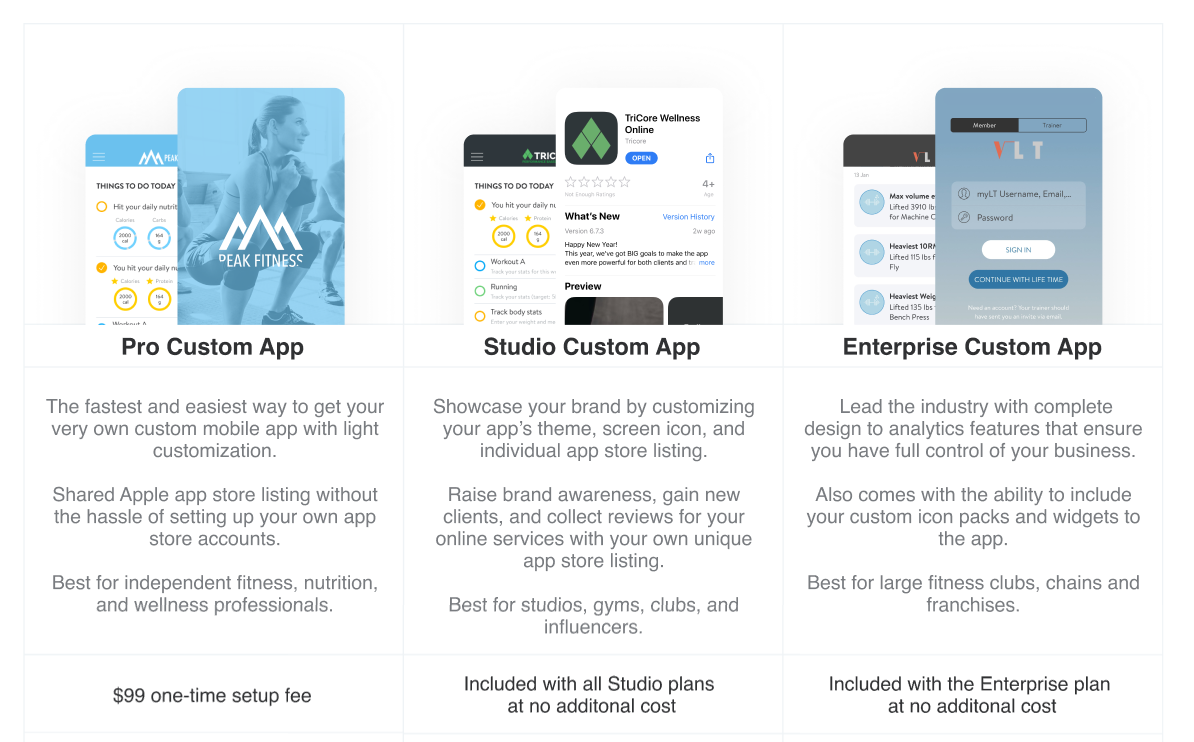 What features does each app have?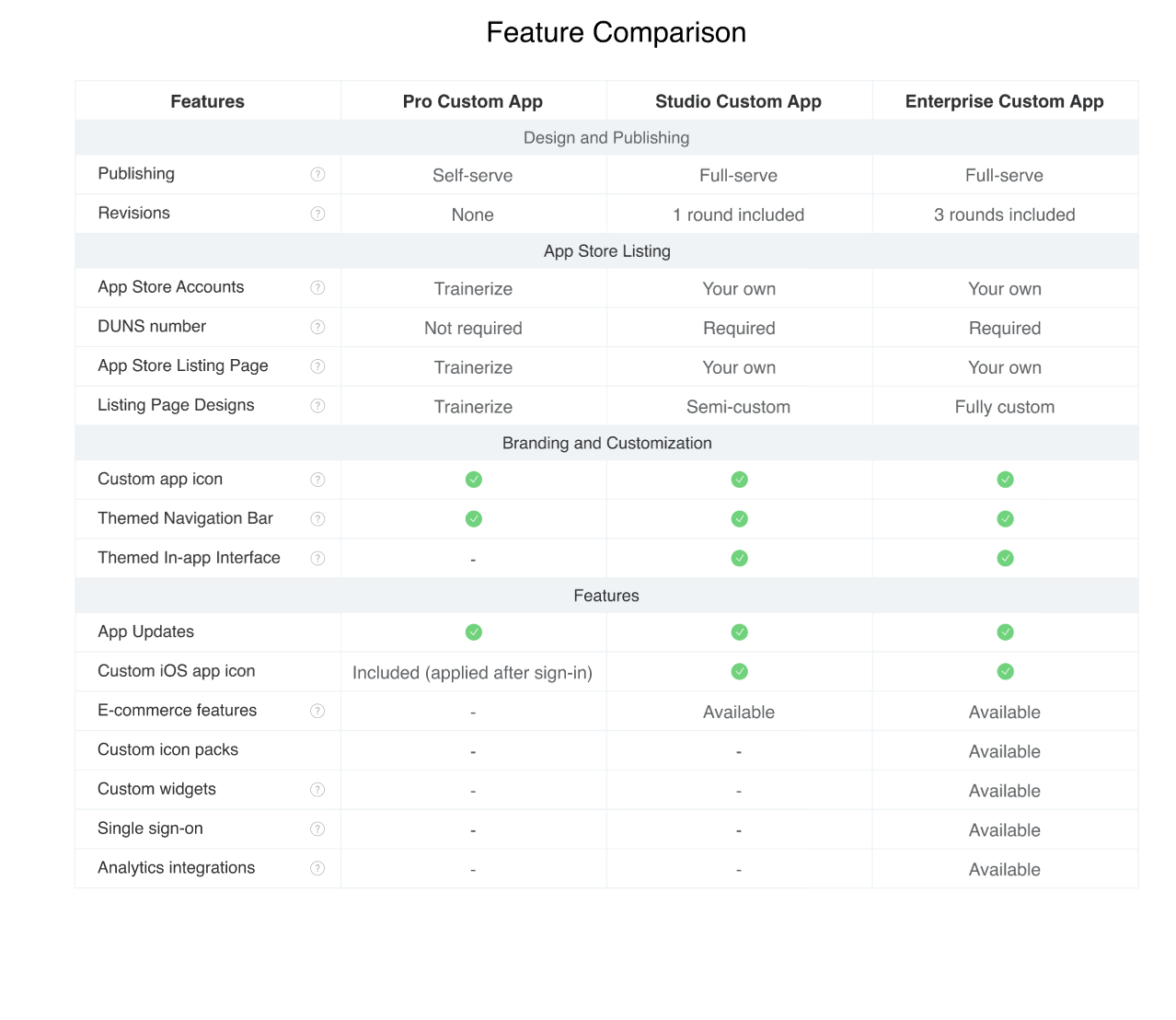 Publishing:
Self-serve publishing: A

fter purchasing your app, you'll be directed to a form where you'll be asked to submit specific information and design assets needed to create your app. Once submitted, our team will use your materials and specifications to build your app. You'll be contacted as soon as it's ready.

Full-serve publishing: Due to their additional level of customization, Studio and Enterprise custom apps are built through collaboration with our team. Once purchased, our team will reach out to begin the process and will work with you to collect or create all the materials and information needed. Our team will also guide you through the process of setting up your own app store accounts so your custom app can be listed separately from Trainerize.
Revisions:
We want your custom app to match your brand and vision. That's why our Pro custom app comes with an easy-to-follow setup form with detailed instructions on how to submit your brand assets and design specifications.

Due to their additional levels of customization and more complex setup process, all Studio apps include 1 round of revisions at no additional cost, while Enterprise apps include 3 rounds.
About App Store Accounts:
To offer you an affordable, hassle-free way to get a custom mobile app, Pro apps share Trainerize's Apple Developer accounts. This means that Pro apps do not get their own app store listings. Instead, clients and trainers download the main Trainerize app and the custom branding is applied after they sign in.

 This is only for Apple. On Android devices, Pro apps have their own listing in Google Play Store under Trainerize.

To allow for greater control and flexibility over branding and so that they can have their own App Store listings, Studio/Enterprise apps are published under unique Developer Accounts.


Apple Developer Accounts are $99 USD/year. Our team will walk you through the process of setting up your developer account.
 Individual Apple developer accounts cannot be accepted. You must be enrolled as an Organization. To offset costs, your Android app is created under our Account to allow for easy app maintenance.
What is a D-U-N-S number?
A Dun & Bradstreet (D‑U‑N‑S) Number is a unique nine-digit identifier for businesses. 

You need a D-U-N-S Number to create an Apple business developer account. Our team will guide you through the process or acquiring one.

To request a D-U-N-S Number, you will need your:
∙ Legal entity name
∙ Headquarters address
∙ Mailing address
∙ Work contact information

∙ Business registration documents

Individual Apple developer accounts cannot be accepted.
App Store Listing Pages:
Since Pro apps share Trainerize's developer account, they do not include their own unique app store listings in the Apple App Store. On Android devices, Pro apps have their own listing in Google Play Store.

Because Studio and Enterprise apps are built under unique Apple Developer accounts they include their own Apple App Store and Google Play Store listings that you can use to attract new clients and drive more sales.
Listing Page Designs:
Since Pro apps share Trainerize's developer accounts, you do not get your own Apple app store listing page. Clients and trainers will download the app from the main Trainerize app store listing. Custom branding is applied on sign-in.

All Studio apps include unique listings in both the Apple App Store and Google Play Store that you can use to attract new clients and sell more services.

We offer a templated design for your app store listing that can be customized so that the included screenshots reflect your app colors. Keywords can also be customized for search rankings.

In addition to all of the App Store listing options available with the Studio app, Enterprise custom app listings can be further customized through the addition of your own graphics or videos. This gives you complete control over how your app store listing looks.
Custom Widgets and SSO:
Enterprise apps have the ability to include custom-built widgets. These can be used as part of the sign-in process, or can be added to the client's dashboard.

These custom widgets are what truly distinguish our Enterprise app from other custom offerings because it gives you the chance to add non-standard functionality to your app and truly make it your own.
Analytics integration:
As a multi-location club, gym chain, franchise, or large-scale fitness enterprise, you may want to gather data about your clients or members and how they're using the app or engaging with your services.

 For Enterprise apps, we will work with you to connect your app to your preferred analytics tool so that you and your team can gain valuable insight into key business metrics.
---
Related Articles
This article was last updated on