To prescribe a habit
Only trainers can prescribe a habit for a client to practice.
On the web, open up the client's account and go into their "Goals and Habits" tab and click "New"
On the mobile, open up the client's account and go to Plans > Goals and Habits and tap "Add new"
You can select from:

a list of popular yes/no habits related to nutrition, active living/movement, mindfulness or sleep
a list of hand/fist portion guide habits.
create a custom habit.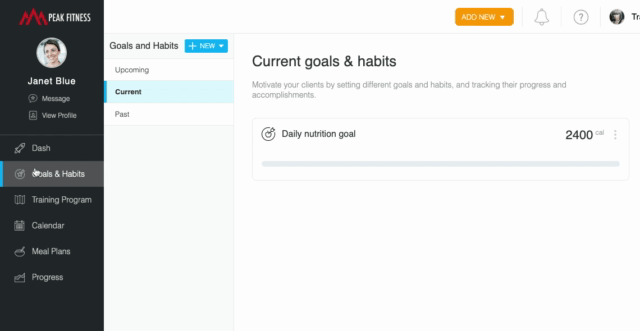 About custom habits
A custom habit is a unique habit for that client you wish for them to practice. This can be anything like "Take omega 3 oils" or "Use roller before bed".
The first type you create a custom habit for a client, you can type in a short description of the habit. Subsequently, if you wish to re-practice the same habit, start typing the name of the habit and Trainerize will bring up a list of previously practiced habits that you can select from.
Be sure to select previous habits so that when you view its progress, it can show you the entire history of the same habit.
The completed ones will show in the Recent Activity Feed inside trainer accounts (web).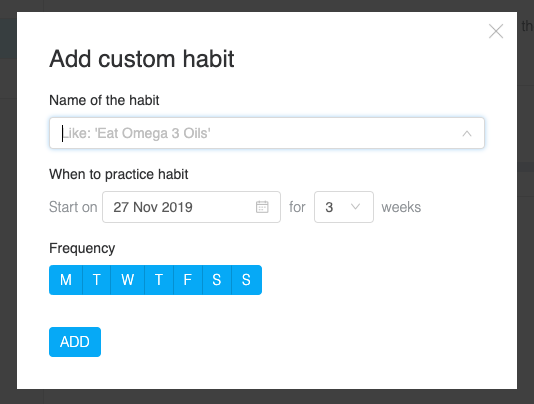 Starting a winning streak
A winning streak (or "streak" for short) is when a client completes a scheduled habit for 2 or more days in a row. To count toward a streak, a habit must be marked as completed by noon on the day after it was scheduled. Clients can create winning streaks for each habit assigned to them and added to their calendars.
Milestones and Achievement Badges
As their streak continues to grow, clients will receive special badges at various milestones. When they hit a milestone, immediately after marking a habit as completed, clients will see a summary screen awarding them with a badge with a special congratulatory message and information about the next milestone they're aiming for.
---
Related Articles
This article was last updated on