As the world is moving toward increased online security and finding new ways to give users more control over their online identities, data, and purchases, here at Trainerize we're also making a shift.
We know that as a business owner, you want your clients to feel confident buying from you and you also want to protect yourself from fraudulent transactions. That's why we're leveling up our payment processes and introducing a new security measure to the Trainerize check-out process so both you and your clients can feel 100% secure when buying or selling products through Trainerize Pay.
It's called "explicit consent" and here's how it works.
What is explicit consent?
Whenever you (as a trainer) initiate a purchase through Trainerize on behalf of a client, that client will receive an email asking them to confirm the purchase before their payment is collected.

The email—delivered to a client the moment you initiate the purchase—will include a link to your Trainerize.me page where the client will see a brief summary of the product you've added to their account and options to enter their credit card info (or confirm/update their on-file payment details) and approve the purchase/set up their subscription.
If your client's credit card is not on file, they'll get the usual email asking them to set up their subscription. They can do that by tapping the link in the email and then filling out their payment information.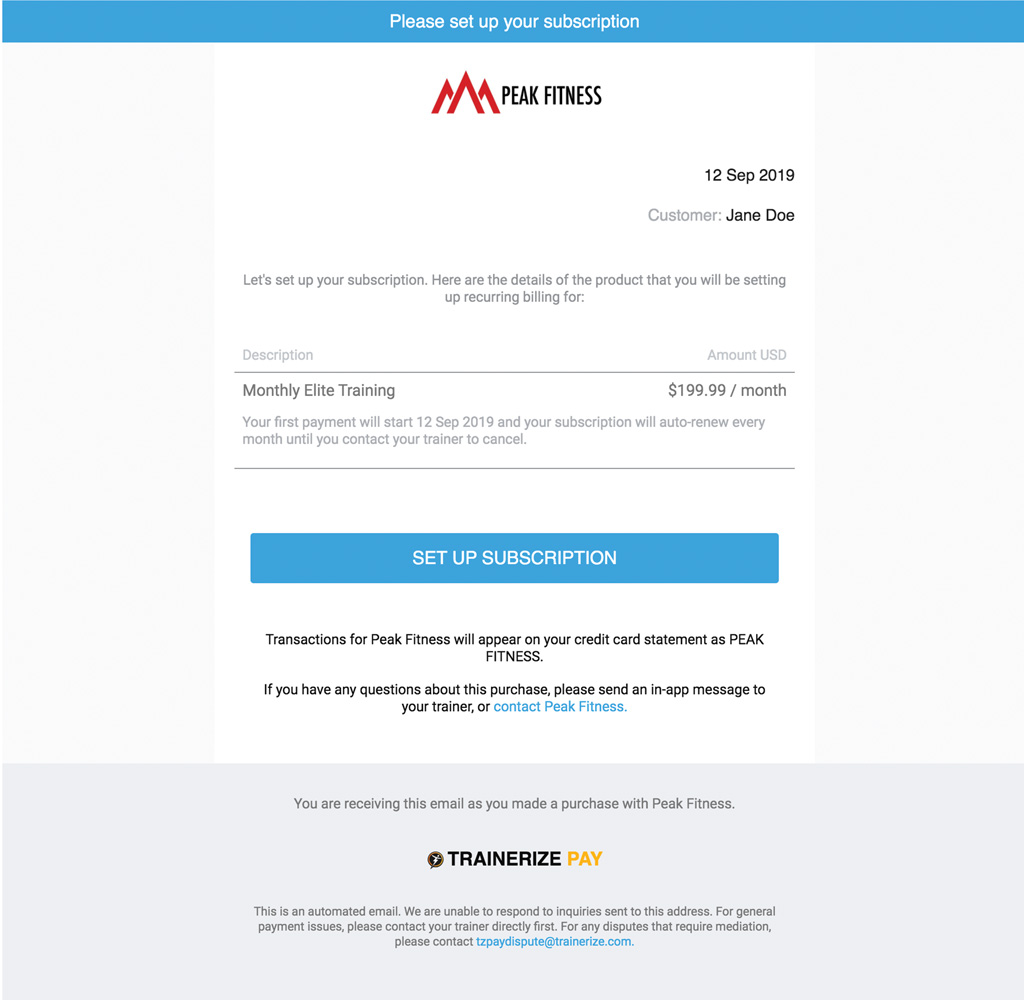 If your client already has the payment information on file, confirming a product is a simple 2-step process. They will get the email below asking them to approve the purchase and confirm their subscription like below: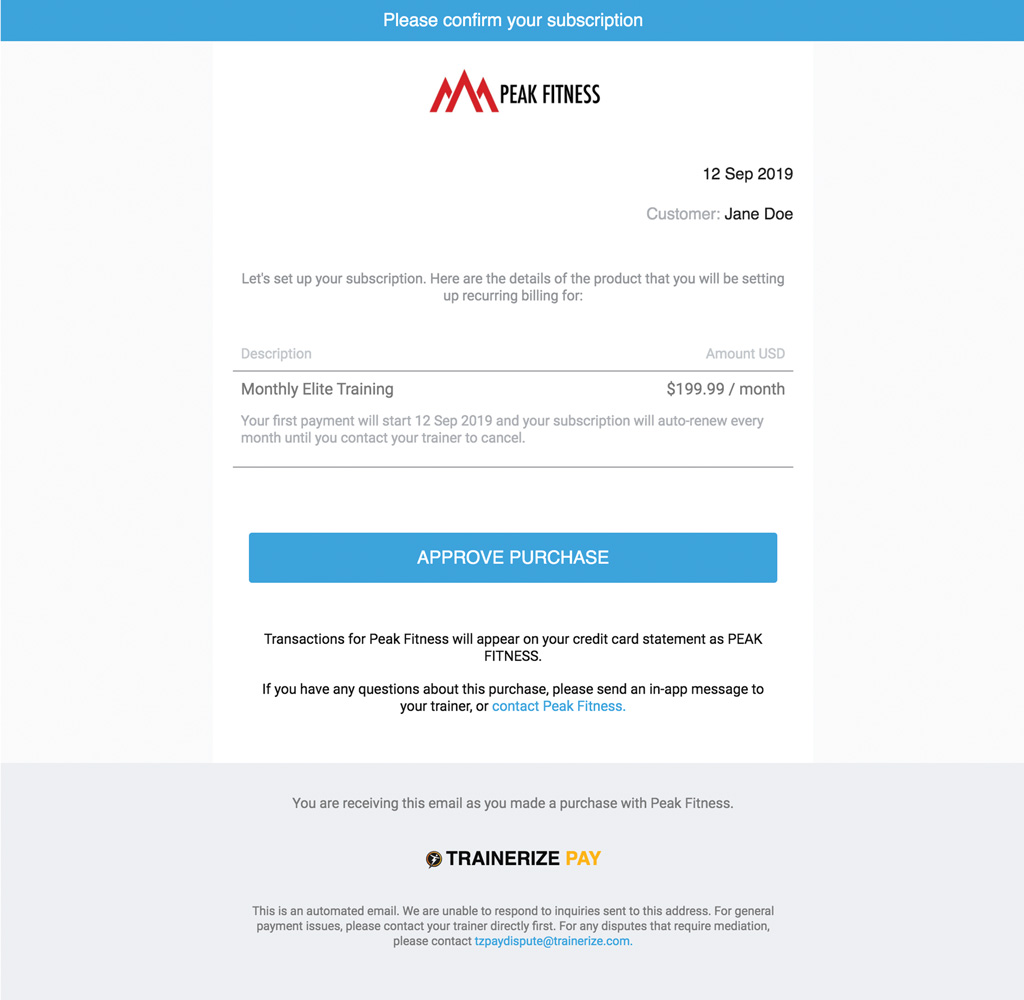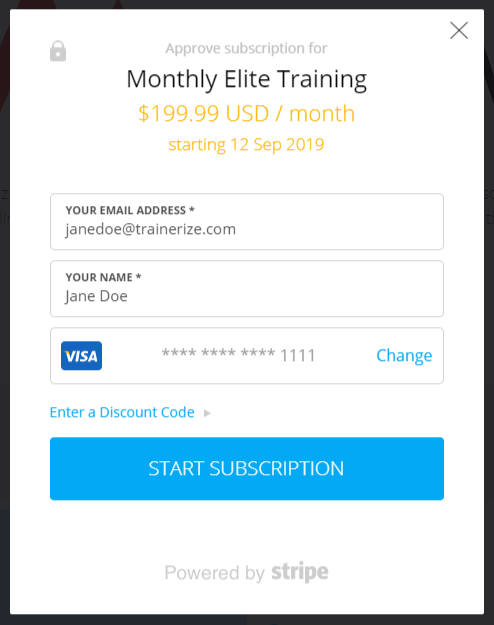 Set up subscription dialog
(linked to from the emails shown above)
Once approved, payment will be collected (or scheduled for collection in the case of a recurring product with a start date in the future) and the product will be set to either active or upcoming in the client's account. It's as simple as that.
Why we made this change.
This extra step does double duty, with benefits to both you and your clients.
As a business owner, explicit consent means fewer fraudulent purchases and fewer disputes—both of which can eat up your valuable time and energy. While at the same time, it protects your clients' online identities and makes them feel confident and secure when buying from you.
This translates into a more effective business model for you and a better buying experience for your clients.
What about recurring products?
Explicit consent will apply to both one-time and recurring products, but to streamline the purchase process, clients will only need to approve the purchase of a recurring product once, on the first payment date.
What if a client doesn't approve a purchase?
We've got you covered with built-in reminders automatically sent to clients who haven't approved a purchase. We'll send follow-up emails 2 days, 4 days, and 7 days after the product has been added to their account.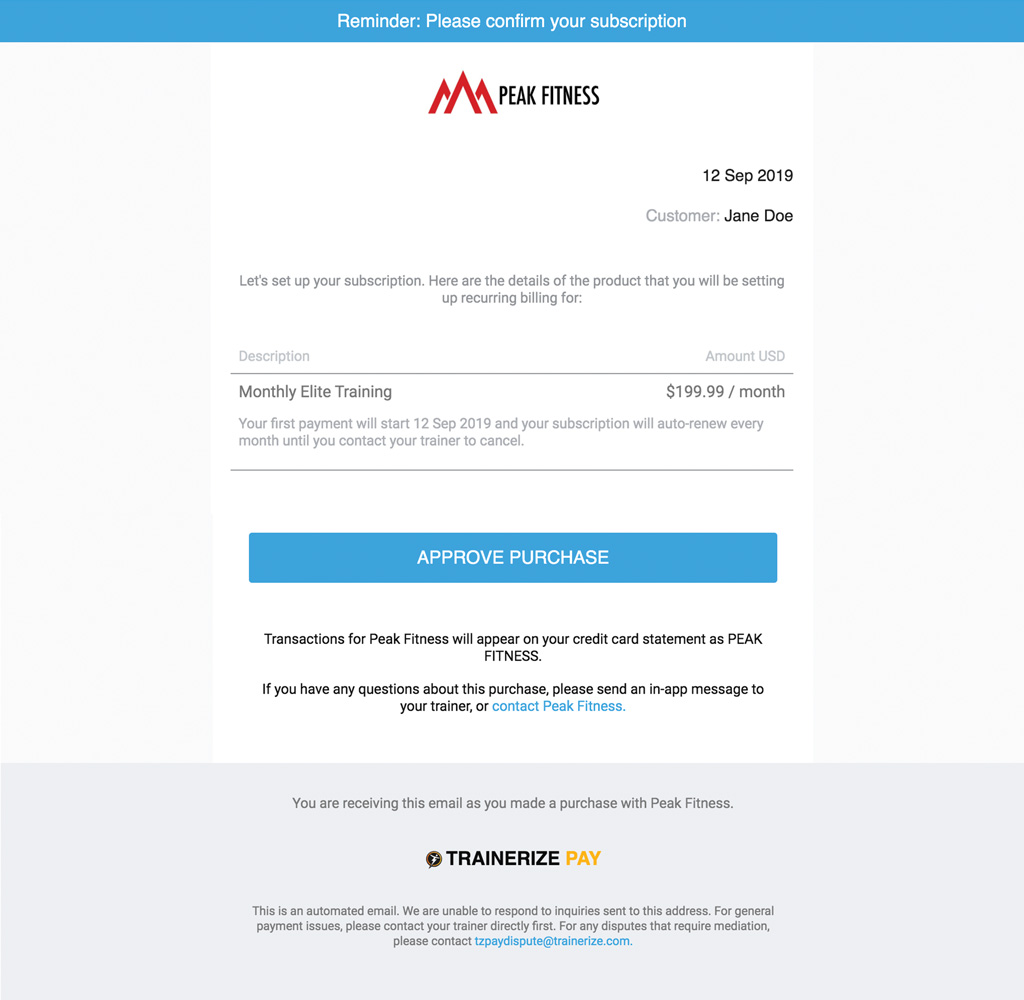 Reminder email sent to a client asking them to approve a purchase or set up their subscription
If at that point a client still hasn't approved a purchase, you'll need to manually follow up with them. You can identify the clients who haven't approved their purchases by looking at your Trainerize Pay Sales tab and filtering by pending products.
GOOD TO KNOW: If you're selling products with fixed start dates and a client doesn't approve the purchase by that date, they won't be able to approve it after the product has already started. In this case, you'll need to cancel the purchase for them and either manually set up their account or have them purchase a new product.
It's important to note that clients can only have one pending or upcoming product at a time. For this reason, clients will not be able to purchase any other services from you until any other products are either canceled or approved.
What about in-person purchases?
Explicit consent only applies if a purchase is initiated by a trainer, so if you want to complete an in-person transaction with a client and get them up and training as quickly as possible, we recommend that you ask the client to pull up the product listing on Trainerize.me and have them complete the purchase on their own.
The Trainerize Pay check-out process is 100% mobile-friendly, so there's no need for a POS system or to add the product and wait for client approval. The client just picks the product they want, enters their credit card details, and completes the payment in a flash.
If you've set up automation on your Trainerize Pay products, this process gets even easier since client setup and product delivery will also be taken care of!
GOOD TO KNOW: To further streamline the payment process and keep client payment data confidential, you (as a trainer) will no longer be able to add a client's payment information to the app on their behalf. This applies to both in-person and online purchases.
Instead, clients will need to enter and update their own payment details. If you've added a product to their account, they can do this by following the link in the email they receive asking them to approve the purchase; or they can purchase the product themselves and enter their payment details right away.
When will product automation run?
Explicit consent won't impact any automation you've set up to run on "First Purchase" (since those actions are only triggered when a client makes the purchase for themselves). But if you're using "Product Start" automation and you've set the product start date to "on purchase", just remember that the product start date won't be the date you added the product to the client's account, it will be on the day that they approve the purchase and complete their payment.
Trainerize Pay is also PSD2 compliant—a new European regulation designed to reduce online fraud and keep businesses and customers secure when buying and selling online. To learn more about the European directive and what's known as "Strong Customer Authentication (SCA)" check out this help article.
This article was last updated on