Tracking a workout or cardio activity using the Apple Watch App gives clients more flexibility to train according to their fitness routines with activities they enjoy! In addition, you and your clients get access to real-time data when using the Apple Watch App, insights that help clients take their training up a notch.
Here is the current list of available cardio activities:

- American football

- Australian football

- Badminton

- Basketball

- Baseball

- Cricket

- CrossFit (labeled as "Cross training" in Apple Health)

- Dancing

- Fitness Class (Labeled as "Mixed cardio" in Apple Health )

- HIIT

- Hiking

- Hockey

- Jump rope

- Paddling

- Pilates

- Rugby

- Skiing (in Apple Health it's labeled as "Downhill skiing")

- Snowboarding

- Squash

- Softball

- Soccer

- Swimming

- Tennis

- Table Tennis

- Yoga

- Volleyball
To start a cardio activity without a target, clients can tap the area where the name of the activity is. If they would like to set up a target, they need to tap the three dots on the right-hand side.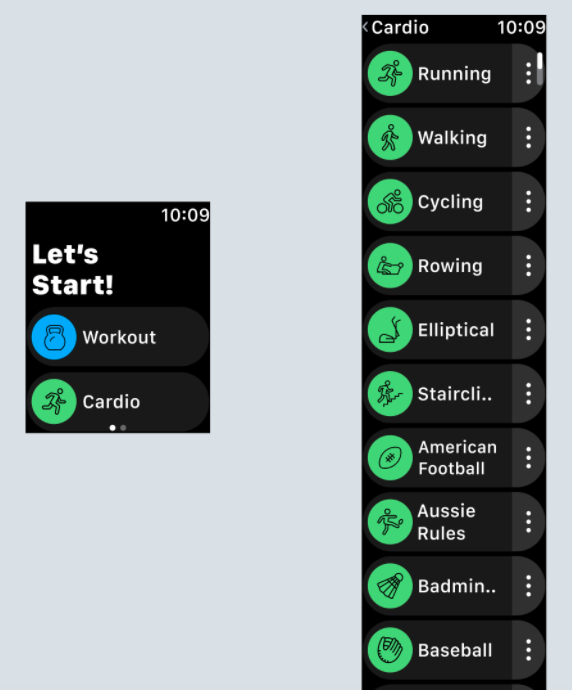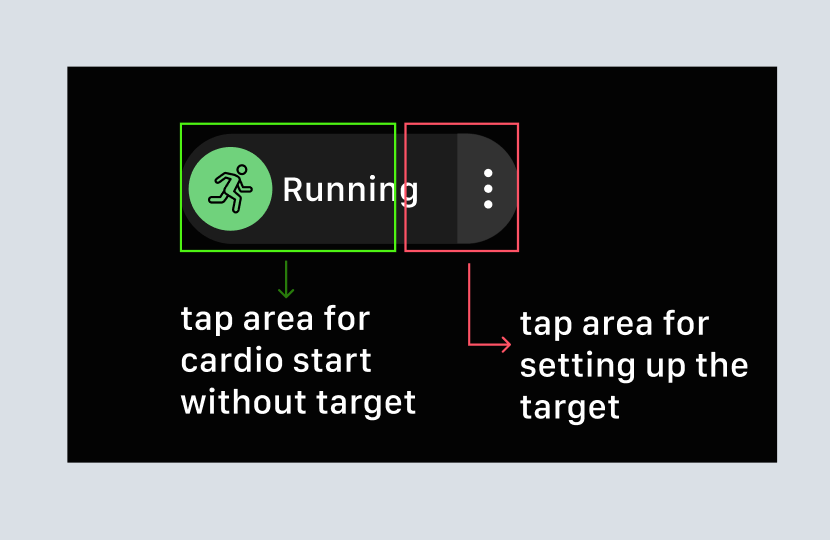 Setting a target

Performance Cardio Activities

For distance based cardio activities, like running, walking, cycling, rowing, and the elliptical, clients will be able to set the following targets:

Non-performance Cardio Activities

For time based cardio activities, which includes all other cardio activities, clients can only set a time target.
Indoor/Outdoor Selection

After selecting the cardio activity with or without a target, if applicable for the cardio activity, the client will be able to indicate the activity is an indoor or outdoor activity.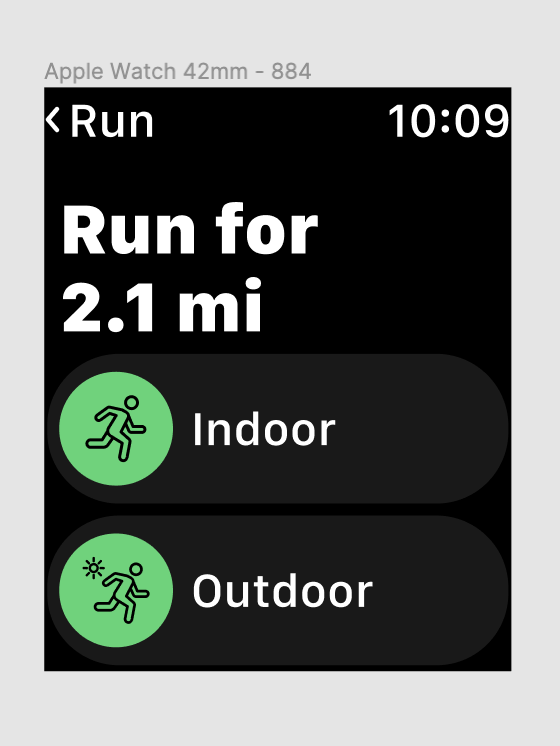 Here is a chart that compares all information that syncs over from the various devices Trainerize integrates with:
| | | | | | |
| --- | --- | --- | --- | --- | --- |
| Information | MyFitnessPal | Apple Health | Garmin | Fitbit | Withings |
| Steps | | x | x | x | x |
| Sleep | | x | x | x | x |
| Caloric Burn | | x | x | x | x |
| Body Weight | | | x | x | x |
| Body Fat | | | x | x | x |
| Caloric Intake | x | | | x | |
| Macro Intake | x | | | x | |
| Meal Information | x | | | x | |
| Resting Heart Rate | | x | x | x | x |
| Blood Pressure | | x | | | x |
| Lean Mass | | | | | x |
| Cardio Activities | | | x | x | x |
This article was last updated on