Whether you need a little helping hand to get your training business up and running or you're looking to grow your business, finding the person for the job is easier than ever. Our Experts program is designed to help connect you to a list of Experts, people we've handpicked who are seasoned in their craft, whom you can quickly hire to help you in your business.
You can hire Experts to help with designing your website, formatting your custom mobile app files, optimizing sales funnel or automating routine tasks, and much more. Keep reading to learn more about hiring an expert.
In this article:
How to Hire an Expert
Click Add-ons from the left-hand menu and visit the page, Hire and Expert. Here you will see featured Experts displayed.
Filter Experts by location and skill type from the drop down menu to locate the Expert you need easily.
You can view an Experts Upwork profile, website or other webpage by clicking their profile icons. They may have information regarding their rate and portfolio in their Upwork profile or website, important information not displayed within the web app.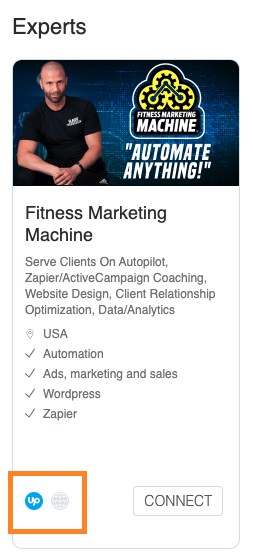 Once you are ready to hire your expert, click CONNECT on the Expert you wish to work with.
A pop-up dialogue will appear.

Fill in the details regarding your project and acknowledge the Hire an Experts Terms.

Click CONNECT WITH THE EXPERT to be connected.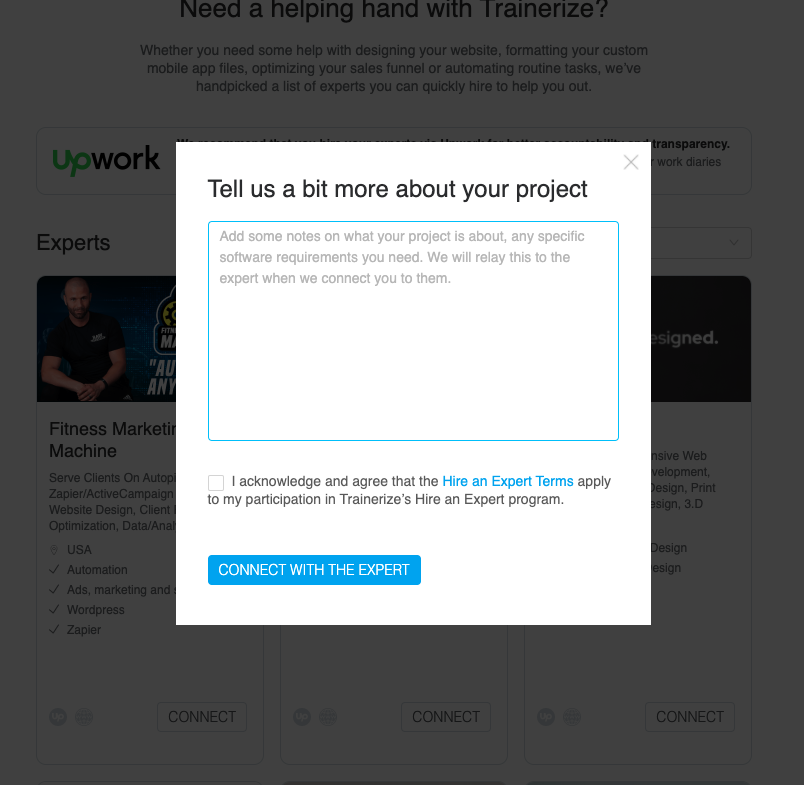 Working with your Expert
After submitting your request to be connected, you will be connected via email with your Expert to begin working together.
This is how the two of you will be able to discuss all the project requirements, ask one another questions, and confirm details regarding payment.
After your project is completed, you will be sent a feedback survey where you will be able to inform us of your experience with your Expert.
How to pay for your Expert
Payment for your Expert will not be handled through Trainerize. You will need to discuss with your Expert after being connected the form of payment that they require. Perhaps it is paid through their Upwork profile or via a third-party payment app like Paypal. This is entirely done between you and your Expert.
Don't forget that if an Expert has an Upwork profile, you may be able to view their rate prior to being connected.
---
Related Articles
This article was last updated on