The Trainerize app not only helps you deliver personalized workouts and training programs for your clients but also features new milestone badges to better monitor and keep them on track to achieving their goals.
These new achievements will be unlocked when completing specific milestones in the app. As clients complete more and more workouts, they will unlock a new badge!
Milestone badges will be received with the below frequency:
every 5 workouts up to 25

every 25 workouts up to 100

every 50 workouts up to 500

every 100 workouts up to 1000

every 200 workouts up to 2000

every 500 workouts up to 2000
Where can you see the achievements
All the milestone badges your clients have unlocked are shown on their profile, but you can easily check on them in the timeline, notification area or client dashboard.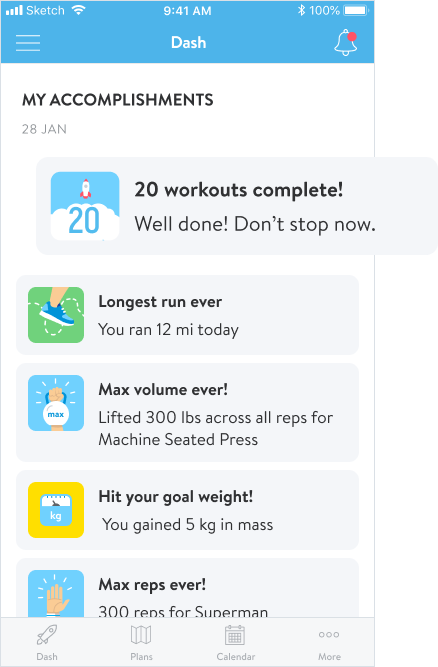 Group notifications
The milestone badges will show up inside groups as auto-posted messages and will enable you to start planning a group challenge. Trainerize Groups give clients a big reason to open the app more often and remind them that they're not alone in their fitness journey. Social motivation (and maybe some healthy competition) can go a long way toward a client achieving their goals.
TZTIP: Encourage your clients to share their badges on social media to gain recognition and motivate others.
Achievements are awesome because they help keep your clients motivated and accountable to their fitness plans. They anchor their performance expectations to a higher standard and increase their confidence. Completing goals leads to personal satisfaction and encouragement to go that extra mile.
This article was last updated on