Asking your clients to sync their Myfitnesspal account to Trainerize is a great way for you to help them optimize their nutrition so they can achieve their fitness goals.
However, every now and then a client may connect their Myfitnesspal account but their nutrition data doesn't sync to Trainerize.
There are a few reasons why this might be the case, so let's go over them and how they can be resolved.
Step 1: Ensure the Client Has Synced Their Account
To verify a client has synced a Myfitnesspal account to their Trainerize account, click on the name of your client from the dashboard to bring up the client's profile.
In the middle of the left column on their profile, you will see the Myfitnesspal icon. To the right of the icon, there will be some highlighted text that either says "Connected" or "Ask to Connect".
If your client has not connected their Myfitnesspal account you can click the "Ask to Connect" text to send your client a message with instructions on how to connect their Myfitnesspal account.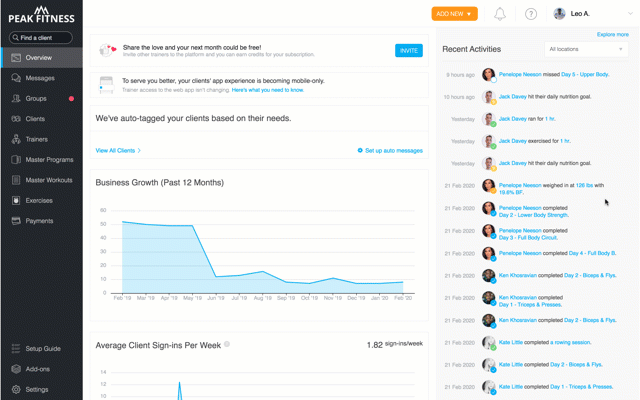 If your client has connected their Myfitnesspal account but their data is still not syncing, continue to step 2.
Step 2: Check Myfitnesspal's Uptime Status
Now and then, Myfitnesspal may experience interruptions with their API, which we rely upon to pull your client's nutrition information. Please check Myfitnesspal's current status to see if they are experiencing any issues with their services.
https://downdetector.ca/status/myfitnesspal
If there are no current or recent issues with Myfitnesspal, continue to step 3.
Step 3: Check the Minimum Daily Calorie Goal
Myfitnesspal will not sync if the calories the client has entered for the day are below a level they have termed "Unhealthy". MyFitnessPal automatically has a minimum daily calorie goal of 1,200 calories per day for women and 1,500 calories per day for men. These minimums, based on recommendations from the National Institutes of Health, ensure that those using the app to try to lose weight do so safely and get enough essential nutrients to prevent malnutrition.
Please ensure that at least on at least one of the days your client is trying to sync (e.g., yesterday) that the logged nutrition data on MyFitnessPal itself is above the recommended threshold (Male - over 1500 calories / Female - over 1200 calories). If not, have the client edit the MyFitnessPa entry and click the button to "Complete this entry". It may take a few minutes, but your calories should now sync over to Trainerize.
If your client goes through those steps and you are still unable to see their Myfitnesspal nutrition data, continue to step 4.
Step 4: Have your Clients Uninstall/Reinstall the Apps and Ensure Their MyFitnessPal Diary Sharing is Set to "Public"
If your client is having difficulty connecting MyFitnessPal or having meals sync over, we recommend they fully disconnect and reconnect the integration to ensure the syncing connection is valid.
On top of this, the client's MyFitnessPal diary must be set to "Public". Sometimes the integration can be connected, but if the MyFitnessPal Diary sharing is not set to public, no information will be pulled over.
In this process, please have the clients follow the steps below in sequence to ensure their integration is connected and that the MyFitnessPal Diary is public.
First, please disconnect the MyFitnessPal from the Trainerize App:
Log out and delete the MyFitnessPal cache (Clear the cache of your iPhone or Clear Cache on Android Devices) and uninstall the MFP and Trainerize App.
Reinstall Trainerize and log back into your account.
Reconnect the MyFitnessPal integration by going to the More (the three 3 dots on the bottom right corner of the app) -> MyFitnessPal -> Connect -> Ensure Diary Syncing is enabled
Reinstall the MyFitnessPal app, log in and confirm the food entries on the diary itself are correct.
On MyFitnessPal, ensure the Diary Sharing settings are set to public:

Double-check that the Diary is public on the web browser version of MyFitnessPal: My Home -> Settings -> Diary Settings -> Diary Sharing -> Set to "Public" and click Save Changes.
Back on the Trainerize App, manually sync the MyFitnessPal data to Trainerize by going to More (The 3 dots on the bottom right corner of the app) -> MyFitnessPal -> Ensure Diary Syncing is enabled -> Sync Now.
If your client goes through those steps and you are still unable to see their Myfitnesspal nutrition data, continue to step 5.
Step 5: Unlink Facebook Sign-On and Use Email to Log In Instead
If your client has set up their MFP account using their Facebook account as their login credentials, they will need to unlink this momentarily and create an email sign in by following the steps below:
From the Web
Log into your account on our website at www.myfitnesspal.com. If you are a mobile app user, you should log in using the same username and password you use in the app.
Click "My Home" then "Settings" then "Facebook/Twitter sharing settings: and click "Disconnect" in the Facebook section.
From the Android, iPad and iPhone MFP app:
In the Menu (or "More" page) tap "Settings" then "Sharing & Privacy" then tap "Facebook Settings" then "Disconnect from Facebook".
If you created your account using your Facebook login, you will be prompted to enter a new MyFitnessPal password. You will need to log in using your registered email address and MyFitnessPal password from then on.
If your client goes through those steps and you are still unable to see their Myfitnesspal nutrition data, continue to step 6.
Step 6: Double-check That the Account Connected is the Correct MyFitnessPal Account
We have seen instances where a client syncs the wrong Myfitnesspal account to their Trainerize account.
To ensure your client has the correct Myfitnesspal account connected, please ask them to go through the following steps:
Log into your Myfitnesspal app

Press the "More" icon

Press "My Profile" from the menu options

Press "Edit Profile"

Ensure the email address is the same one you entered when syncing Myfitnesspal to Trainerize

If the email address is different, disconnect Myfitnesspal from Trainerize and sync with your correct Myfitnesspal account
Once this is complete, please have the client follow Step 4 to fully disconnect and reconnect the MyFitnessPal integration.
If your client goes through these steps and you are still unable to see their Myfitnesspal nutrition data, continue to step 7.
Step 7: Issues Persist After Going Through All Steps Above
If you and your client have followed all of the steps above and Myfitnesspal is still not syncing the client's nutrition data to Trainerize, please reach out to us by emailing help@trainerize.com with the following information:
Name and email of the client experiencing the issue
The make, model, and current operating system of your client's phone.
Trainerize application version number. Ex. Trainerize 7.28.0
Screenshots or videos of the issue or error messages
Alternatively, you can ask your client to sync their FitBit account to their Trainerize account. The Fitbit app works much in the same way as the Myfitnesspal app. Your client doesn't need a Fitbit wearable to use the Fitbit app, which is free.
You can see more information about how to get your client's Fitbit accounts synced with their Trainerize accounts by reading this article.
Finally, we also have our own in-app meal tracking service now! This is a great option since all of your clients' meal tracking can be done in-app. If you'd like to read more about in-app meal tracking, please check out our article here: Calories or Full Macro Tracking (In-App)
🍓 We're excited to share that a brand new way to deliver nutrition coaching is on the way! From allowing clients to track their meals right within the app to delivering sample, custom meal plans in seconds and so much more, you'll empower your clients to make healthier choices and level up on their health.
Start your journey with nutrition coaching and be the first to know when it's here! Get on the list today!

This article was last updated on