There are 2 routes we recommend you consider when determining pricing for your online offerings.
Think of your online offerings the same way you would any other offering in your gym


Just like any in-person offerings your business might provide, online offerings require an investment of time and resources, and provide a service to your clients or members. That means, just like with in-person services, you need to pay close attention to the ROI (return on investment) for your online offerings.

The same way you'd price in-person services, break down your overhead costs, determine your profit margin and assign a price accordingly, making sure to consider loyalty metrics like increased member spend and retention.

Think of your online offerings as a value-add to existing services

In most cases, fitness businesses using Trainerize include their Trainerize offering as part of another service, promoted as a "value add". This is a great way to expose your members to your online offerings indirectly, while also making them feel like they're getting more for their money—an important factor in member spend and retention.

A large number of fitness businesses opt to bundle their online offerings with their in-person training services or to include access to the online offerings directly in the cost of a membership. Another common option is to run group challenges that use the online offerings for tracking and engagement. ROI for this type of pricing is reflected in member spend, more sales and increased member engagement.
Download this Pricing Guide [PDF] to learn how some of the leading fitness clubs have set pricing for their online offerings.
For independent fitness professionals
We recommend following the worth calculator recommended by Jonatan Goodman.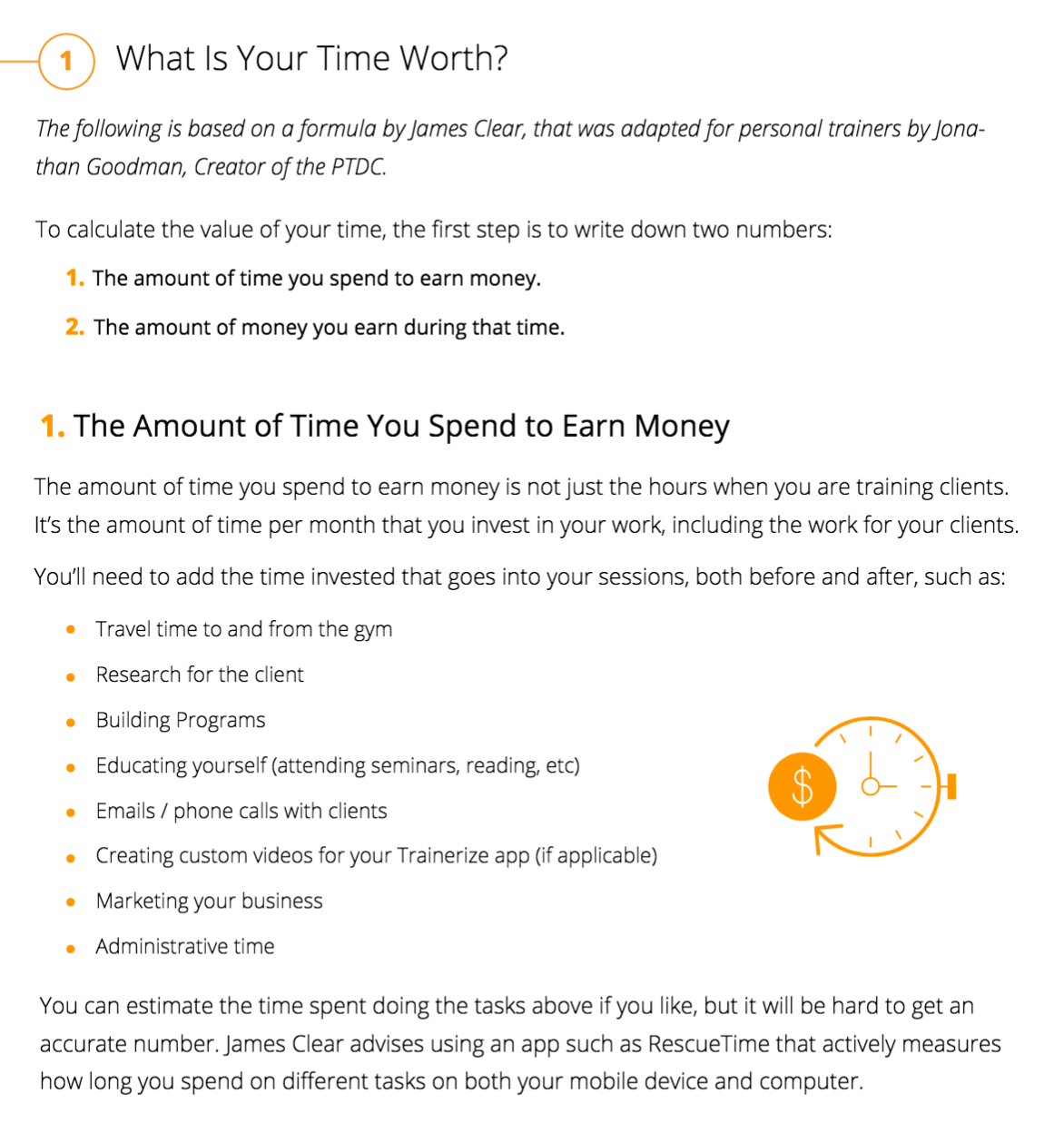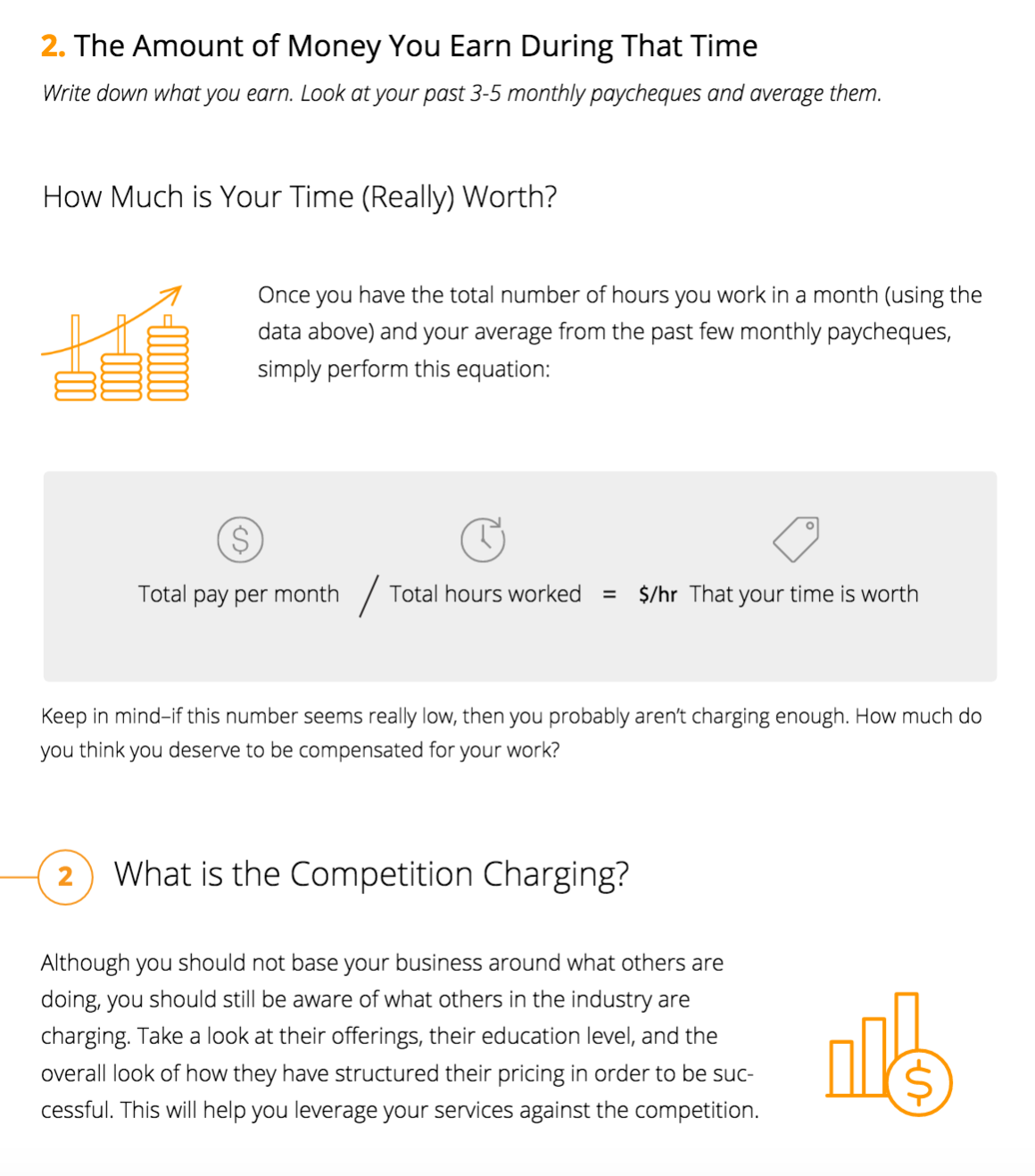 How will you structure your prices?
When deciding on your pricing structure, there are a lot of variables. Our Paypal payment integration allows you to charge clients a flat fee or a recurring subscription.

Recurring: Will you charge as a subscription, on a recurring basis? Will your subscription be billed weekly or monthly? How many workouts will a client get every week? How much will the recurring fee be? Will you offer add-ons like weekly Skype consultation for a higher recurring fee?

Flat fee: Will you charge a set price for a defined phase over a set period of time? Will it be a 4 week phase, an 8 week phase or longer? Will you have multiple phases to choose from? How many total workouts will a client receive in each period?

It's a good idea to think about your target client, their lifestyle and your style of training to come up with a fee structure that will work well for both you and your clients. Listen to your client's feedback and adjust your offerings to reflect it, your prices don't have to be set permanently, tweak your prices and offerings to find the right balance.
Who is your target client and how much can they afford to pay?
Determining who your target client is will help you decide how much to charge. When determining your target client, here are some questions to ask yourself:
Are you a high-performance specialized trainer, or a sport-specific trainer? How rare is your skill-set and experience? What do other trainers in your specialized niche typically charge?


Is online training an add-on to your existing in-person training services? How much will you charge on top of your in-person rates as an add-on?


Are you focusing on one geographic area? What are the demographics of your area? Do people tend to have higher or lower incomes?
Is there one best way to price your services?
The simple answer to this question is no. Price is a major factor in a new client deciding to train with you and there are many ways to price your services. The best thing to do is consider all of the factors we've discussed here and decide on an initial pricing plan. Once your prices are set, listen to feedback from your clients! If they're telling you your prices aren't competitive, or that they'd rather be on a recurring plan than a flat fee system, make adjustments to your pricing to reflect what your clients want.

The goal is to find a balance in price that is fair for you and for your clients. You want to keep your clients happy and be fairly compensated for your training expertise.
Click here to download a PDF version of this guide.
---
Related Articles
This article was last updated on