For studios and gyms with physical addresses, locations allow you to divide your trainer pool into smaller teams by facilities. You can create managers that can only see trainers at their location. If you have enabled your profiles on Trainerize.me, the location information is used to match you with a client searching for a trainer on Trainerize.me.
Managing Locations
You can see locations in the web app:
Click on "My Account" in the bottom left-hand corner
From the "My Account" menu click on "Locations"
By default, all Trainerize businesses get an "Online Business" location. This will be your primary address and the first location listed on your Trainerize.me profile. You can only have one primary address.
You can edit this by pressing "EDIT" next to the location name.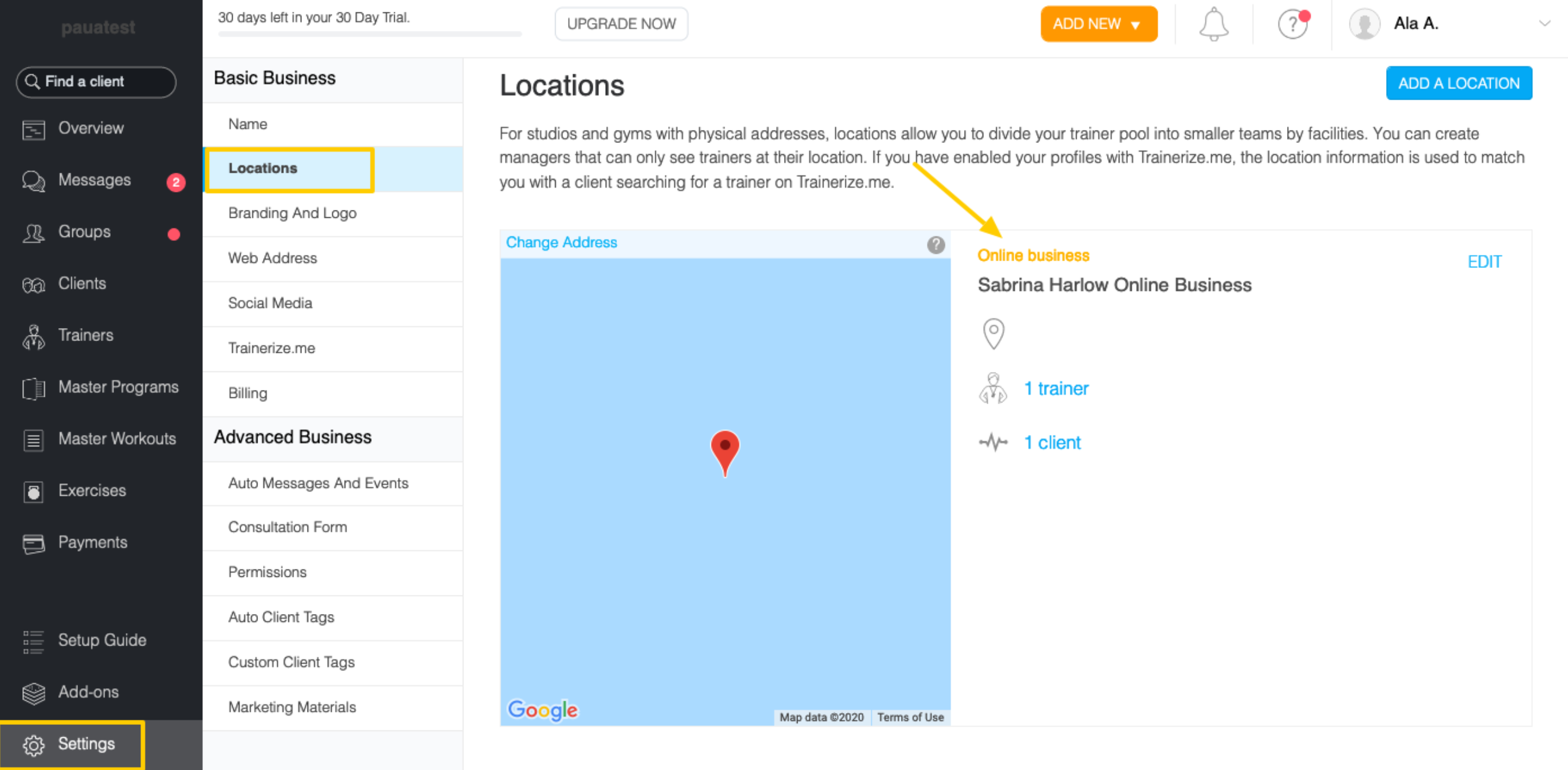 What's the location structure and limit for each plan?
Free Trial, Grow, Pro and Free plans include 1 location. This can be an online or physical location. You cannot add additional locations to these plans.
Studio plans can have up to 4 physical locations. Each location is priced based on the value for that plan x number of locations.
1 location = $250/mo on Studio Plus or $350/mo on Studio Max
2 locations = $500/mo on Studio Plus or $700/mo on Studio Max
3 locations = $750/mo on Studio Plus or $1050/mo on Studio Max
4 locations = $1000/mo on Studio Plus or $1400/mo on Studio Max
Enterprise plans can have an unlimited number of locations.
Adding multiple locations (Studio/Enterprise plans only)
Click on "My Account" > "Locations" > "Add a location"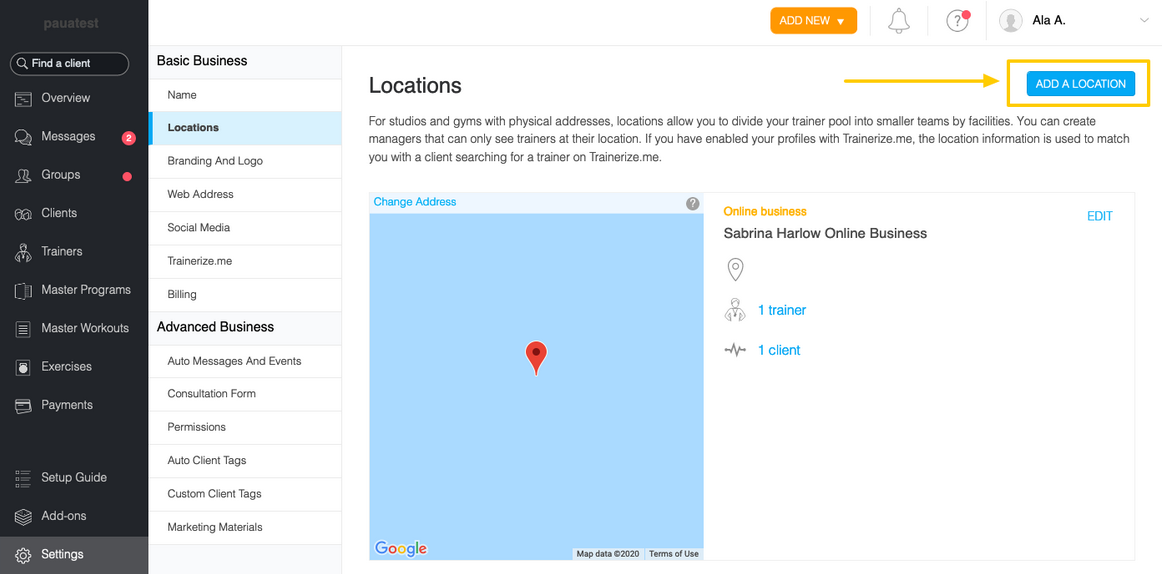 2. Depending on the plan you are on, you might be prompted to first upgrade your account to a Studio plan. Select a Studio Plan if you are not on a Studio plan already.
Please note this upgrade is not an additional location, you need to be on a Studio-level plan in order to add extra locations.
Studio plans are location-based, this is how much you'll be paying for your number of Studio locations:
1 location = $250/mo
2 locations = $500/mo
3 locations = $750/mo
4 locations = $1000/mo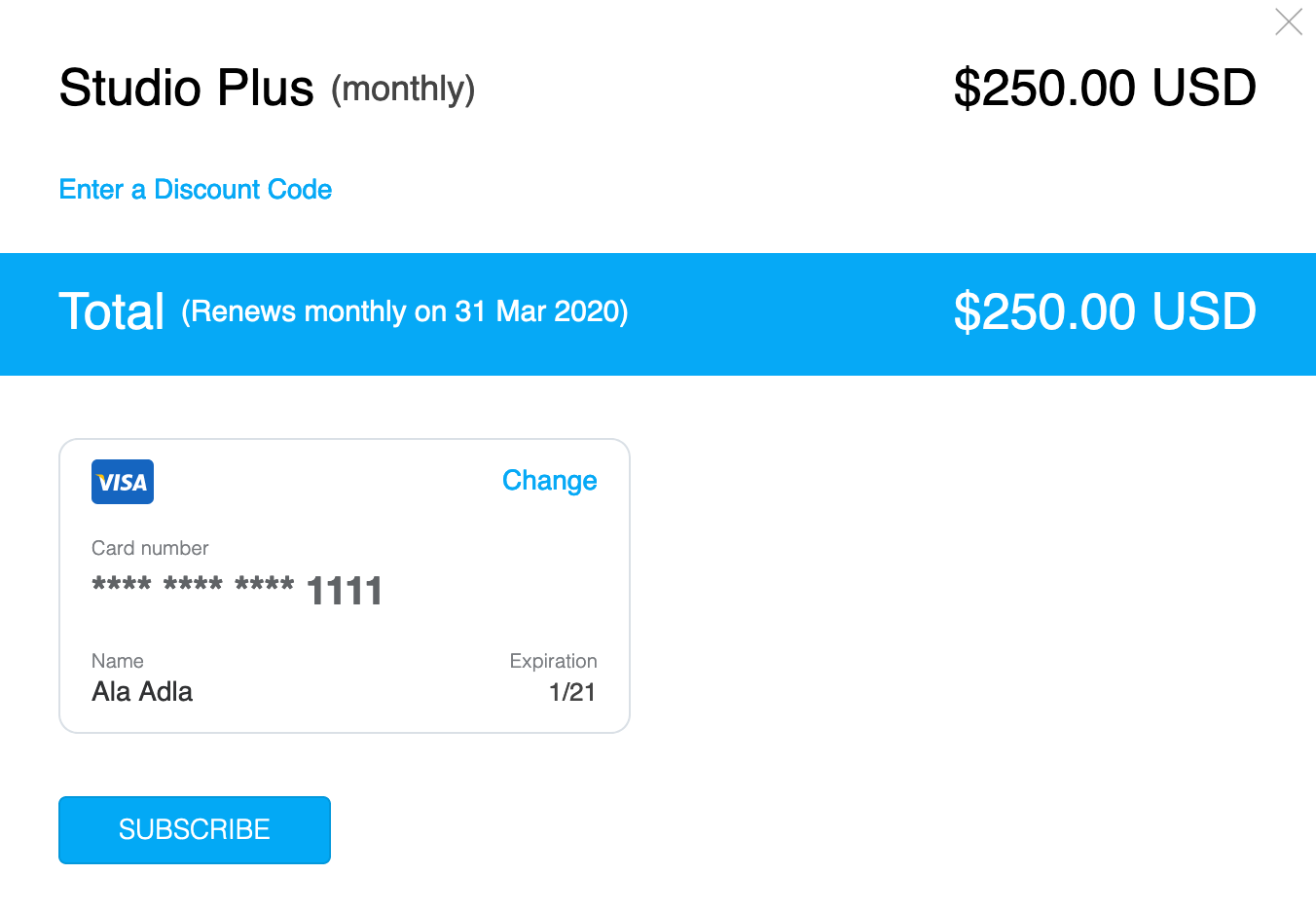 3. Once you purchased a Studio Plan, now you can add an additional location from the "Add location" dialog following the same steps. You will see the text "additional location" in the purchase dialog: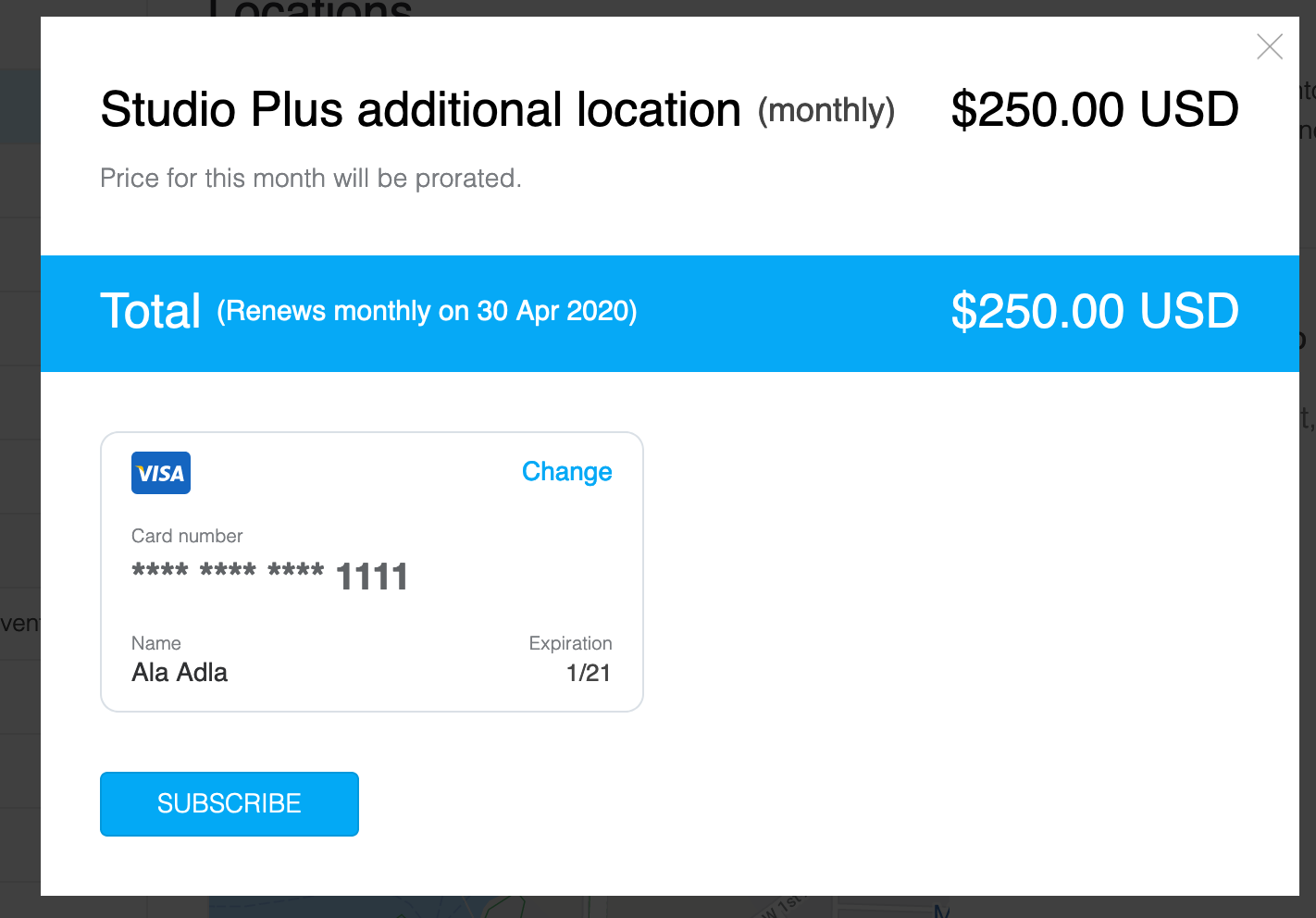 4. Once you subscribed to the additional location plan, click the "Change Address" button to update your location address, add your phone number and select your business hours.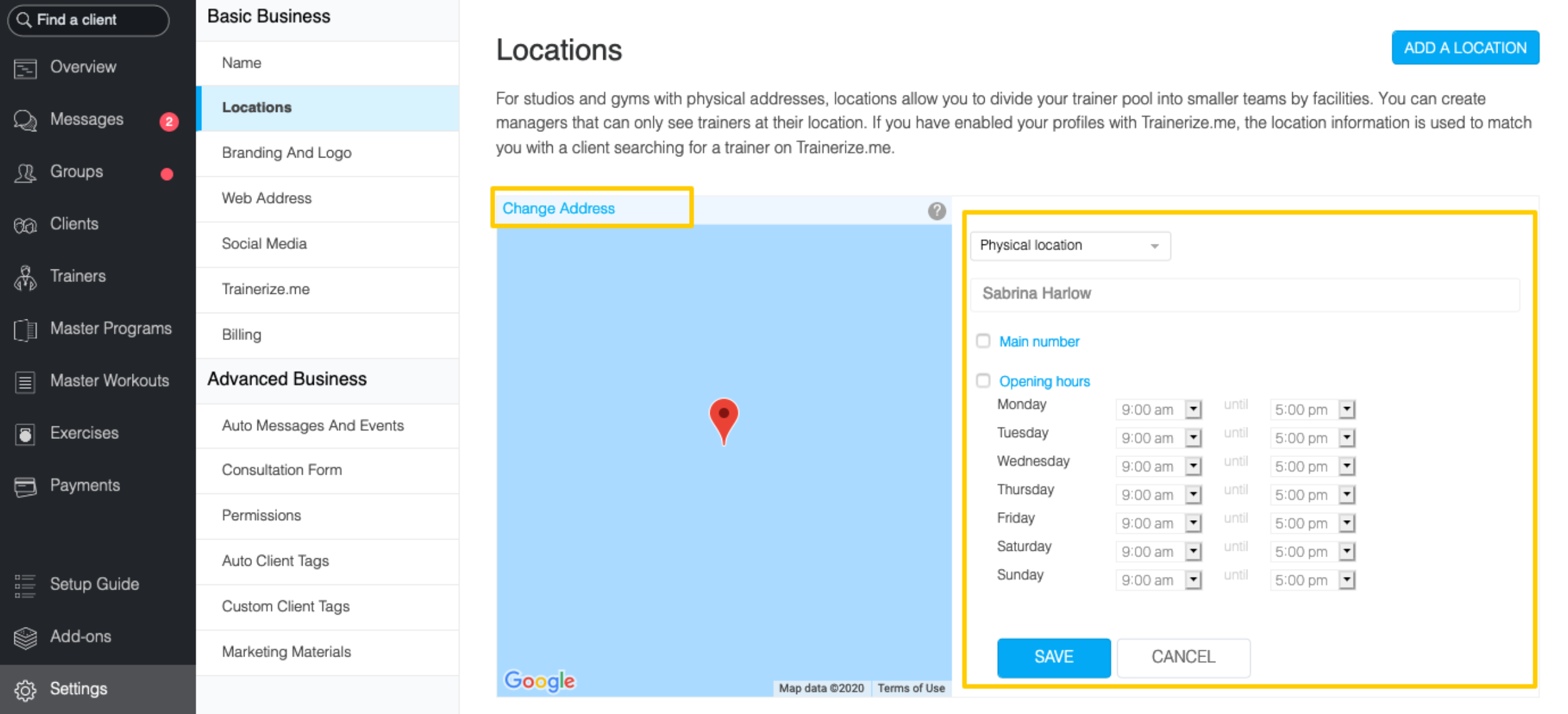 Your physical location should look like this when filled in: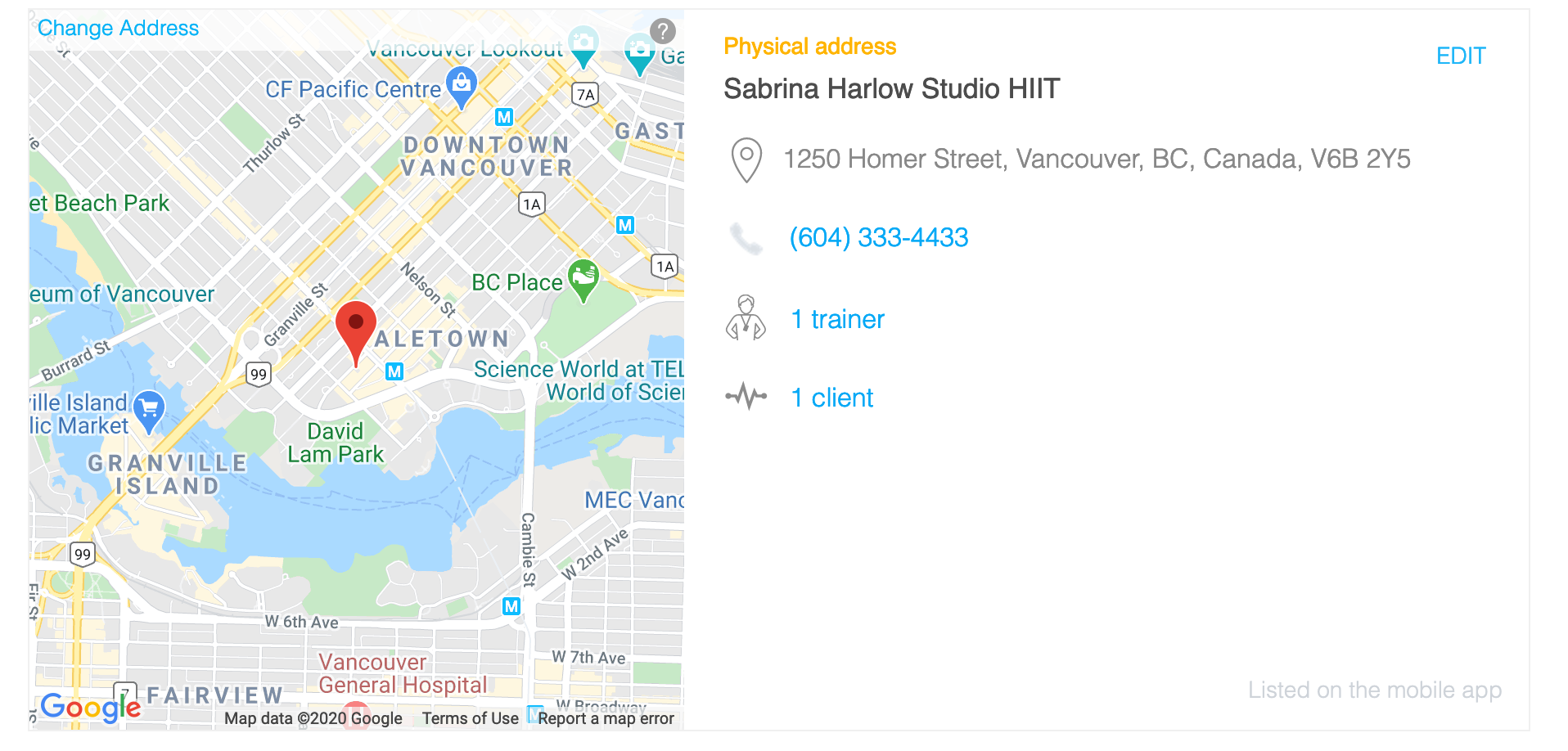 ---
Related Articles
This article was last updated on