With Studio/Enterprise level custom branded apps, you now have the ability to add up to 8 shortcuts on the dashboard and links in the more section to external webpages and resources, or drop a PDF directly in that spot.
Some common use cases are:
links to buy supplements, clothing, equipment

recipe books

getting started guides

location specific Facebook groups (if your gym has multiple locations)

parking instructions

party announcements, and much more
This is available to custom branded apps that have its own separate app listings. Your clients will see these shortcuts and links when they sign in via your custom mobile app.
It is important that you do not add any upsell links to sell digital products within your app or your app can get rejected.
As their developer terms change frequently, always refer to Apple's Guidelines and Google's Guidelines for the most updated copy text what can be included. A quick summary is provided below.
How to add your custom links and shortcuts
1. To get started, click Add-ons > Custom Branded App > Custom App Layout. Finally, click Setup.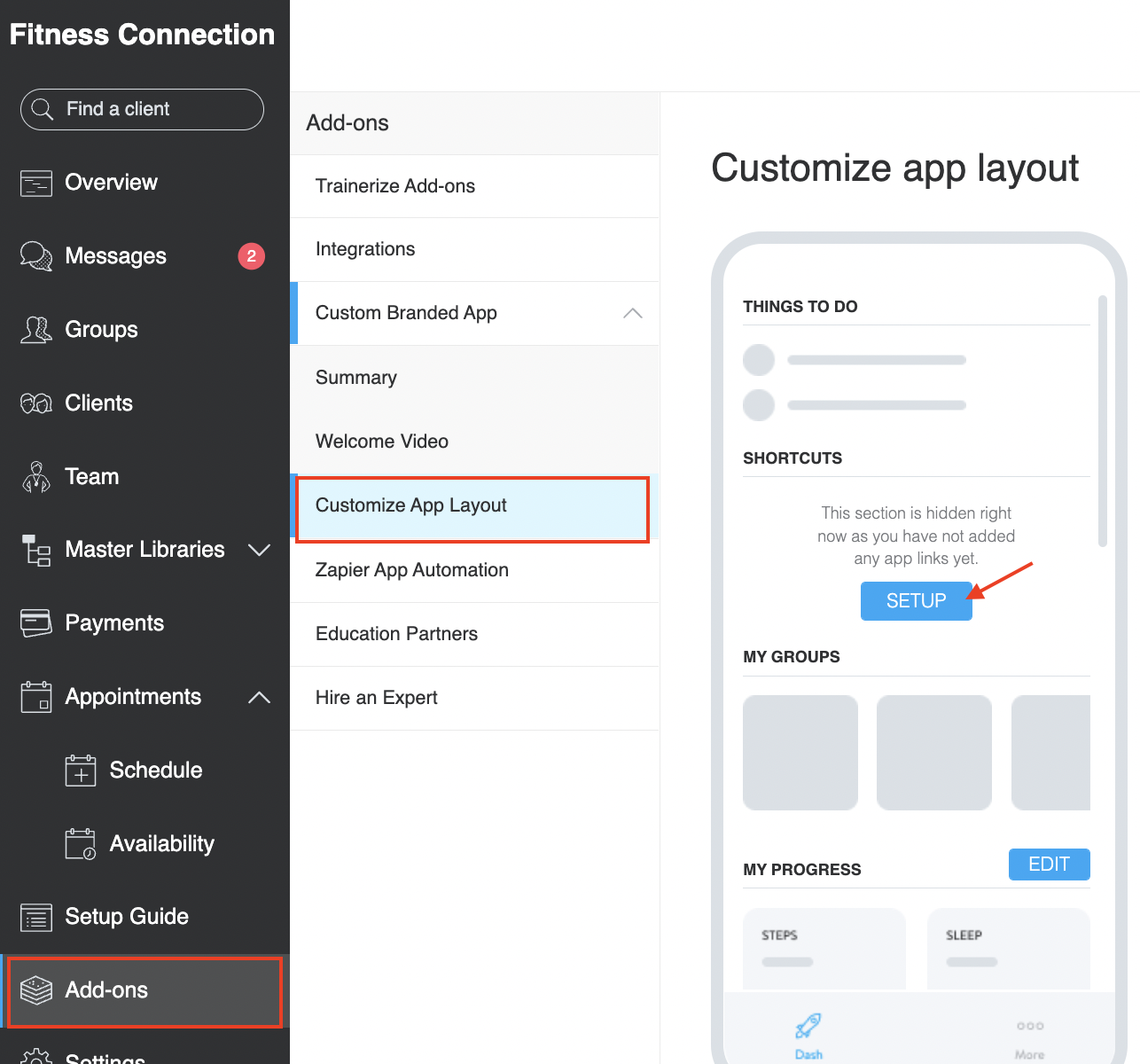 2. Next, click the NEW button and select the type of link you want to add. In this example, we are going with URL.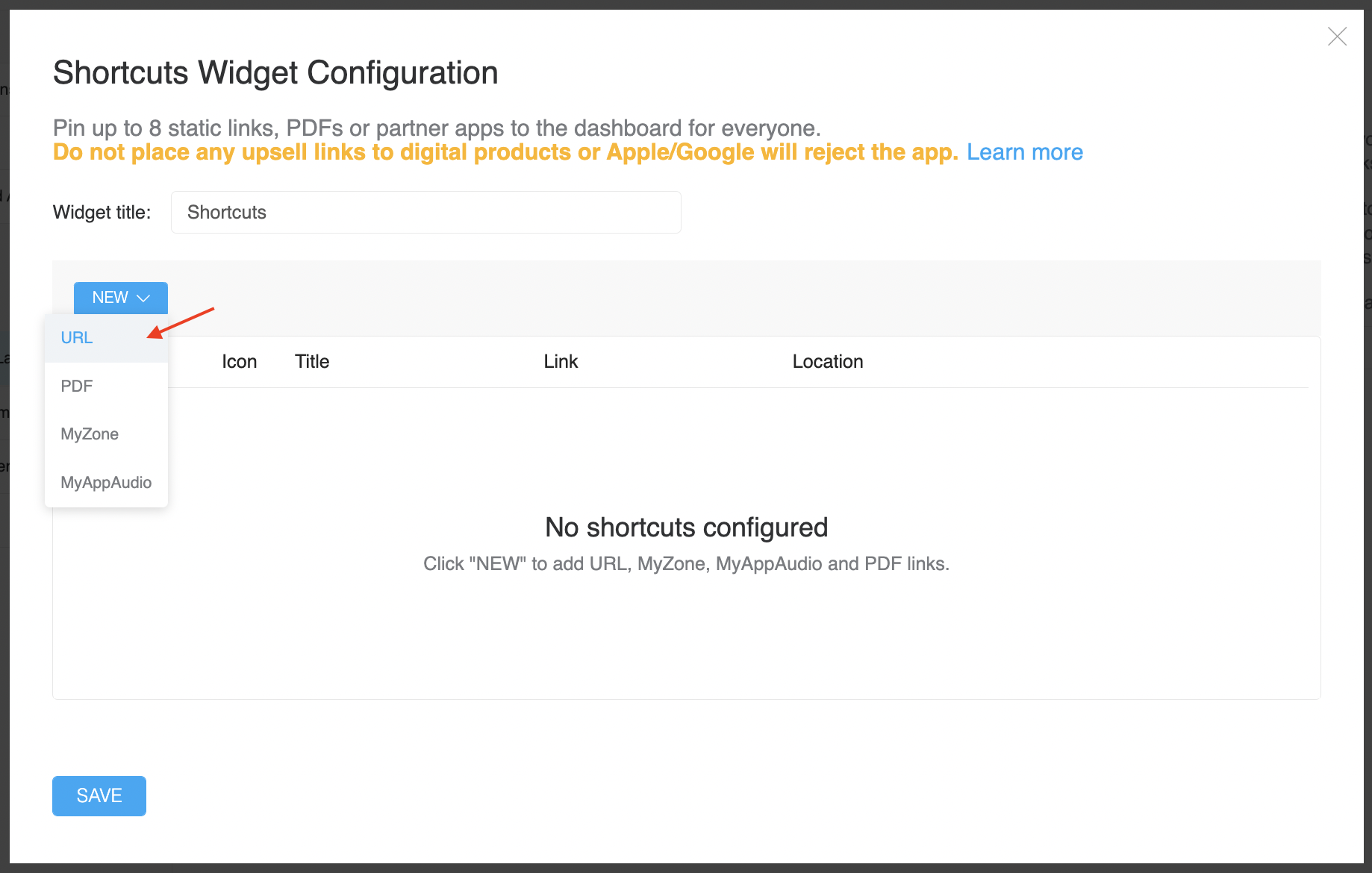 3. Select the icon, the Title and paste the full link. Click Save.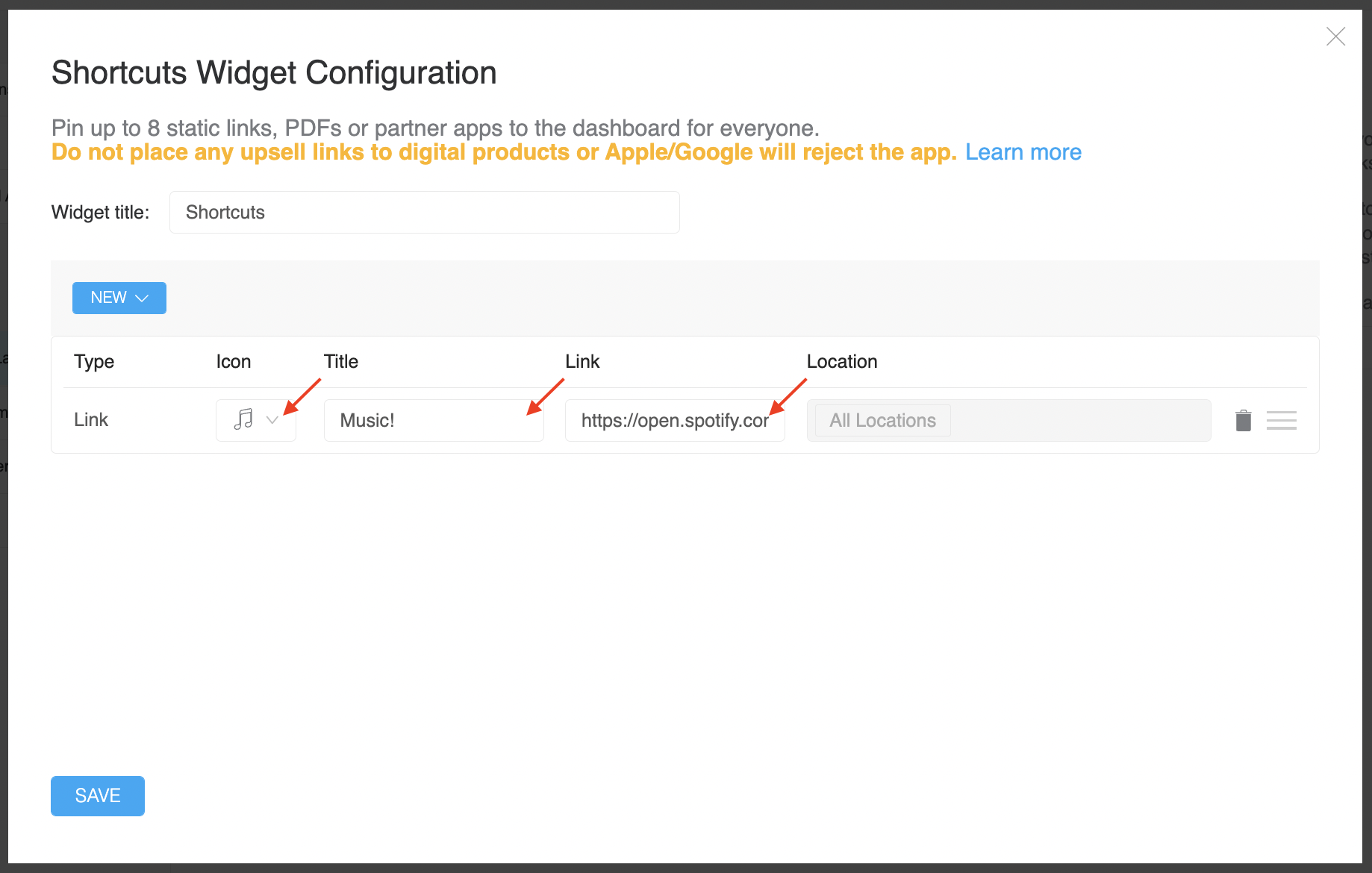 4. If you need to re-arrange the order, simple click on the hamburger menu icon on the right side of the pop-up dialogue and drag and drop as needed.

What links are allowed and what are not?
In general, any physical product consumed outside of the app are allowed. Examples include:
physical products like supplements and t-shirts
gym memberships
additional recurring services (like tanning, child-care services)
in-person PT session packs
class session packs
In-app purchases of digital products are allowed, but payments must go through the Apple/Google store in-app payments, which Apple/Google will take a 15% cut. These are paid out separately into your Apple/Google developer accounts.
What we recommend is to follow Netflix's or Spotify's model to do all your sign-ups or transactions on the web app via sharing a product link or building free product landing page and sending it to your client via message or e-mail containing the conversion link.
If you read the Apple's Guidelines and Google's Guidelines, you are not allowed to link to an external payment page to buy these products with alternate payments methods(like Visa/Mastercard) are used. Examples include:
links to your Shopify shop to purchase a digital coaching product
links to a Paypal checkout page to buy a nutrition coaching add-on
links to a Stripe page to purchase a subscription to unlock training programs
links to your Trainerize checkout page to join a digital fitness challenge
links to ABC or MINDBODY to pay for virtual class packs
These are not hard and fast rules and depends on the reviewer looking over your app and their interpretation of the app store guidelines.
What happens when my app is rejected?
If your app is rejected, our team will contact you informing you of this and work together with your to resolve the rejection according to the changes as requested by Apple or Google.
The resolution type and timeframe depends on the individual reviewer, what types of changes Apple/Google is requesting for. Typically it takes many weeks to move your case through the Apple judgement process.
This article was last updated on