Add your idea to our idea forum
We ask our trainers and businesses using Trainerize to add their suggestions to ideas.trainerize.com.
This ensures your ideas don't get lost and always visible and other trainers can upvote your ideas. The idea forum allows us to keep a pulse check on what our trainer community as a whole wants.
When an idea moves into the design/development phase or has been completed, you will get an email notification.

To submit an idea:
Search to see if your idea already exists. If so, vote or comment on it. Each user gets 20 votes — use wisely!

If you don't see it already, add your new idea so other trainers can vote on it.

When idea is completed or turned down, The vote is returned to you and you can vote on other ideas.
When does an idea get picked up?
The higher the votes, the more likely the idea will be completed but there is no fixed formula if an idea will be picked up as it is just one avenue we look at. The idea forum is only one of the many avenues we use to evaluate an idea's feasibility. We also factor in your conversations with our support team, in-app surveys, Facebook beta groups, complexity of the idea, talks with our inner circle of trainers and how it fits with the overall vision of Trainerize.
For example, "Portuguese support" was for the longest time in our top 3. But embarking on that would significantly dent our ability to serve our primary English speaking community effectively.
This forum allows us to more accurately prioritize ideas to ensure a system of fairness by executing on improvements needed more urgently by a larger cohort of our trainer community, in order of voting priority. It offers you transparency into what we're reviewing, starting and have completed.

Any other ways to get to the forum?
You can always access the idea forum in the web app.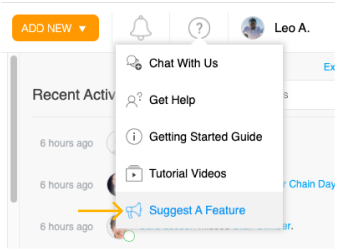 Do you reply to our suggestions?
Due to the sheer volume of ideas we get from all channels, it is impossible to reply individually. Hence it's important you add your vote so you stay subscribed to any movement on an idea via e-mail. You may get an in-app survey or follow up emails from our team once we are ready to get started on an idea.

I suggest an idea years ago, it still has not been implemented.
The idea forum is not a queue. Long-ago an idea was suggested does not count towards if we pick up an idea or not. We only look at votes and the factors listed above.
What if my client wants to suggest an idea?
Clients have their own ideas forum and it can be found at feedback.trainerize.com.
---
Related Links
This article was last updated on