The client dashboard isn't limited to the web! Trainers can manage clients right from their mobile app. A big use case other than editing a client's profile, viewing client information etc is tracking workouts on behalf of the client on the gym floor. For example, if your client sees you in person, you don't want to have to ask the client to login to their account on your phone, you simply open the client'f profile from your account and switch into client view. We will outline tracking workouts and other use cases below.
To open a client's profile, click on the clients name in your Clients section. Next, select the Open button at the top right of the screen as shown below. This will open the client's Dash.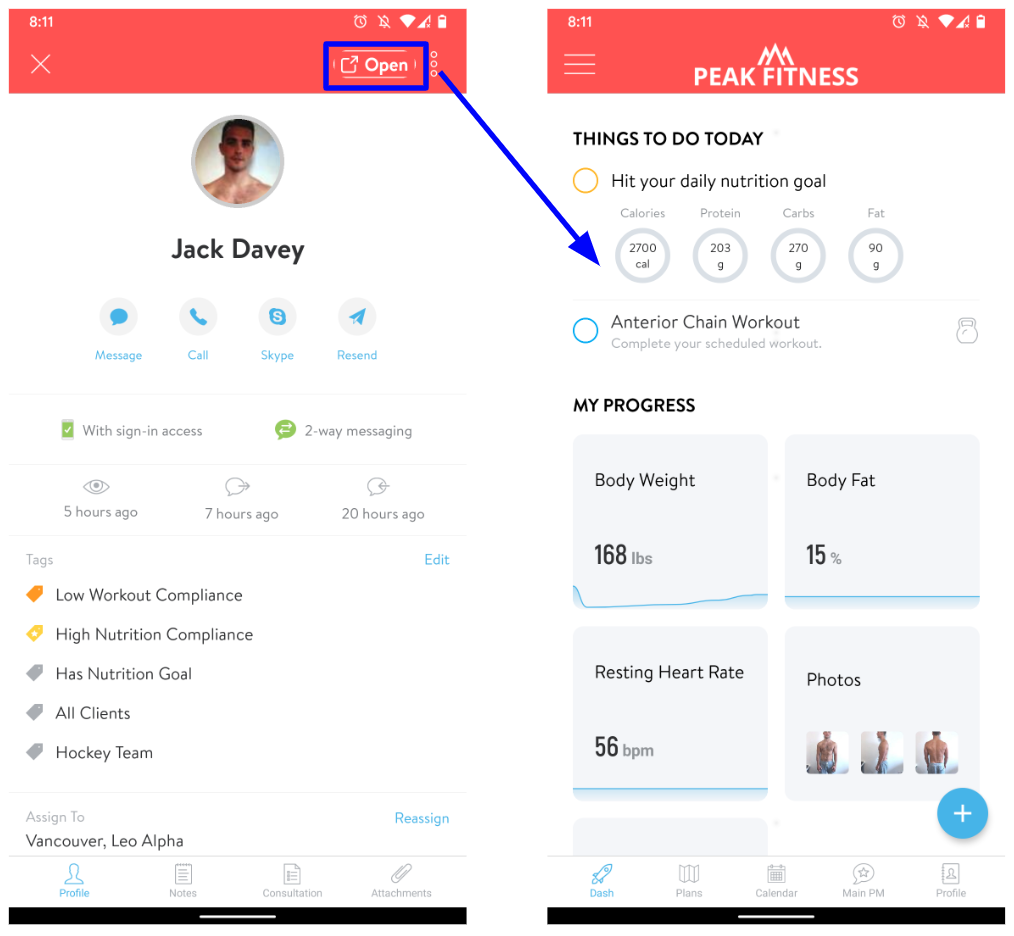 Tracking Workouts
- Go to the client's Calendar section and then select the workout you want to track.
- All workouts whether they are tracked by the trainer or the client will save in the client's calendar.
Access Client Notes, Consultation Form and Attachments
- Client notes (shown below) are great for trainers to get a quick glance at a client when sharing clients. Key information such as injuries, goals, likes/dislikes can be pulled up at any time during a personal training session.
Important notes can be pinned to the top of the page. For example, "severe allergy to peanuts" is an important note so trainers are aware not to eat a peanut butter or carefully wash their hands before training with that client. 
- Think of Attachments as your filing cabinet that you would normally have in your office or gym. All paperwork should be saved in here for quick access. Waivers, contracts, doctor's notes, PAR-Q forms etc can be saved here. Please note, the Attachments section is for the trainer's eyes only. Documents saved here are not seen by clients.
Go over Goals, Meal Plan and Training Plan
- Clients can see all plans assigned to them in one spot. 
Highlighting Accomplishments
- In addition to client progress, remind your clients to scroll down to their My Achievements to view their personal bests!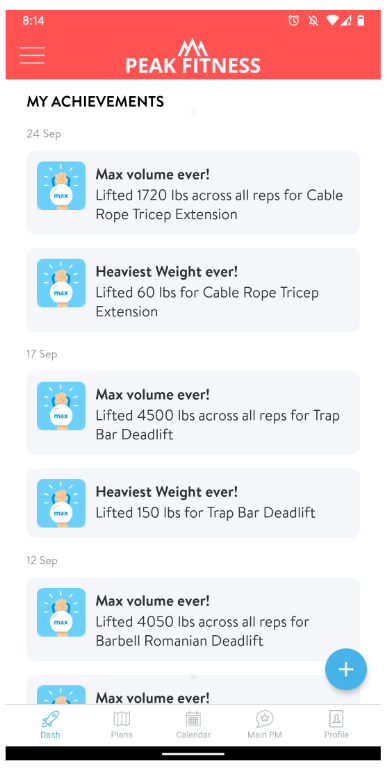 Exiting from Client View
- Tap on the top left of your screen and click the "X" to the right of your client's name. This will bring you back to your own trainer account.