Through the Appear.in integration you can set up video calls with your clients.

To use the video calling add-on you are required to create your own individual free account on Appear.in . While setting up your account, you will also create one video conference room which you can then use for all future video conferencing calls.
Depending on how many people you want to use video calls with you can choose between 2 Appear.in plans: Free Plan allows for 4 people, while Pro Plan allows for 12 people).
Appear.in Free Users 
Trainerize account owners or admins are encouraged to create a free Appear.in account along with a video conferencing room, which they can add to the Appear.in add-on settings as the default video conferencing room business-wide. This will be the conference room that opens whenever a trainer clicks the "Start Video Call" button in the app and will ensure that all trainers and clients have access to a video conference room at all times. To give it an extra-professional touch, consider using your company name for the business-wide conference room. 
Meanwhile, to avoid scheduling conflicts and overlapping conference calls, trainers can create and use their own individual appear.in accounts and conference rooms. To set up a call with clients, instead of pressing the video call icon, they just need to share the link to their room directly with clients or groups via the in-app messenger.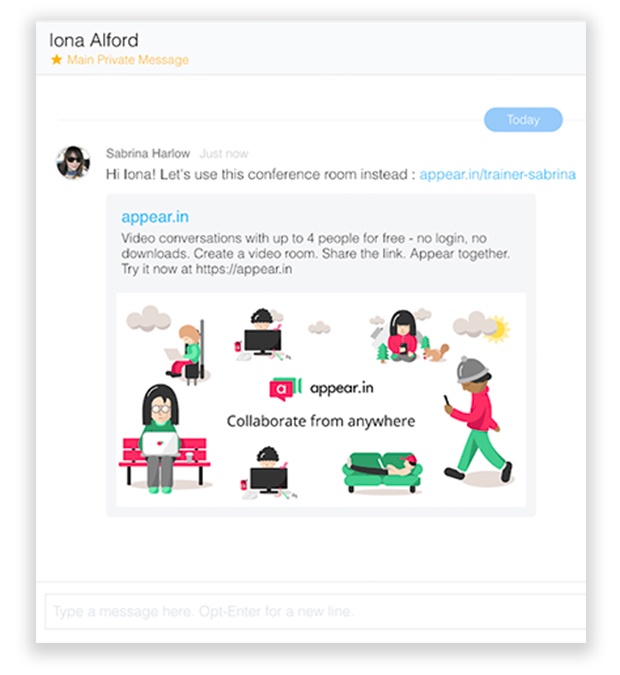 Appear.in Pro Users
If you're using the paid Appear.in Pro plan and you have already added your room name in the Appear.in add-on settings, no need to worry, nothing changes on a business level. You and your team can still spontaneously create up to 10 rooms.
TZ TIP: To avoid awkward encounters in conference rooms or to stop others from snagging your favorite conference room name, make sure to register your conference room name. You can do this from your Appear.in account.
Better video calls
To make sure you always have the tools you need to stay connected with your clients, we're considering bringing a more powerful video calling feature to Trainerize.
We'd love to hear how can we make video calls more useful for you and your current customer communication flow. Share your opinion and tell us how you are using video calls and how can we improve.