What value does the custom branded app give me?
Custom Branded Mobile Apps are white-labeled, individual apps powered by Trainerize for both iOS and Android, created specifically for your business.
This allows you to:
Provide a more personalized experience for your customers

Gain a competitive advantage over businesses who don't offer a branded mobile app

Raise brand awareness and get discovered in the market

Save the money you would otherwise spend developing your own custom app
For a one-time fee, the Trainerize Team handles the creation and launch of your custom app from start to finish, including submission to applicable app stores.
Once published, you can share your app with trainers and clients, and all future updates to Trainerize are included in your custom app. Do note that your clients on iPhones can download the Trainerize fitness app at any time before your app is completed and your branding will be applied automatically when your app is ready. Your Android app will be a separate download, and steps are provided when your app is completed. 
Who can purchase a custom-branded mobile app?
We've made custom mobile apps a cost-effective business solution that can be easily added to your current Trainerize plan.
All owners and trainers on a paid plan are eligible to purchase a custom-branded mobile app. If you choose to downgrade to a free account, your custom app will be deactivated and removed the app store.
Purchasing a Custom App on a Paid subscription
Step 1 - Accessing application page
1. Click on the "Add-ons" tab in the bottom left-hand corner.
2. You will be brought to the "Custom Branded Mobile App" section.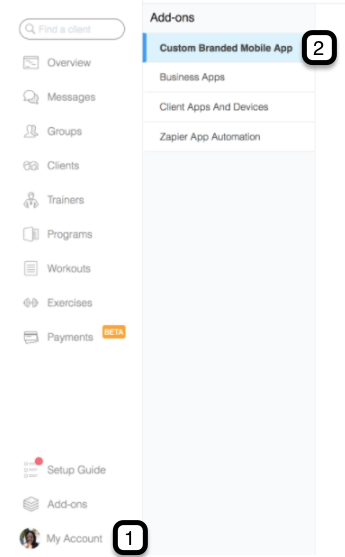 Here you will see details about the Custom Branded App process. Review these points before you continue.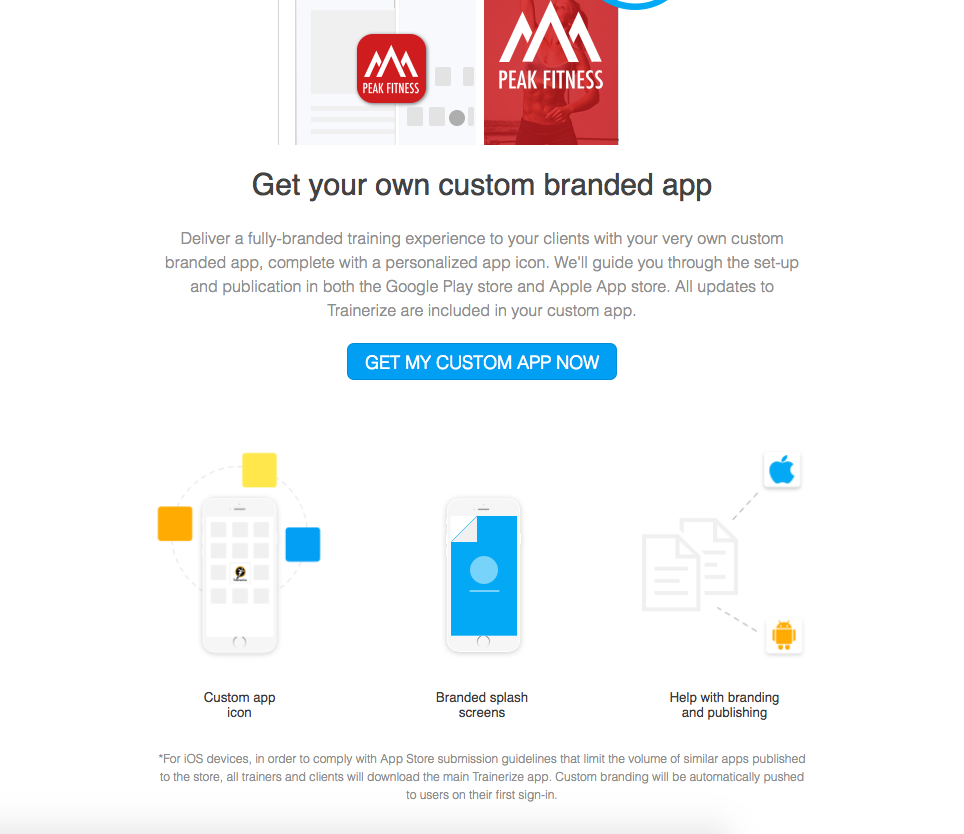 Take note of the text at the bottom of the screen regarding iOS App Store submission guidelines:

Click "Get My Custom App Now" to continue the process. 

Step 2 - Review purchase details
If you are currently not on a paid plan you will be prompted to move to a paid subscription. The steps for this are listed below. 
Review the purchase details one final time and click "Confirm and Purchase." Note that the purchase of a Custom Branded Fitness App includes app setup and publishing support.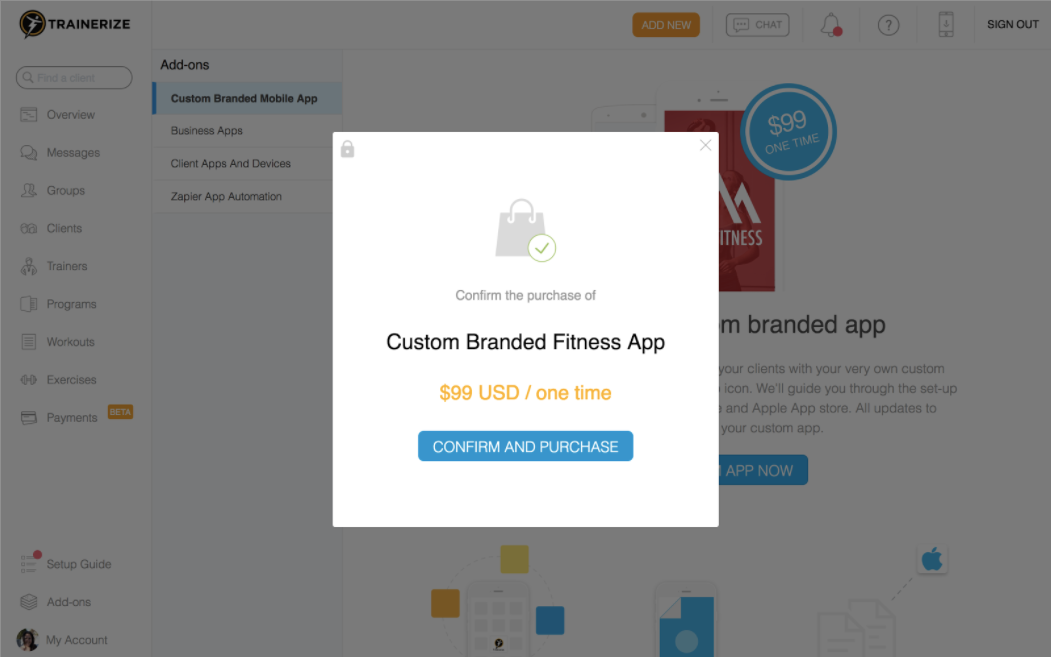 Step 3 - Submit your artwork
Once your purchase request has been submitted you will see a confirmation screen with a link to submit your brand artwork and information. Click "Submit Artwork" and complete the form that follows.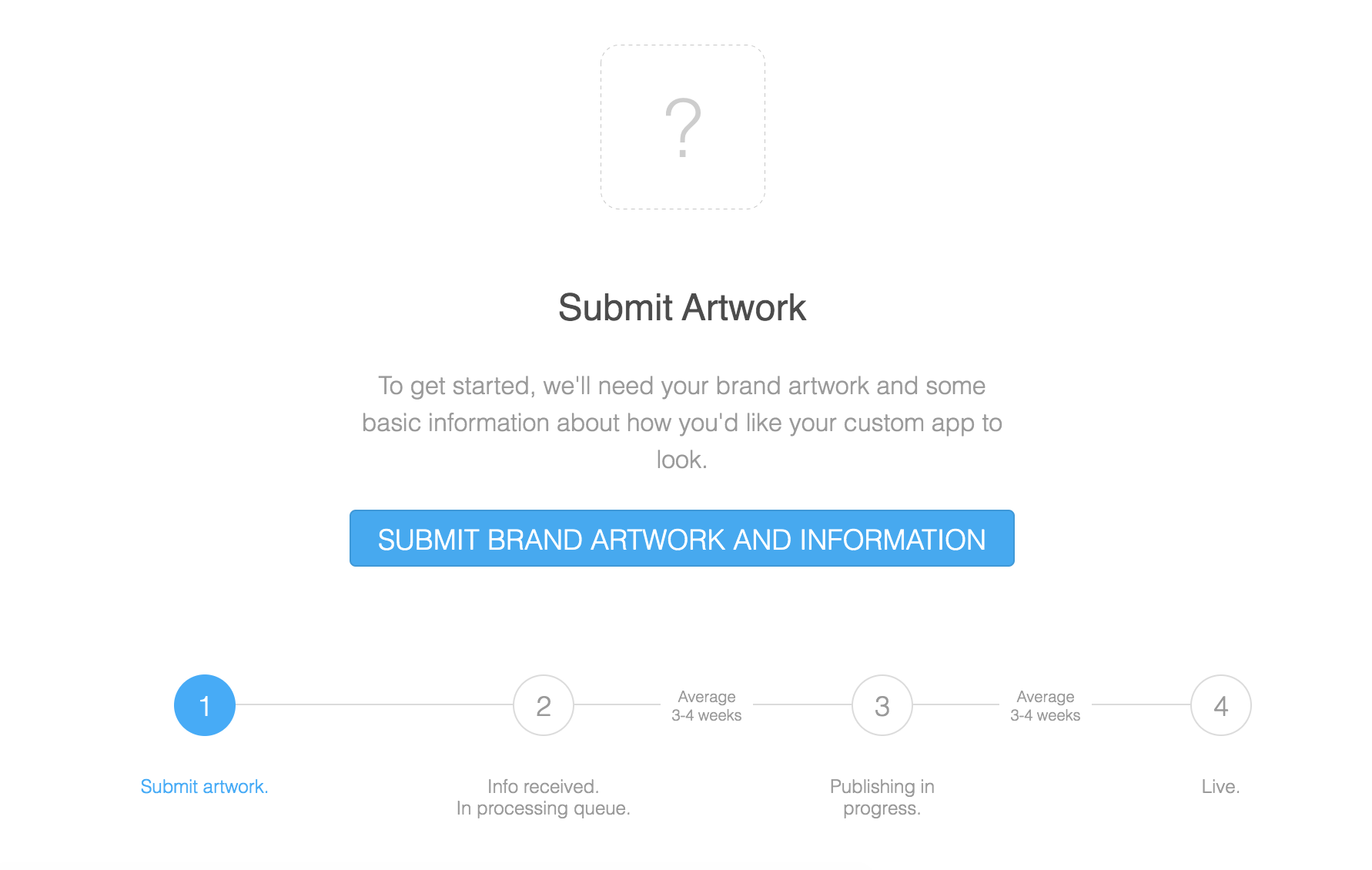 After submitting the form, you will be returned to the Trainerize web app where you will see a page confirming the receipt of your brand artwork and information.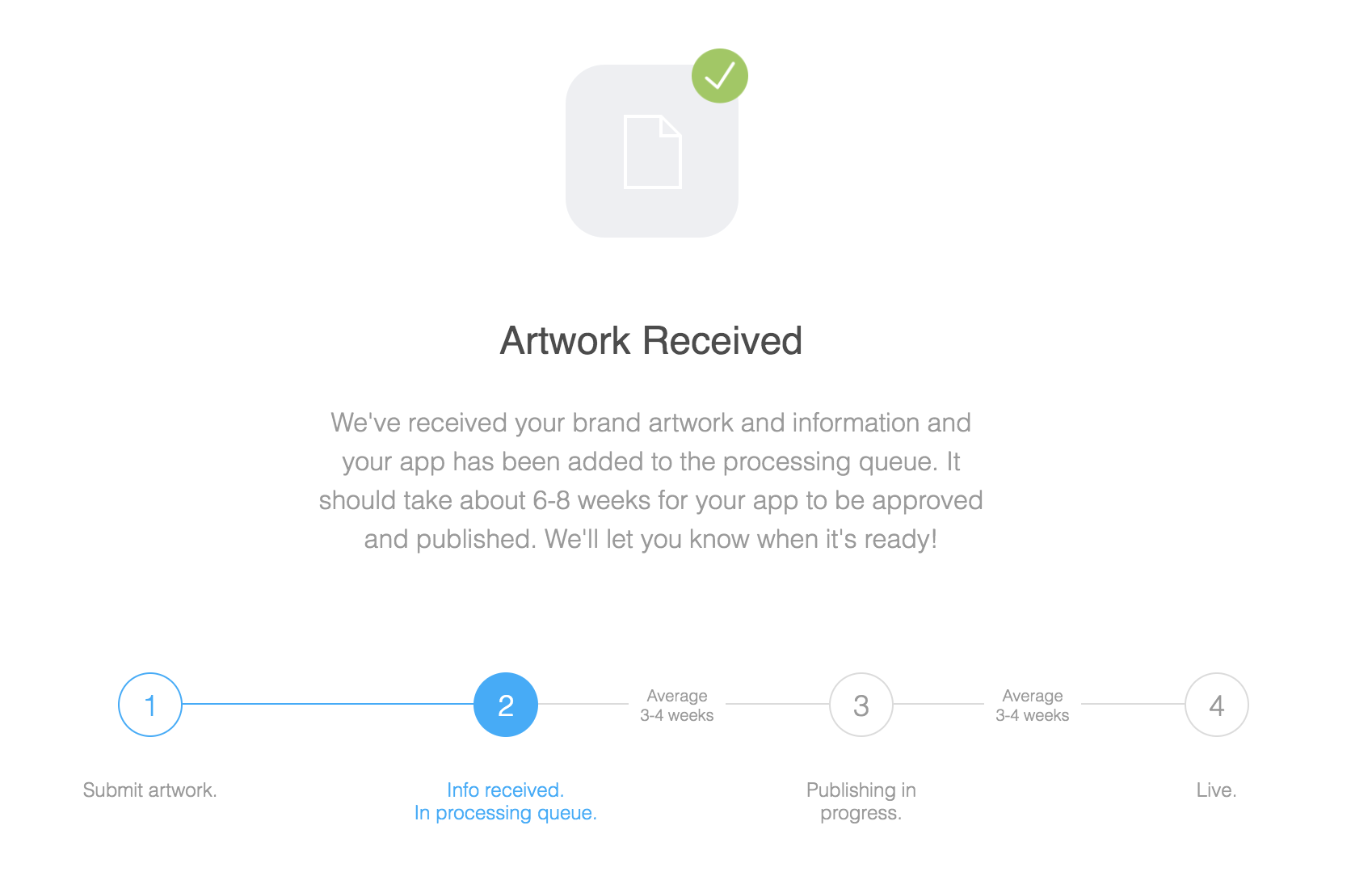 Purchasing a Custom App on a Free subscription
On a Free plan, you will be prompted to upgrade your plan before proceeding with the purchase of your Custom Branded Fitness App. 
Step 1 - Upgrading your plan
By default, we will suggest the lowest priced plan that meets your needs. You can always select a different option by clicking "Show me all plans and prices". When you're ready, click "Upgrade Now":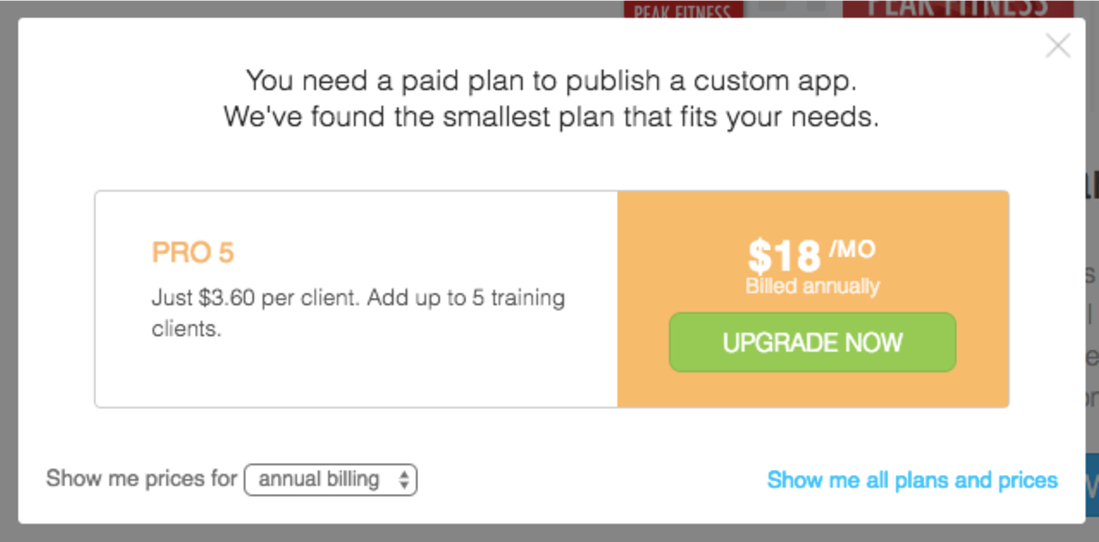 Click "Process and Pay Now":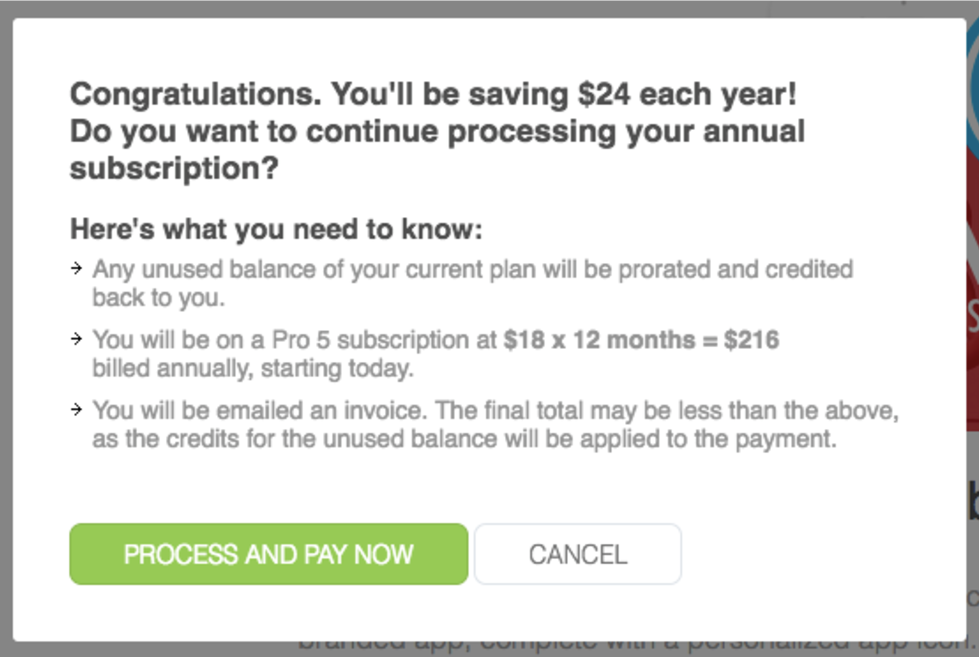 Step 2 - Review your purchase
After upgrading you will see this confirmation screen and will receive an invoice via email in regards to the upgrade. Click "Find Out More" to return to your purchase of a Custom Branded Fitness App.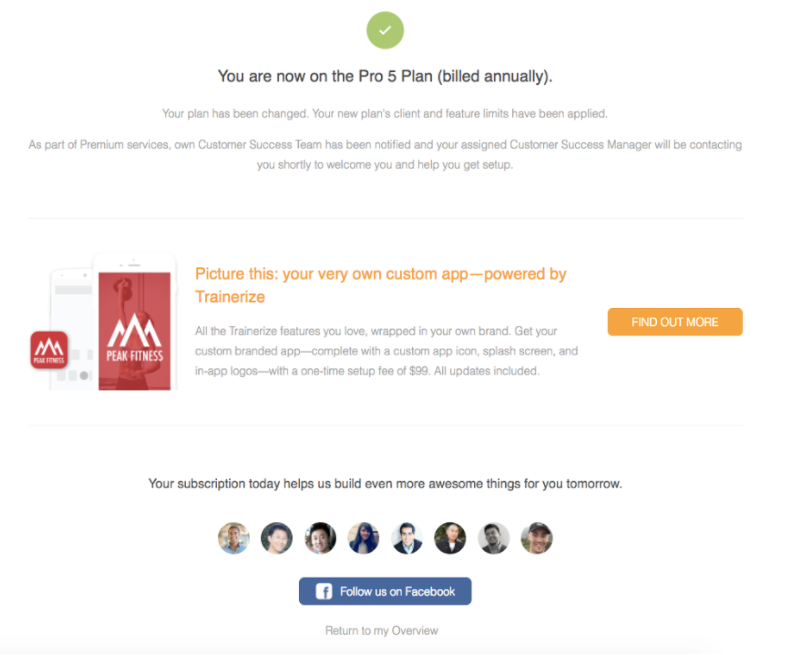 The publishing process takes approximately 6-8 weeks from the submission of all brand artwork and information, depending on the number of requests currently in our custom app processing queue.
We'll let you know when both the iOS and Android apps are ready and we'll give you an option to seamlessly notify everyone in your business to switch over to your custom app.
See more information at our other help article:
How do I transition to a custom-branded mobile app?

If you're stuck at any point, do not hesitate to reach out to our team at services@trainerize.com.
---
Related Articles