Refer new trainers to earn credit
Trainers can refer friends to Trainerize to earn credit towards their account.
You just send a custom link to register through Facebook, Twitter, Whatsapp, SMS (text), or email. If that referred trainer subscribes to a paid Trainerize plan using the link you sent, you will earn a credit in the amount equal to their monthly fee.
For every customer that a referral brings in, you as the referrer will get 100% of the first month of the new customer's payment. 
For example, if a Studio 200 refers a pro 15, the Studio 200 customer will get a $40 credit - the 100% value of the first month of the new Pro 15 account.
Mobile App
In the mobile app, you can get to the referral option by tapping on the "More" tab at the bottom right of the screen and then on the "Earn Free Months" section.
From here you'll be able to choose any method that you wish to send the referral link. (Facebook, Twitter, Whatsapp, SMS (text), or email - If you wish to share to Facebook, Twitter or Whatsapp, you will need to have these apps installed and you'll need to be logged in.) Tapping on any of these will launch the app, and a pre-populated message including the special referral link.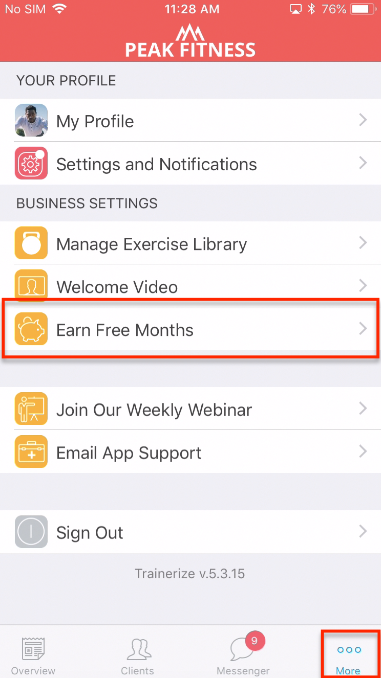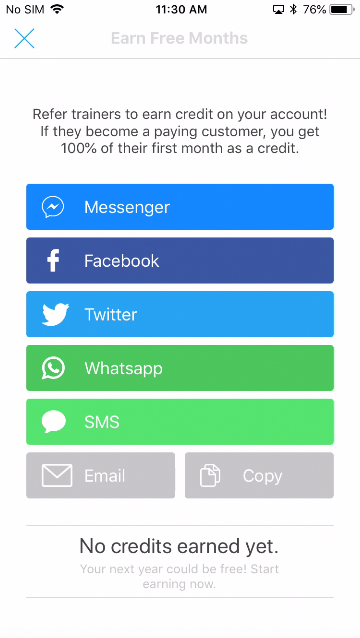 Example message using the "SMS" (text) option seen below.
You can edit the message so its more personalized, but NOT the url in the message. In the example of sending this via SMS (text), you just need to add a person in the "To:" field and tap "Send".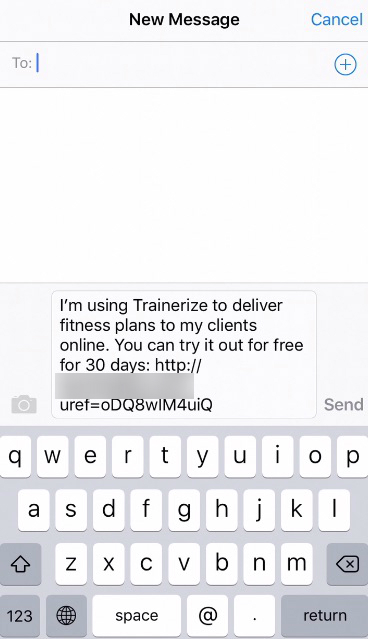 The person receiving the message will then use the link provided to sign-up to Trainerize and you get the referral credit! 
Web Platform
The process for referring new trainers works the same on the web version of Trainerize. You can find the "Invite" button on the "Overview" page when you login to your account.

You can use your custom referral link through Facebook, Twitter, LinkedIn, or email–or just copy and paste the link to use in the messaging tool of your choice.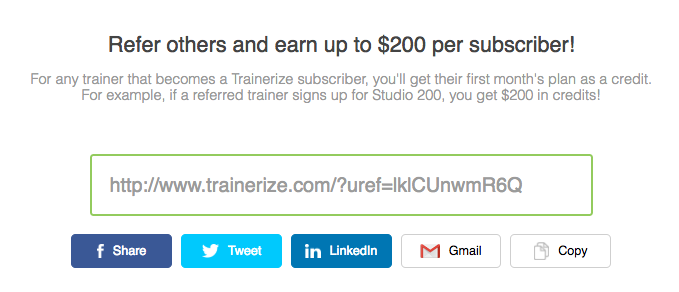 ---
Related Articles