Note: Due to a current high volume of blog submissions it may take upwards of 20 business to have your submission vetted and then approved. You will receive an email when your article is published.
When logged into your Trainerize account on the web app, go to Settings > Profile (where you set up and edit your Trainerize.me profile), scroll to the very bottom. There is a button at the bottom of the page to Submit An Article. See the screenshot below.
Login to your Trainerize web app
Click on your name and then "My Account" located at the top right corner
From the My Account menu click on "Profile"
Scroll to the very bottom of your profile page until you see the image below
Click on "Submit An Article"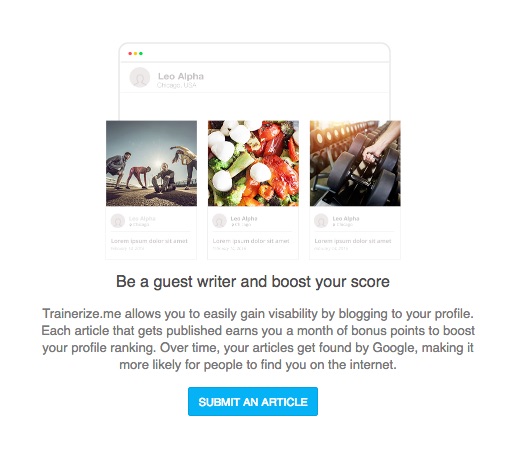 Before submitting an article please see our other help article: What are the guidelines for submitting articles to Trainerize.me?
Compose your article in the article editor. You can work with both text and images as you create your article. If you need to continue working on your article at a later time you can use the "Save Draft" button. This will allow you to come back to your profile and find your article at the bottom of your Profile and open it up and continue working.
Ensure that your article is complete before you click Submit For Review. Once you submit your article you will no longer be able to edit it.
Once you click Submit For Review, it then goes under review with our editors. Once the article is approved, you will be notified when it is published.
Your article will appear at the bottom of your Trainerize.me profile (both the live version on Trainerize.me and at the bottom of your settings page inside your Trainerize account). It will also appear on our blog located at Trainerize.me/articles.
How do I add my blog to my Trainerize.me profile?
You also get the ability to have a "Blog" tab on your site.
This can link to any external blog that you have. Your blog can be created on any blogging platform, which you can then add to your Trainerize.me profile.
Login to your Trainerize web account
Click on "My Account" in the bottom left-hand corner
From your My Account menu click on "Social Media"
Click on "Edit" in the top right of the page
Where it says "Blog" add the full URL of your blog (ie. http://www.yourblog.com)
Click "Save"
From this page, you can connect other social media accounts.
---
Related Articles
This article was last updated on