Exercise stats can be tracked via the web or Smartphone. The types of stats which can be tracked for each exercise are based on the Exercise Type that is selected for that Exercise. All Trainerize Exercises already have an exercise type associated with them. Anytime you add a Custom Exercise to your account, you will be prompted to select a Type as shown below.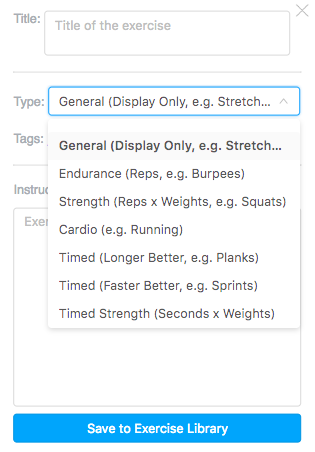 General: Display only, no stats can be added 
Endurance: Use this for an exercise that involves reps only
Strength: Use this for an exercise that utilizes reps and weight
Cardio: Use this for a cardio exercise to track distance and time elapsed
Timed: Use this for exercises that involve holding a position for a set time (example: Plank)
Timed and Strength: Use this for an exercise that contains reps that you want to complete within a time frame
---
Related Articles
How can a client track heart rate, rest interval and effort intervals?
What syncs and what can I track from MyFitnessPal in Trainerize?