Once you've built workouts and created a Training Phases for your client you can then schedule Workouts, Cardio, Photo and Body Stats reminders into their calendar or the calendar of a Master Program. They'll get a notification on the day the events are scheduled in their calendar. Auto messages get sent as an instant message and are not seen in advance by clients in their calendars.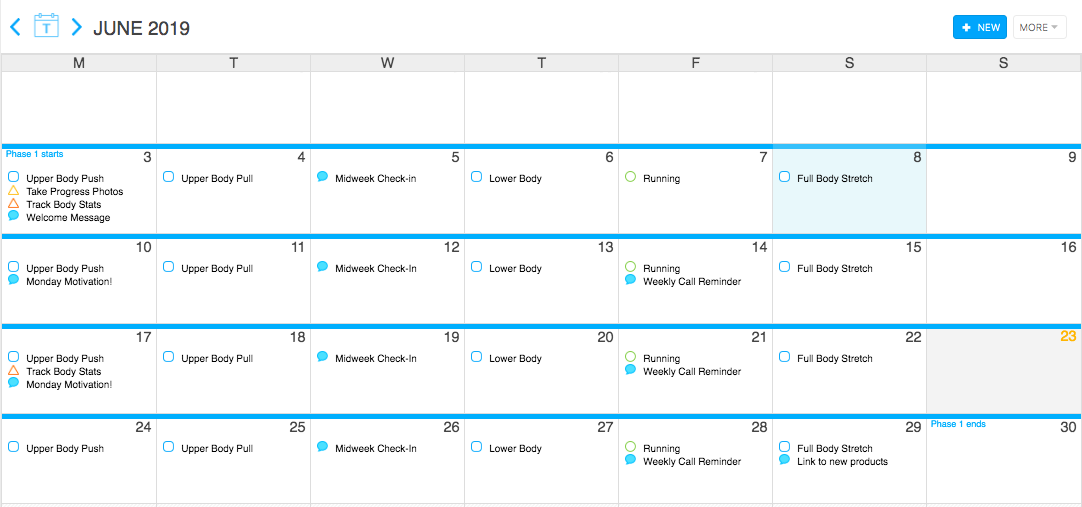 Events are colour coded. Any event on the calendar that is completed will be a solid colour with a check mark and any event that is scheduled in the future will be empty (outlined or hollow) with no check mark.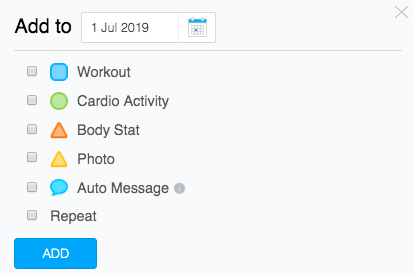 Color codes:
Workout = blue square
Cardio = green circle
Body Stats = orange triangle
Photo Reminder = yellow triangle
Auto Message = blue chat bubble
To add an event to the calendar:
1. Click on any date you wish to schedule an event
2. From the pop-up window choose either Workout, Cardio, Body Stats, Photo Reminder or Auto Message
Workout - you'll choose from the list of Workouts in the Training Phases
OR
Cardio Activity - you'll choose from the list of Cardio options and then set a target (optional)
OR
Body Stats
OR
Photo Reminder
OR
Auto Message
3. You can then choose to make the event repeat each week on the same day for a specified number of weeks using the "Repeat" option. Click "Add".
This article was last updated on