Make sure to upload your business logo to your Trainerize account. It will appear at login in both the web and mobile app, as a favicon in the web app, and on your invoices and printable workout tracking sheets.
IMPORTANT: The allowable size for the Trainerize logo is 928 x 240 pixels at 72dpi. You will need to re-size your logo to these dimensions before uploading. For best results, your logo should be formatted as a PNG. Maximum size is 5MB.
To upload your logo (refer to screenshot below):
Click on "My Account" in the bottom left-hand corner
From the My Account menu click on "Branding and Logo"
Drag and drop your logo onto the upload area indicated. A crop tool will appear. Adjust the bounding box around your image to crop as tightly as possible without cutting off part of your logo. Click "Crop" to save.
Choose between the "Light" or "Dark" theme options for your logo background. Select the theme that best complements your logo.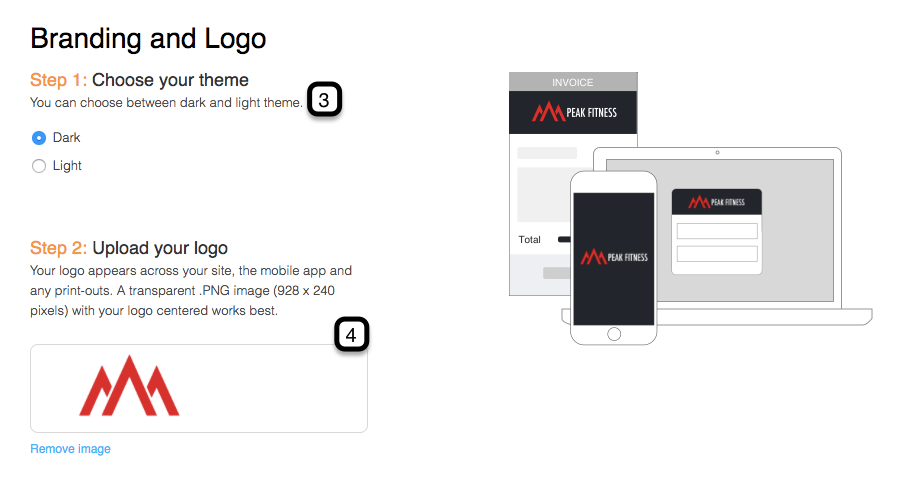 Here are some instructions on how to re-size photos on a Mac or PC.
Mac: http://www.wikihow.com/Resize-Pictures-(for-Macs)
PC: http://windows.microsoft.com/is-is/windows7/resize-a-picture-using-paint (You can also resize easily under 'edit' in the windows photo gallery)
---
Related Articles
This article was last updated on