You can move workouts that are built in a Program to the "Workouts" tab by copying the entire program to a client. For this you could use an inactive or test client, and then remove the program from their account after the workouts have been moved over.
Follow the steps below to move a Workout build in a Program to the "Workouts" tab:

1. In the "Programs" tab, click the 3 vertical dots beside the program name and choose the "Copy To" option.

2. Select the test or inactive client.

3. Select the "Clients" tab and choose the client used in step 2.

4. Upon selecting a client, their profile card pops up. Click the blue button labeled "Open" at the top right corner of the profile card. The client's full profile will open in another tab. 
5. Select the "Training Program" tab on the left.
6. At the top right corner is a "Copy to this plan" button. Select this button and a new window will pop up.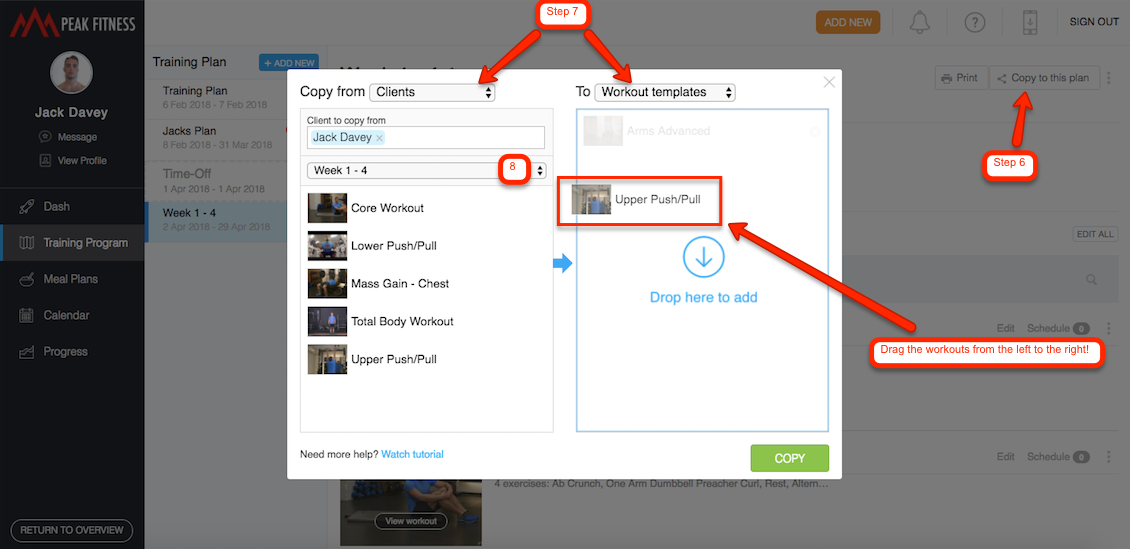 7. Under the "Copy from" drop-down menu select "Clients" and choose the client whose profile you are currently in. Next, change the "To" drop-down menu on the right to "Workout Templates". 

8. Going back to the "Copy from" section on the left you will be able to see the training plans recently copied to the client. Under the "All Training Plans" drop-down menu select the desired training plan(s) the workout is in. From here you can drag any workouts you wish to copy to the "Workout" tab. Note: training plans cannot be dragged and dropped to "Workout templates". You must choose each training plan one at a time and then drag each workout over one by one. When you have moved all of the workouts, click "Copy". 

By following these steps, you will have moved the workouts you made in a program to the "Workouts" tab so that you can reuse them later on!