How do I change my prices? Can I grandfather-in loyal clients?
It's not uncommon for personal trainers and fitness professionals to change and adapt their pricing or fees as their business evolves. With Trainerize Pay, making changes to your pricing is easy. This article outlines how to change your prices, who these changes impact, as well as how to deliver the same product to clients at different prices.
Contents:
How to Set Prices for Products
Locked-in Pricing Changing
Prices for New Clients
Changing Prices for All Clients
Offering Modified Pricing for Products and Grandfathering
How To Set Prices for Fitness Products in Trainerize Pay
Once you've built your training plans and programs, you can add them as Products in Trainerize Pay. It's up to you as a Trainer to set your desired price for the product, where you'd like to sell your product, and how you'd like to deliver the product once it's purchased by a client. There are three different ways to deliver fitness products to clients:
Subscription: subscribing a client to a program.
Copying: copy a program template into a client's account.
Group training: add the client to a group with a shared master program Check out our other support article to learn more about building and delivering your fitness products in Trainerize Pay.
More about Programs can be read in the Programs Support Article.  
Locked-in Pricing
It's important to know that when a client buys a fitness product, the price for that product is locked in for that client at the price listed in Trainerize Pay at the time of purchase——no matter how it's delivered.
This means, when changes are made to a product's price in Trainerize Pay, the changes are not retroactively applied to clients that have already made their purchase. These changes will appear in the product listing on Trainerize.me and will apply to all future client purchases.
For example, you currently sell a fitness plan for $50/month through Trainerize Pay. Last week, Client Lisa purchased that plan. Lisa will be charged $50/month for the product.
Today you increase the price of the fitness plan to $75/month and shortly after, Client Andrew purchased the plan. Andrew will be charged $75/month, but Lisa will still be charged $50/month.
These prices will stay locked in for both Lisa and Andrew until either end of their plan, or until a trainer
a) Unsubscribes them from it
b) Deletes it from their account
c) Removes them from their training group
Changing Your Prices for New Clients or Purchases
To leave the prices for actively training clients and active training products the same, but increase or decrease the prices for new clients or training product purchases the process is simple.
1. Click on Payments on the left-hand side of your account.
2. Select Products from the sidebar menu.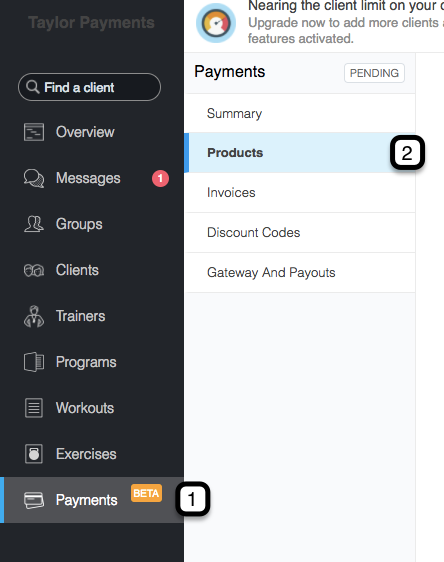 3. From your list of products available for purchase through Trainerize Pay, select the product you want to change the price of by clicking on the product's name.

4. Enter the new pricing details in the edit dialogue.
5. Click "Save."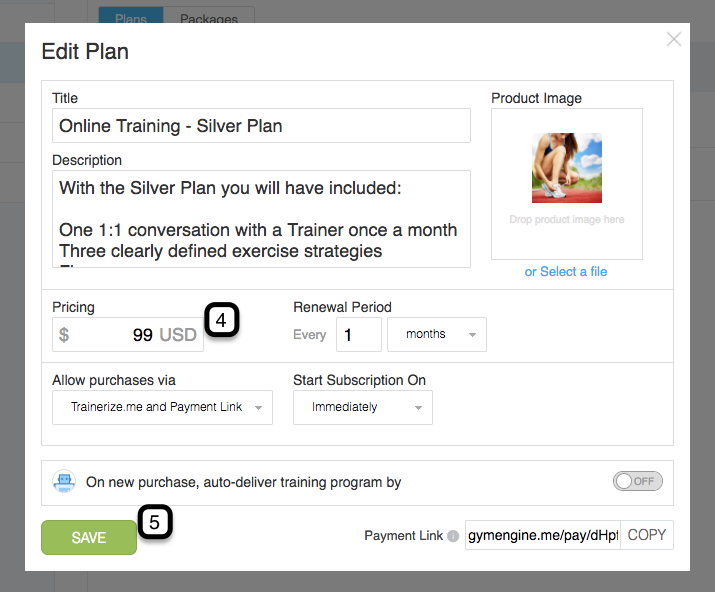 All active purchases of the product will remain locked in at the price at the time of their purchase, but the Trainerize.me listing and all future purchases will reflect the updated price. You can change the price for a product as often as you like.
Changing Your Prices for All Clients (Including Those with Active Purchases)
There are a few scenarios in which a trainer or studio/gym owner may wish the change the price of their previously purchased fitness products for all clients, including those actively training. The most common of which is a pricing error that needs to be corrected.
Recall from above that Trainerize Pay locks in the price of a fitness product at the price listed at the time of purchase. If you happen to enter the wrong price and clients have already made their purchases, there are steps you can take to correct the error.
If you wish to reduce the price after entering a price that is too high, the easiest method to correct this is by creating and applying a coupon to adjust the price to the correct one. If you wish to increase the price after entering an incorrectly a price that is too low, follow these steps:
1. Price changes cannot be retroactively applied to active product purchases. You'll need to start by canceling all of the subscriptions and removing the product from any training groups.
2. Once there are no clients attached to the product, you can update the product price (as explained above).
3. For all payments already collected at the wrong price, you can then issue a refund. More information on refunds can be read in the Refunds Support Article.
4. Resubscribe the client to the product at the new correct price
Offering Modified Pricing for Products and Grandfathering
The easiest way to offer different prices to different clients for the same fitness product is to apply a coupon. You can learn more about that process in our Discounts Support Article. There are two other ways to do this without creating and applying coupons.
Creating Private/Unlisted Products
Creating Private/Unlisted Products
When creating a Product you can choose how that Product can be accessed. You can have the Product hosted on Trainerize.me as well as having a Payment Link, or you can limit purchases to just the Payment Link. If the Product is on Trainerize.me, this can be purchased by any client, but you can also have Products that are hidden from public view.
1. When creating/editing your Product, click under "Allow purchases via".
2. Choose if you want the Product to be listed on Trainerize.me and have a Payment Link, or switch to just a Payment Link.
3. At the bottom right you will find the Payment Link. Copy this, and share as needed.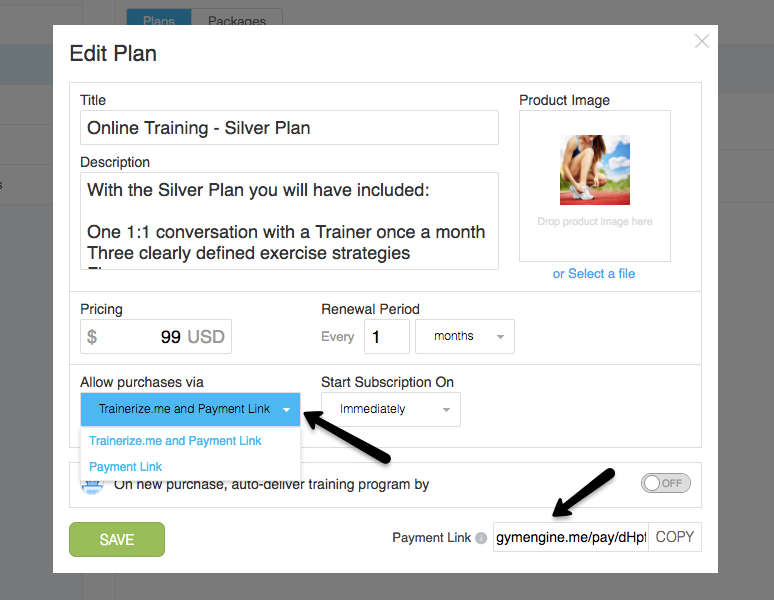 To grandfather clients into a plan on a lower price, you'll need to subscribe your clients in two groups/batches:
Group 1) those you want to subscribe at the lower price (grandfathered clients)
Group 2) those you want to subscribe at the new price (not grandfathered clients)
Step 1: Set the plan to the lower (grandfathered) price.
Step 2: If you've already subscribed clients in group 1 to the plan at a different price, you'll need to cancel their subscriptions. If you haven't subscribed them yet, go to step 3.
Step 3: Subscribe clients in group 1 (grandfathered clients) to the plan.
Step 4: Once all of those clients have been subscribed, update the price of that plan. This will update the price shown on Trainerize.me but will not impact the price for those clients already subscribed to the plan.
Step 5: Subscribe new clients (group 2, not grandfathered) to the plan. They will be charged at the new price.
You can repeat this process as often as you'd like, just remember that the price a client is charged is always the price in the system at the time they were subscribed.