Who doesn't love a good sale? Offering discount codes are a great way to get a potential client's foot in the door. Not only are you creating an incentive to buy your services but you've made a positive first impression towards your business, which is a great strategy to bring in more clients and drive sales. Be creative while also creating a sense of urgency with limited time seasonal discounts such as "WINTERWARRIORS" and "SPRINGSPRINTERS"! 

For new Products, discount codes will take effect at the time of purchase or when a trainer applies a code to client's account. For existing Products, discount codes will take effect as of the next billing date. Trainers can add and remove discount codes whenever you choose.

1. Click "Payments" on the left-hand side of your account.
2. Select "Discount Codes" from the sidebar menu.
3. Click on "+ New" on the left-hand side of the page.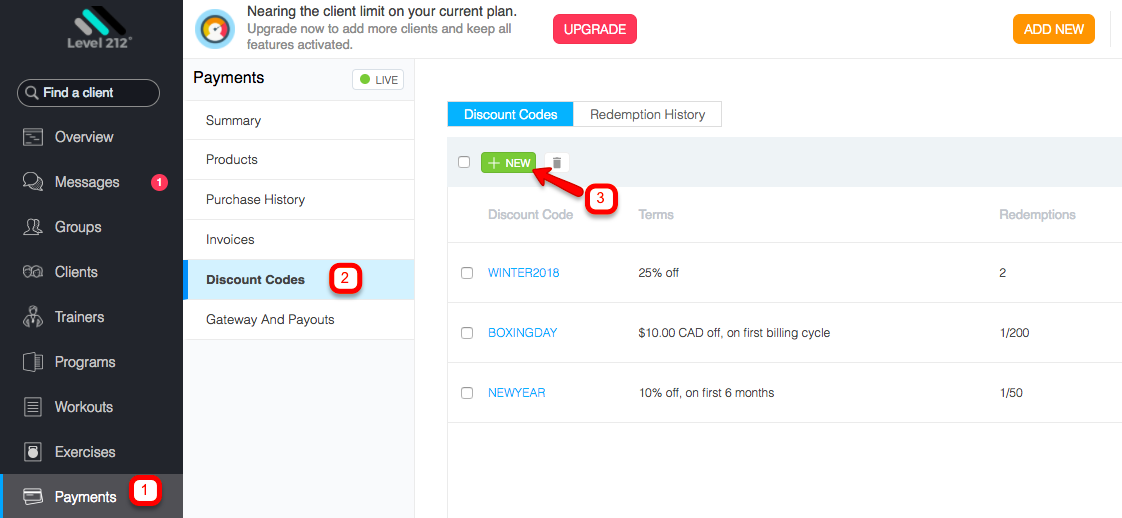 4. Enter the name of your Discount Code. Please note, discount code names must be all caps with no spaces. 
You can use the name of your Discount Code to help track different marketing campaigns you are running. For example, "15FACEBOOK" could reference an advertisement for 15% off new purchases that are the result of (referred from) your Facebook Advertisement.
5. Choose between a percentage discount or a fixed dollar amount discount and enter your chosen value.
6. Select the duration of your discount code from the three options available:
Forever: the discount code never expires
One Time: the discount code can only be redeemed one time by a client
Valid For: the time the discount code will be active on a client's account after it has been applied. For example, setting a valid date of 2 months will keep the discount code active in that client's account for any plans purchased during those 2 months.
7. Choose the maximum number of times you'd like this coupon to be redeemed. Please note: leaving this field blank allows the coupon to be used an infinite number of times.
8. Set an expiration date for your discount code.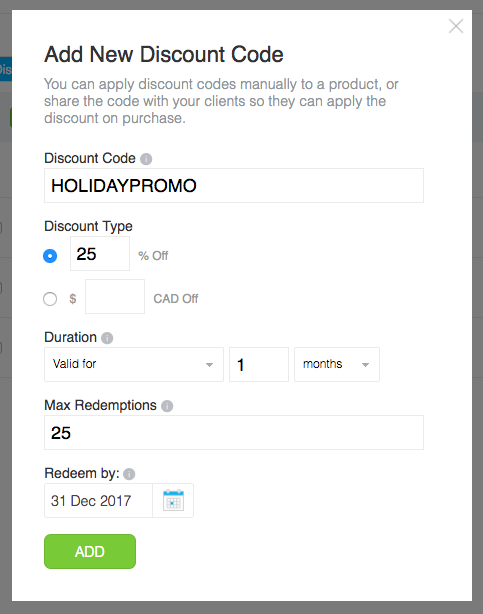 After creating a Discount Code it will be added to your list of available codes and can be used by any client across any product! 

How to Delete a Discount Code from your Trainerize Account:
1. Click on the Payments tab.
2. Select Discount Codes from the sidebar menu.
3. Check the box next to the Discount you wish to remove.
4. Click the garbage can icon to delete the Discount Code from Trainerize.