Think of Programs as long-term fitness journeys made up of back-to-back training plans.
By combining multiple training plans, and scheduling regular body measurement reminders, trainers can build comprehensive fitness curricula designed to grow and progress with their clients, following them through the different stages of their lives and fitness journeys.
Every new Program starts with a trainer deciding how many training plans they'd like to include and how long each one should be. This lets you periodize your training, building stages or phases that clients can gradually progress through on their way to building a healthy lifestyle.
Build a Program by following these steps:
1. Login to your Trainerize web account


2. From the left-hand menu, select "Programs"


3. From the slide-out Program Templates menu, select "+NEW", then "Build New Program Template"



4. In the pop-up dialog, enter a name for your Program then select the number of training plans you'd like to include in the Program, and the duration (in weeks) for each training plan.

By default, the option to automatically schedule progress photos and weigh-ins at the start/end of each training plan will be checked. If you would prefer not to include these in your program or would like to schedule them manually, uncheck the box.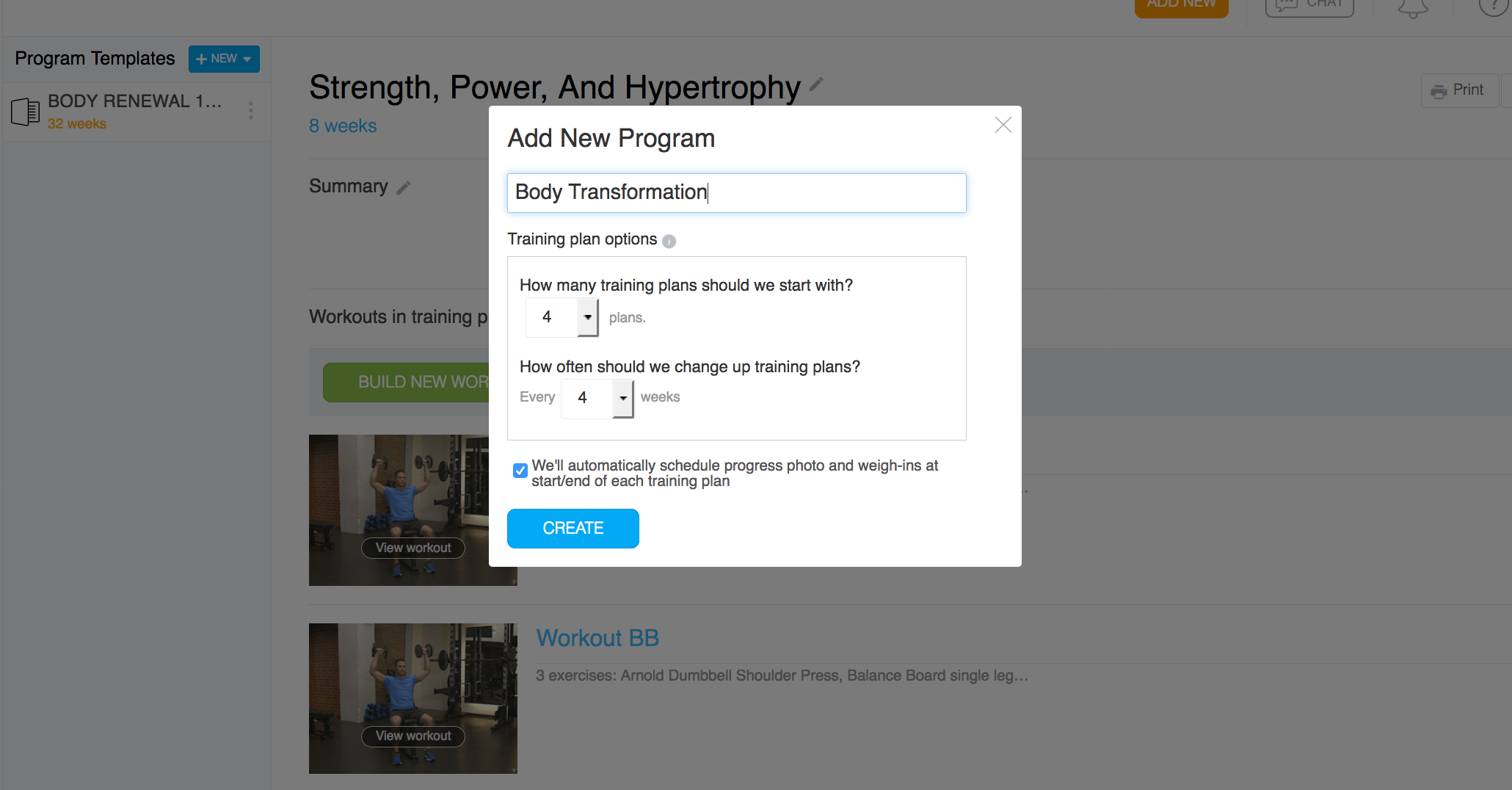 Click "Create".


5. Locate your new program in the slide-out Program Templates menu and click to expand the Program accordion. You should see all your training plans listed inside.

Select the first training plan and choose how you would like to add workouts to the training plan. You can choose to either build a new workout or copy existing workouts to the plan.

Repeat this process to add workouts to each of your Program's training plans.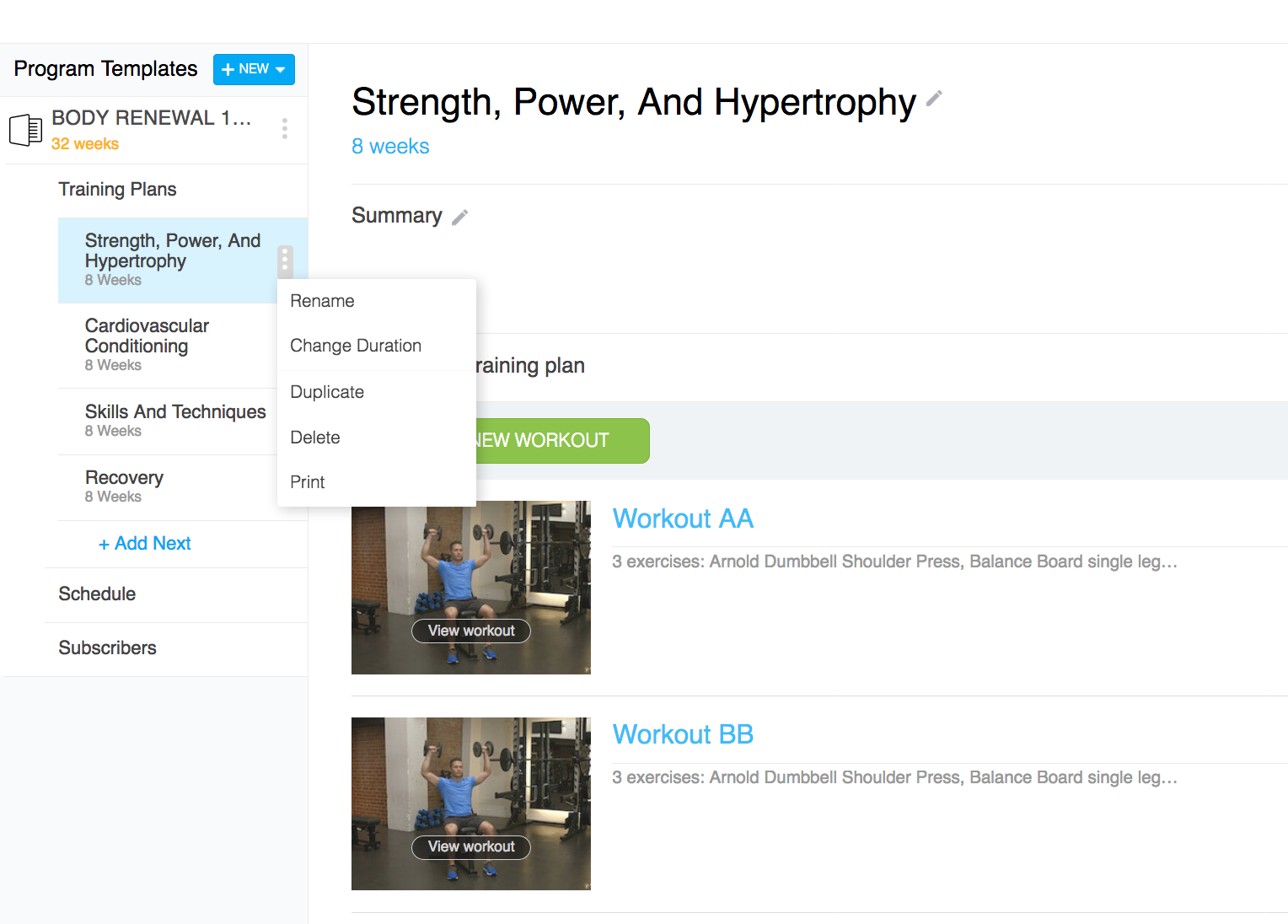 6. To change the name of a training plan within a Program, click the three vertical dots next to the training plan's current name and select "Rename" from the drop-down menu.

You can also change the training plan's name by selecting the current name in the Program accordion, then clicking on the small pencil icon next to the training plan name in the main window.


7. After adding workouts to all of the training plans in your Program, select "Schedule" from the slide-out Program Templates menu. A schedule of all the training plans in your Program should appear in the main window.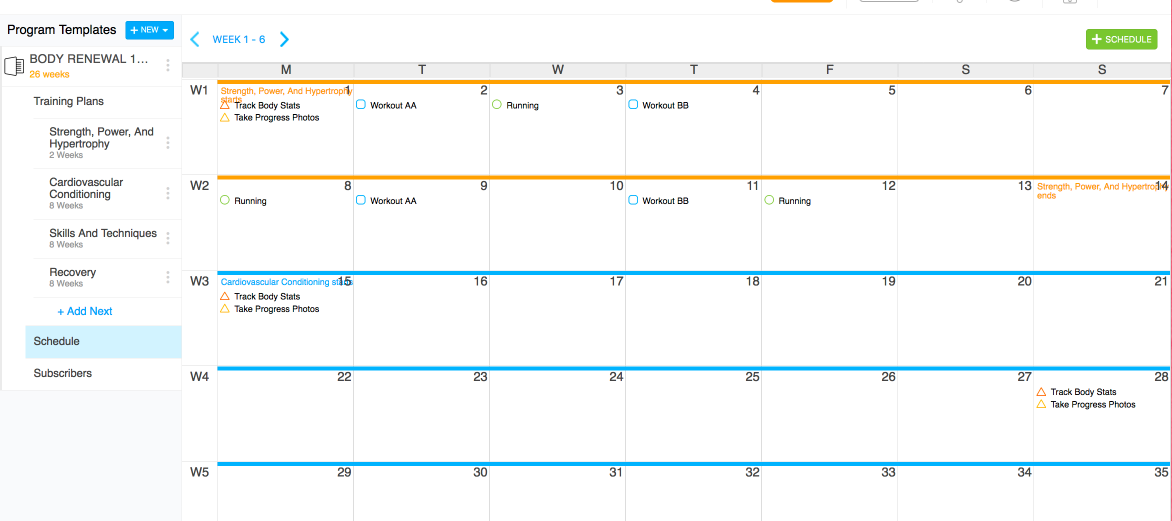 8. To schedule a workout, cardio activity, body stat reminder or progress photo reminder, click on a day in the schedule and follow the prompts in the pop-up dialog.

If you change your mind about when you've scheduled something, click+hold on the item and drag it to another day. Note that you can only click and drag an item to a date within the same training plan in which it was originally scheduled.

To delete a scheduled item simply click on it and select "DELETE" from the pop-up dialog.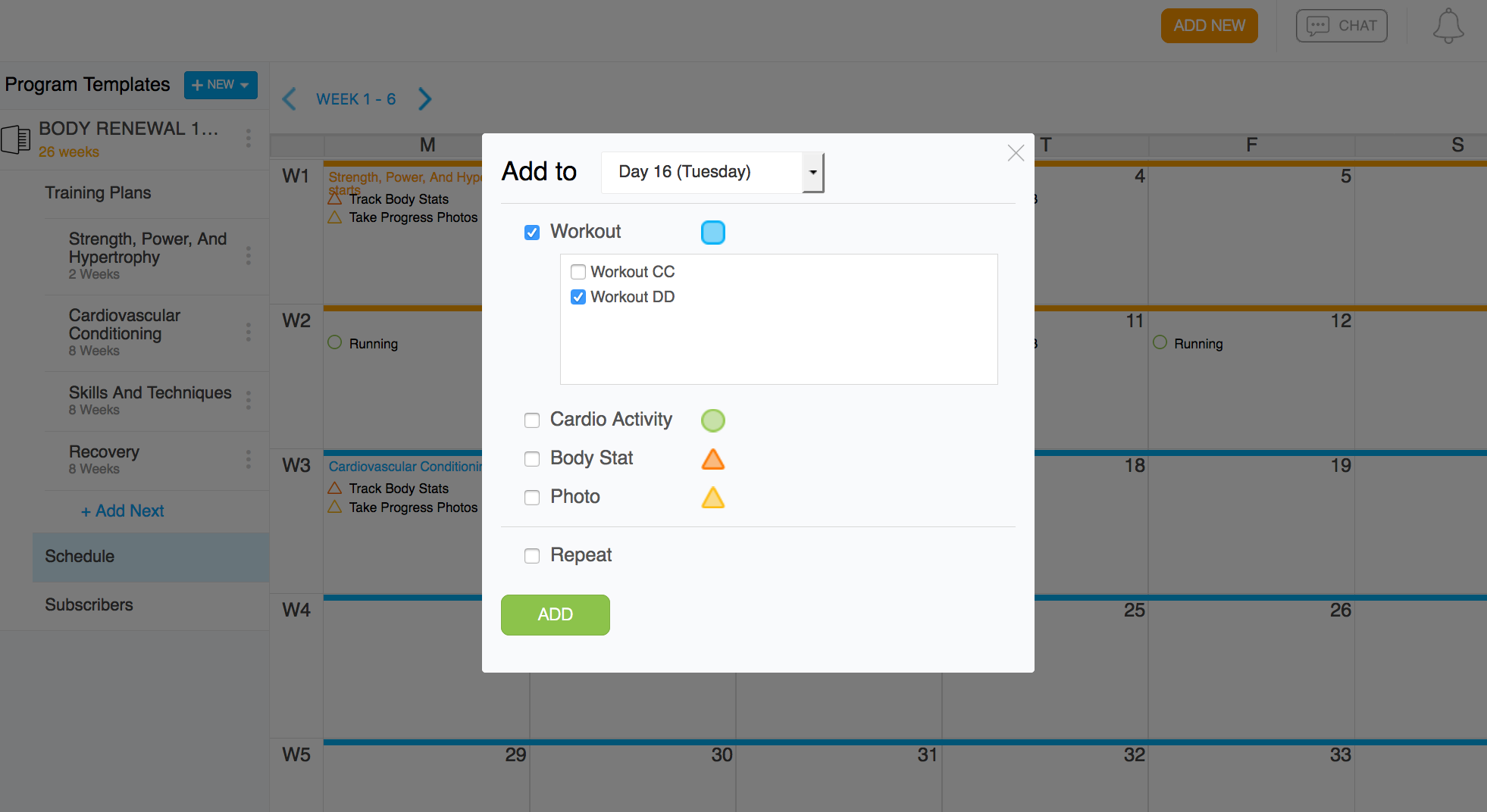 REMEMBER: The training plans that are part of a Program have their workouts scheduled on a Program Schedule, not a client calendar.
What's the difference? Calendars, like the ones used for stand-alone training plans, are tied to actual dates and allow trainers to schedule workouts in relation to the current day, week, month, or year. In comparison, Program Schedules aren't tied to any specific dates. Instead, they show the number of days in your Program broken down into 7-day weeks.
For example, If you build a program with 4 training plans, each 4 weeks long, the schedule will show you 112 days broken into 16 weeks. The numbers you see on the schedule correspond with the day of the program, not with the day of the month.
Your program is now ready for use with clients.

Note that any subsequent changes made to the Program Template will be automatically pushed out to all clients subscribed to that Program.
Now it's time to subscribe clients to your program.