Workout Template Tags are a way for you to organize Workout Templates. They work similarly to folders where you create a Tag and then assign specific Workout Templates to the tag to find and/or assign those specific Workout Templates faster.
To use Workout Template Tags (refer to screenshot below):
Login to your Trainerize web account
Click on "Templates" in the left hand menu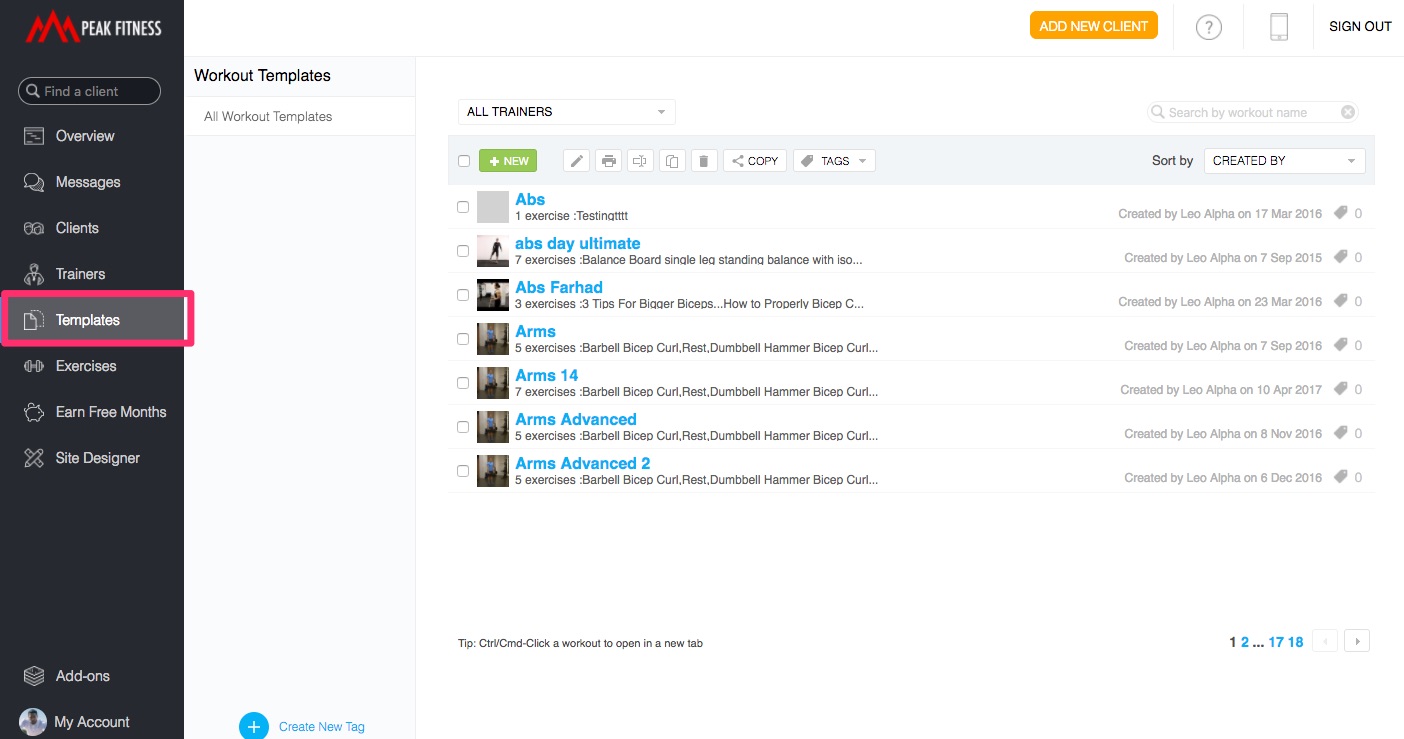 Click on "Create New Tag" to begin creating a custom tag.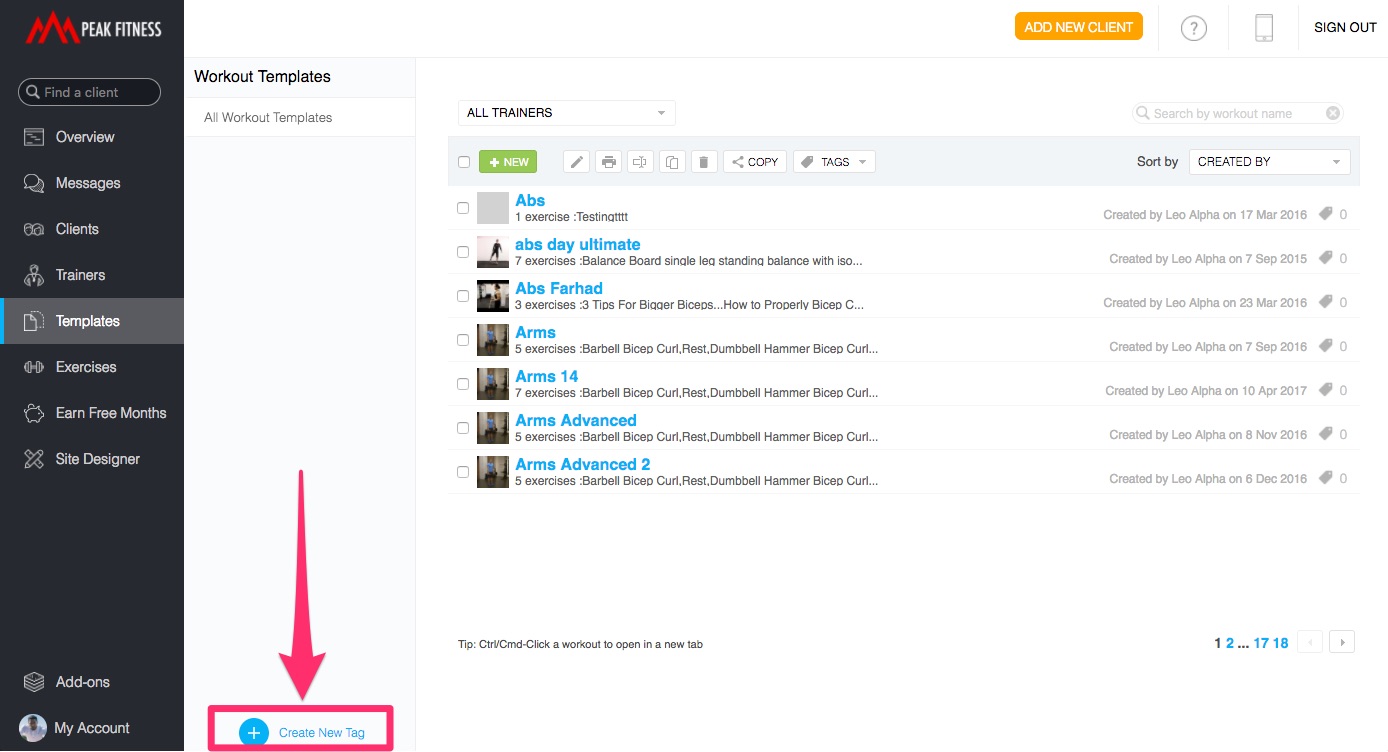 From the dialogue box name your Template Tag and then click the green "Add" button.

Once you click Add your Tag will show up in the Tag menu to the left.
The number indicated on the Tag will be zero.
This indicates how many Workout Templates are currently in the tag.
The next step is to add our Workout Templates to the Tag.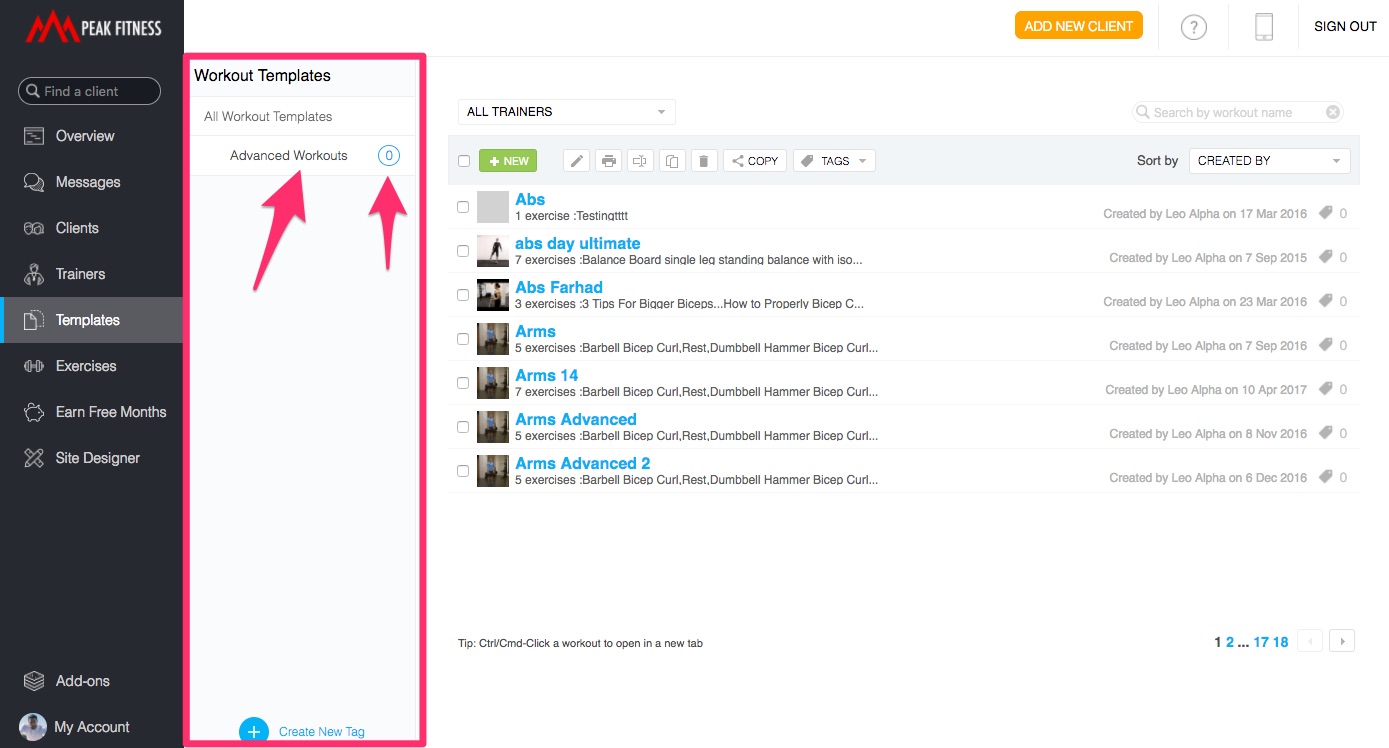 Drag and Drop (single Workout Templates)
To add Workout Templates to Tags you can either click and drag specific Workout Templates on top of the Tag.
This will add the specific Workout Template to the Tag you drop it on.
You can drag and drop Workout Templates one at a time.
Select and Apply (multiple Workout Templates)
You can also select specific Workout Templates by using the checkbox to the left of the Workout Template name. (Step 1)
Then from the Tag drop down, select the tag you wish to add the selected Workout Templates to. (Step 2)
Then click Apply. (Step 3)
You can select multiple Workout Templates and add them all at once.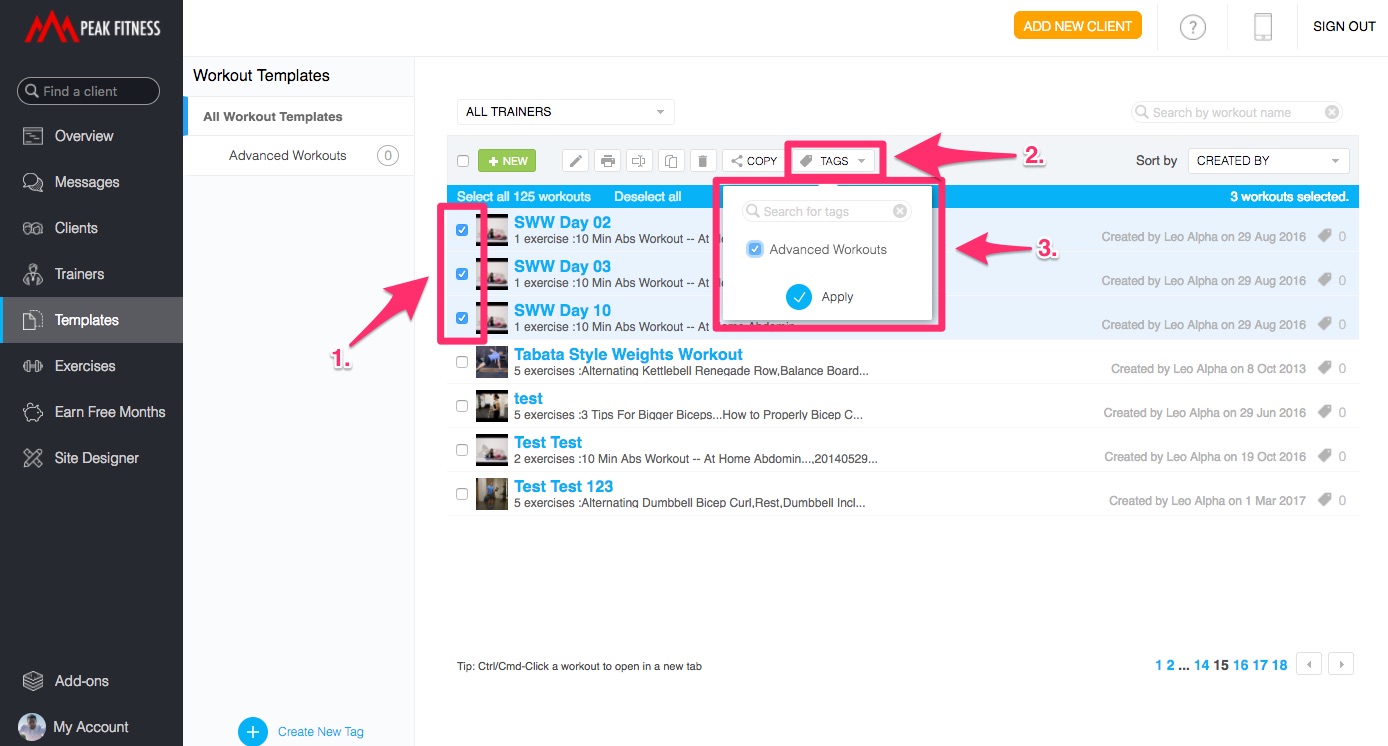 Workout Templates have now been added to the "Advanced Workouts" Tag
This is indicated by the number "3" (three Workout Templates have been added)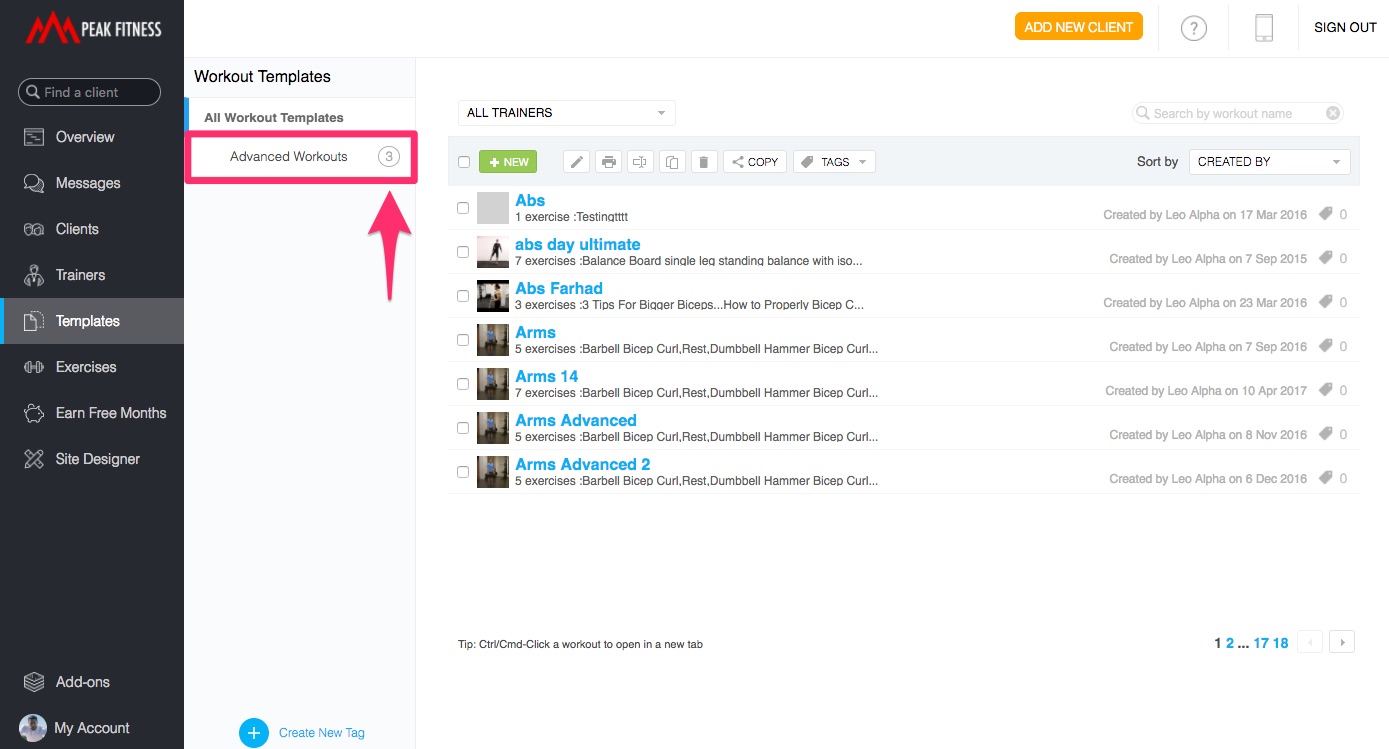 Clicking on the "Advanced Workouts" Tag will quickly reveal (sort) the Workout Templates that have been added to this specific Tag.
This way you can create many tags to find your Workout Templates quickly.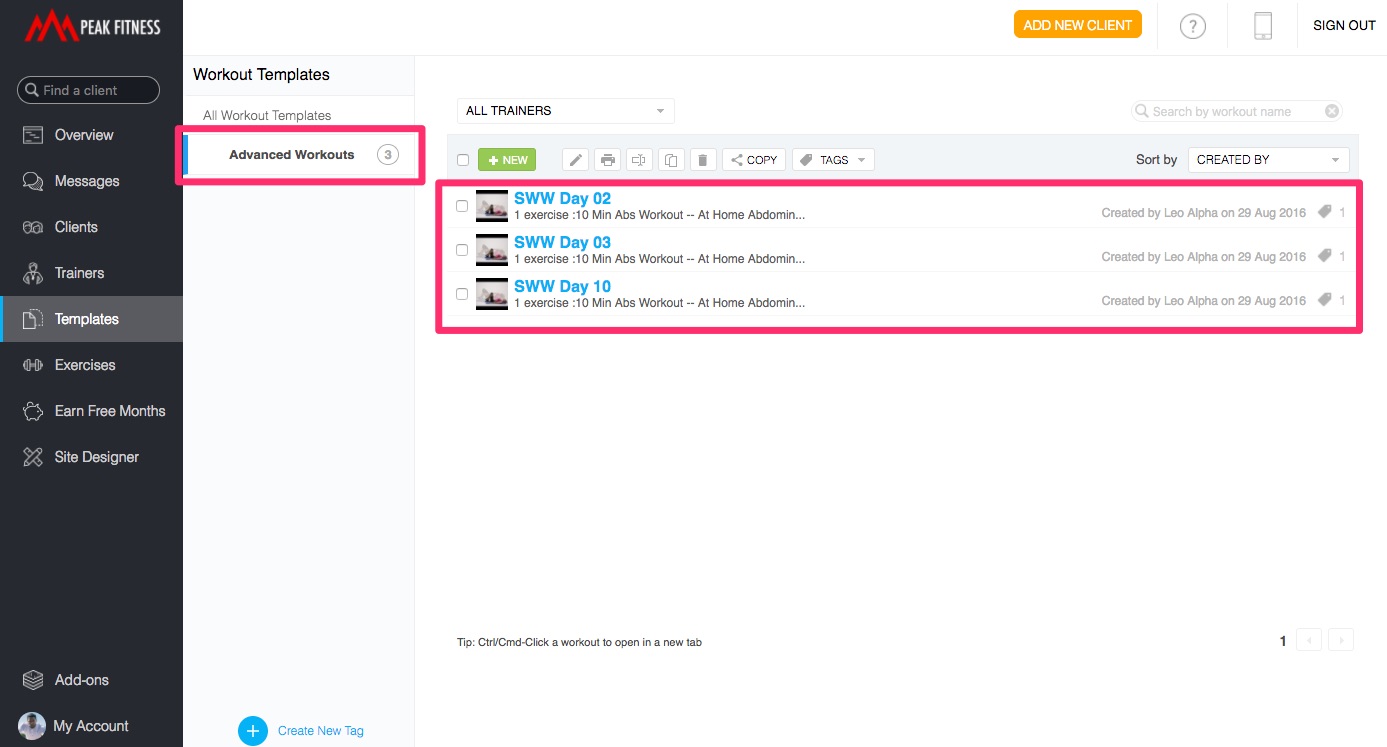 To modify or use an existing Tag
Roll over the number icon beside the Tag name and it turns into a gear/cog icon - clicking on it will reveal a dropdown menu.
You can Delete the Tag
Rename the Tag
Copy the contents of the Tag to a client - when you use a Tag to copy to a client - ALL Workout Templates in that Tag are copied to the specific client.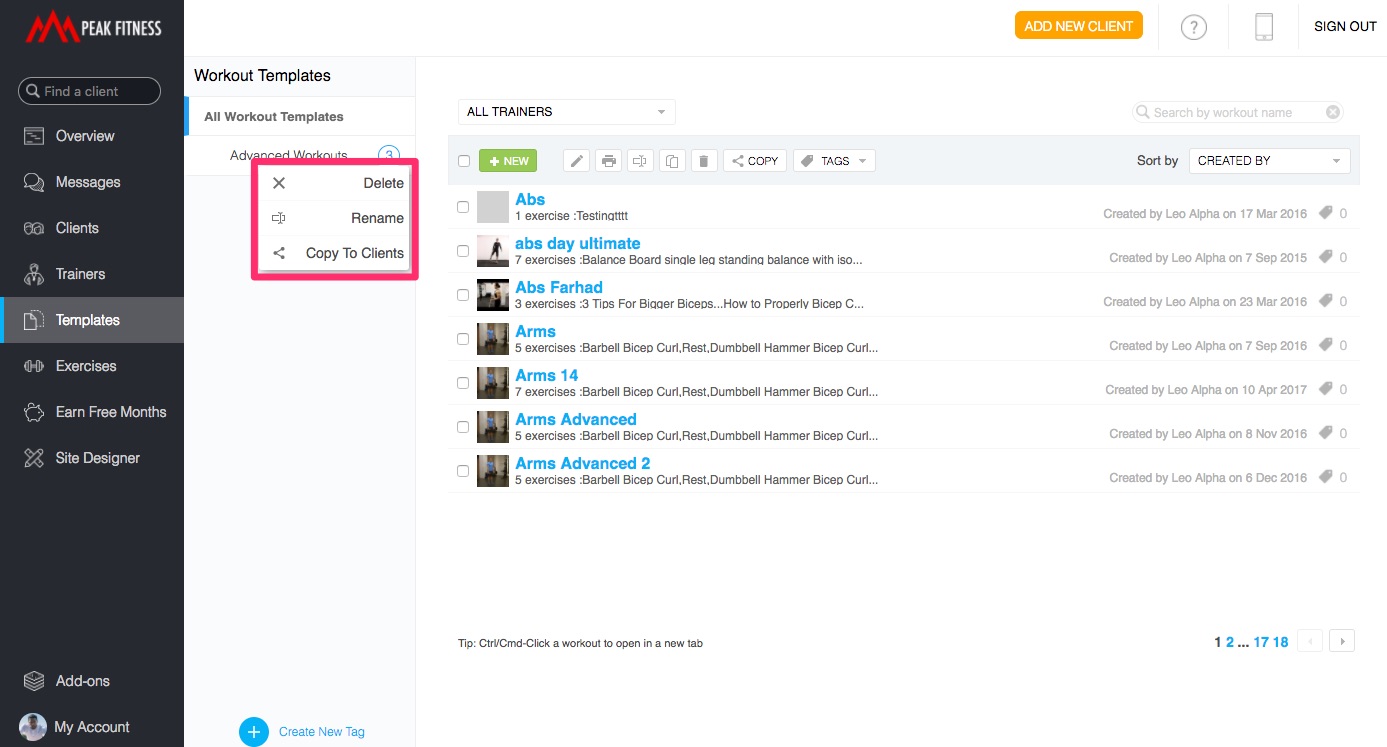 To remove a Workout Template from a Tag
Click on the Tag you with to modify (this selects it and reveals the content of the Tag)
Select the Workout Template to be removed by selecting the checkbox to the left of the Workout Template name
From the "Tags" menu deselect the Workout Template Tag name by unchecking the checkbox
Click Apply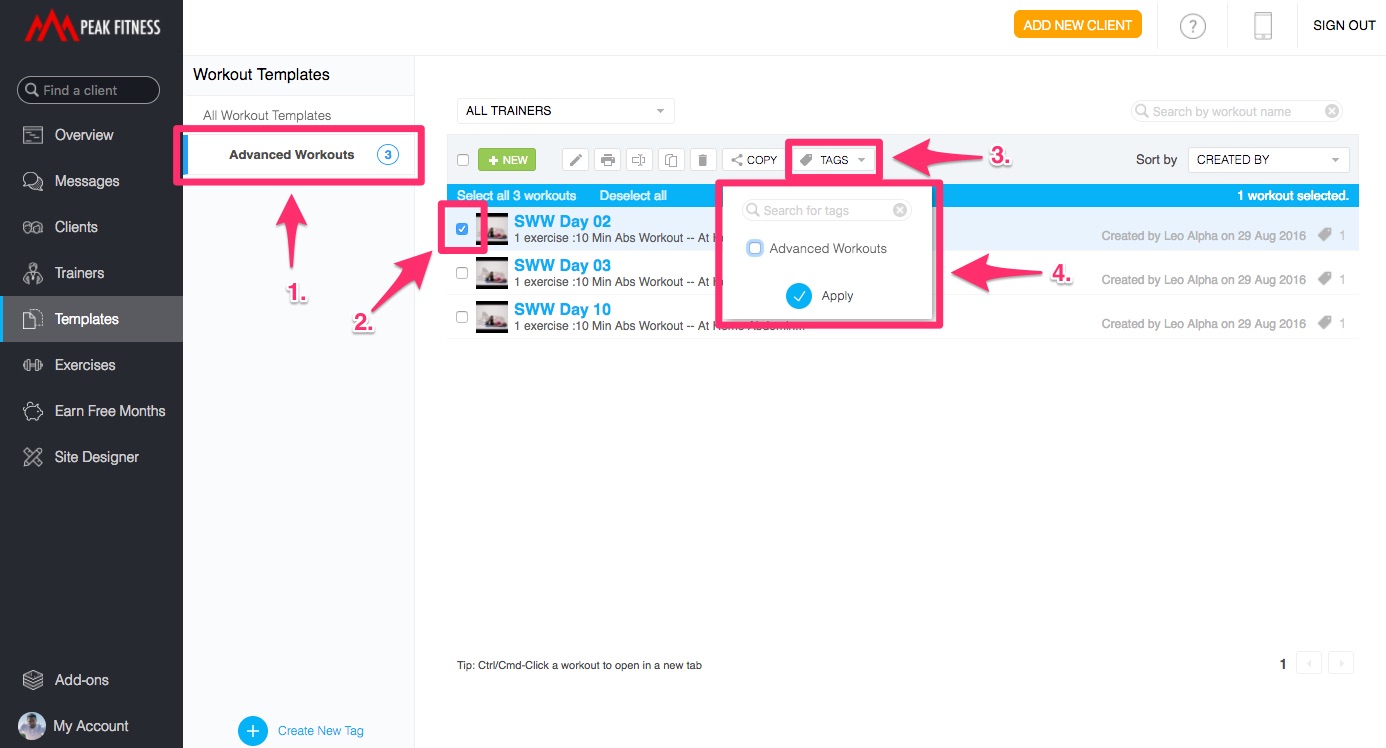 ---
Related Articles
Master Workouts & Master Programs Libraries
What is a Program? How do I build one?
How to create and send workouts to a client